DOC POW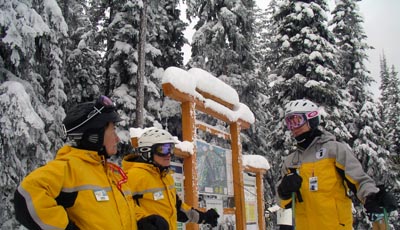 Resort hosts, Suzanne Simpson (left) and Lorna Locke chat to another host at British Columbia's Kimberley Alpine Resort.
DOC POW/SnowSeekers
KIMBERLEY, BC — It takes some time to unlock the glory that is found in tree skiing. Some of my happiest days are getting lost in an outstanding gladed run. Heading off the groomer runs and into the trees provides a unique look at the snow.
Kimberley Alpine Resort, located in British Columbia's interior, provides the perfect setting for those who are looking at getting their tree skiing fix. There are not many places that are as forgiving as Kimberley to allow you or your family to get into it and unlock the glory.
On a recent visit I was lucky enough to meet up with some of Kimberley's resort hosts who took me for a spin and showed me some of the ski resorts best-kept secrets (don't tell anyone, but many of them are in the trees).  
Kid-safe
"This is a perfect place for kids, as I feel there are not many opportunities for kids to get into trouble here. They'd have to go out of their way to get into trouble," says long time resident and host, Lorna Locke. Locke and her associate, Suzanne Simpson, took us on the backside to step it up a bit as we dropped in on some exceptional tree runs like Geneva and Notre Dame.  
Runs like Boundary or Moe's, located on the left-hand side of Kimberley's main chair, The North Star Express Quad, are blue gladed runs with huge wide open spaces, perfectly thinned to allow for just the right turns. And they are the kinds of trees that people from around the world dream about; the forests in Kimberley are full of old-growth moss that hangs from the trees like an old man's beard.  This is the sign of some of the best air quality as this type of moss only grows in the clearest, cleanest air. 
Quiet with plenty of room
Through the afternoon, Locke steered us through Kimberley's backside and as we made our way down some of her favourite tree runs I noticed we were literally the only ones around, and this was on a Sunday! 
"You can get spoiled here quite easily. When we travel to other resorts we really see how crowded it is.  Here, it's rare to get a lift line. For the most part you have the space to yourself," said Locke. "This is the perfect resort for the aging baby boomer. There are no big drives in the mornings, we have great groomers, some forgiving tree skiing and you are in the middle of everything." 
No wonder she has called the place home for over 21 years.
Kimberley also offers snowmobiling classes and fun powder rides. Take a look at this video to find out more!

For more stories and detail on Kimberley check out our SnowSeekers' destination page.