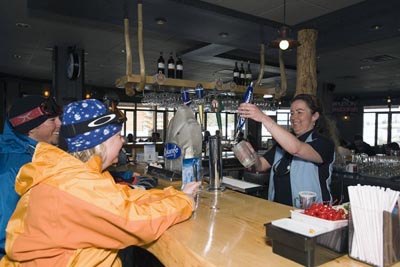 The Stemwinder Bar is the perfect place to stop for a little apres after a day on the slopes at Kimberley Alpine Resort.
Photo courtesy Henry Georgi/Resorts of the Canadian Rockies
RICK MACDONNELL
KIMBERLEY, B.C. — After a long day of shredding at Kimberley Alpine Resort, you want nothing more than to sit back and relax with a heaping pile of nachos, a couple of beers, and some stellar tunes. It's time to hit up the Stemwinder Bar & Grill.
Named for one of Kimberley's original mining claims on North Star Mountain (Kimberley Alpine Resort's resident ski hill), the Stemwinder has become the place for on-mountain après. 
Take in the view
"The Stemwinder gives you a great atmosphere, a fantastic bar, a good draft selection, and delicious food," said Jennifer Mummery, the Stemwinder's beverage control supervisor. "And if you're looking for somewhere to relax, you can't find a more beautiful building in Kimberley. Our windows surround the entire bar, so the mountains act as a backdrop no matter where you sit."
For those who can't get enough of that precious mountain air, there's a sundeck patio just outside, complete with heated seats. But if you'd rather take refuge inside, the Stemwinder provides the perfect atmosphere to sooth those tense muscles and burning lungs.
Local musicians
Every Saturday and Sunday, the bar brings in live bands to act as the soundtrack to your après ski. "We love to showcase local talent, and we get a lot of bands from the Calgary area, as well." 
Just installed is a gorgeous new 46" television, making the Stemwinder a great place to watch the game.
But, like any après ski location, it all comes down to food. Don't worry, you're in good hands. 
"Our nachos are a fan favourite, and we make five or six really great pizzas. 
When the nachos arrived to our table, Mummery wasn't kidding. Piled high and big, the nachos had plenty of jalapenos and lots of cheese. I am not a fan of olives, but for some reason, I couldn't get enough.
"Next time you visit, for something truly unique to the Stemwinder, you'll have to try our famous waffle poutine – a giant collection of spicy waffle fries, smothered in cheese and gravy. 
Pints to quench the thirst
"We have four drafts on tap, tons of bottled beers, liqueurs, and even Gluhwein, a heated wine spiced with cinnamon, vanilla, cloves, citrus, and sugar. It's really popular with the Brits."
With a chill atmosphere, amazing mountain backdrops, some stellar grub and groovy tunes, the Stemwinder offers the perfect end to the perfect mountain day.  
"If you're looking for a pub/après spot at the resort, this is it," said Mummery.
Take a look at the dining experience in Kimberley, B.C.
For the latest deals, snow reports and contests, sign up today to our SnowSeekers e-newsletter.