Cranbrook is your Powder Highway basecamp
CRANBROOK, B.C. - If you have yet to experience the Powder Highway, it's a trip you must put on your bucket list. It's a snow hound's nirvana because it puts you smack in the middle of the world's largest collections of skiable locations.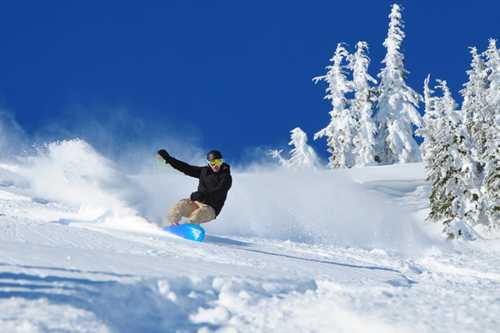 The Choice SnowBoard Shop owner Mike Peabody doing what he loves best, skiing 20 minutes from
his shop in Cranbrook at Kimberley Alpine Resort.
Photo by Mike Peabody
Tucked in the southeastern corner of the province, the Powder Highway ranks high on any skier's or snowboarder's must-do ski map. Eight ski resorts and dozens of heli, cat and Nordic ski venues are linked by 677 kilometres of pavement, making for an unrivalled powder-filled ski or snowboard adventure.
Located amid this powder-filled paradise for skiers is the outdoors-oriented city Cranbrook, B.C., one of the best places to stay while you get your fill of the steeps and deeps.
Connect to the Powder Highway in Cranbrook this winter and get planning by visiting the Cranbrook Tourism website.
Mike Peabody, co-owner of The Choice Skate and Snowboard shop in Cranbrook, recommends using the city as a base to explore the Powder Highway.
The snow is piling up on the Powder Highway Grab some awesome winter driving tips here
"I think anyone who is coming to hit the Powder Highway is going to have their minds blown by how big the mountains around here are and the quality of our snow," says Peabody.
He should know. Peabody has skied all over the world. In his travels, whereever he met people, they were impressed with he lives. "When I travelled to Australia or went snowboarding in Japan, people were blown away about where I lived and the bucket-list possibilities."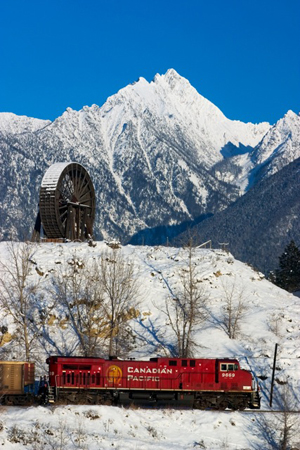 Cranbrook is known for its history and its culture. You'll find lots of both along with
exceptional access to tons of powder.
Photo by Janice Strong
That list can keep anyone busy for as long as they have.
"It's a once-in-a-lifetime experience to be able to get out to all of these destinations within such close proximity," he says.
On the slopes in 20 minutes
"By staying in Cranbrook, whether you drive or fly, you're at the base of the Kootenay Mountain range and basically in the middle of the Powder Highway," says Cranbrook's airport manager Tristen Chernove.
That means skiers and snowboarders can be on the slopes within 20 minutes at nearby Kimberley Alpine Resort, one of the eight nearby resorts. "Flying into The Canadian Rockies International Airport maximizes your skiing time rather than spending extra time on travel," he says.
Within three hours of Cranbrook, there's a choice of seven of the eight destination ski resorts along the Powder Highway. Kimberley is closest at 20 minutes away, while Fernie Alpine Resort is less then one hour and Panorama less then 90 minutes.
"Cranbrook makes for the perfect basecamp for anyone who wants to sample a few of the winter attractions around here, while staying in a diverse community," says Chernove, a long-time resident.
Set within the Purcell Mountain Range, Cranbrook B.C. is the epicentre of the Powder Highway.
Photo by Janice Strong
Once a mining and logging town, Cranbrook has evolved into vibrant city of 20,000 and the hub of the Kootenay Region, with lots of nightlife and cultural experiences.
"We all have different ways of recharging after a day on the slopes," says Chernove. "So if you like the theatre you can do that at night, or take the family for a soak in the hot tub at the recreation centre. And there are also plenty of great restaurants."
Peabody can't help but get stoked about the Powder Highway right out his back door.
"You don't get this kind of big open-bowl terrain in many places, found at Fernie or Kicking Horse, while in places like Kimberley and Panorama, there's more family-friendly terrain."
It won't take anyone long to figure out how the Powder Highway got its name.
"This is where that coveted Champagne powder lives. It's home to the snow conditions every one dreams of."
Pacific Coastal Airlines has been flying in and out of Cranbrook from Kelowna and Vancouver for years.
Get planning for the ski season:
Ready to head to Cranbrook to experience the Powder Highway for yourself? Share this page.