Kimberley's snowshoe ' fundue'
RICK MACDONNELL
KIMBERLEY, BC — If you've spent your winter shredding the mountain on a pair of skis or a snowboard and are looking for a relaxing change of pace, or even if you don't ski or snowboard at all and just want to get out and enjoy the great outdoors, then the Kootenay Fondue Experience at Kimberley Alpine Resort might be just what you're looking for.
Originally a method of transportation for traders, trappers, and anyone else whose life demanded that they walked through frequently deep powder, snowshoes are today mainly used for recreation. They offer a fantastic opportunity to get out and experience the snow in a completely different way. 
Plenty of praise for chocolate pretzels
Kimberley's snowshoe tour changes the game a little. Our tour began with a trip up the North Star Express chair. At the top, the group strapped on their snowshoes and enjoyed a gorgeous 30-minute snowshoe trek through the backcountry en route to Kootenay Haus, Kimberley's mountaintop warming hut.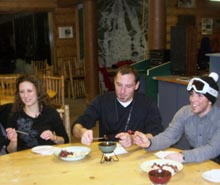 Along with plenty of story-telling, guests enjoy a chocolate fondue at the Kootenay Haus, Kimberley Alpine Resort's mountaintop warming hut.
RICK MACDONNELL/SnowSeekers
There, we were met with a fantastic spread of grapes, oranges, bananas, and pretzels, all to be dipped in a delectable chocolate fondue. For me, the chocolate was a revelation. My past fondue experiences were all of the cheese and bread variety. If my Kimberley Snowshoe Fondue experience taught me anything, it's that I was seriously missing out.
"You haven't lived until you've had a chocolate pretzel," said Adrienne Fossheim, the tour's group coordinator. 
The remainder of our two-hour tour was spent relaxing and getting to know our tour mates. On average, the tour ranges anywhere between four and 12 people, a group small enough to allow for some really great conversation. 
"As a tourist, it's a great way to experience some local hospitality, and even learn a few cool things about the hill." 
Leanna Hansen, a snowboard instructor at Kimberley, and our host for the night, treated our group to some interesting history about the Resort.
Historical reminders
"There used to be a town of around 1,500 people on this mountain," Hansen said. "It was a mining town. You can actually still see the mine shafts in certain areas, which we now call 'bear caves.'" 
Eventually, the mining operation was moved a short distance away to what is now the Sullivan Mine. 
"They moved off this mountain because they found the mother load of Lead-Zinc. Up until the mine closed, oh, about ten years ago, it was the largest Lead-Zinc mine in the world," said Hansen.
Kootenay Haus' relatively remote location, coupled with the tour group's small size, makes you feel like you've been transported to some uber-remote backcountry lodge for some great times, and even greater fondue. 
Local's secret
"The Kootenay Haus used to be the main attraction on the hill before the quad chair was put in 10 years ago, said Hansen. "Now, the Kootenay isn't quite the fixture that it used to be, so it's turned from a hot spot to a bit of a secret for some people."
The tour ended with a short snowshoe trek back to the North Star Express chair, where we were treated to an absolutely stunning trip back down the chair lift, courtesy of an absolutely breathtaking view of Kimberley. For me, this was truly the highlight of the evening (and perhaps my entire stay in Kimberley). 
You'd be hard pressed to find a more bang-for-your-buck experience in Kimberley. This night-time snowshoe walk through the mountain's stellar woodlands offers you the opportunity to see the mountain like never before, meet and greet some new friends, and savour some delicious fondue. This being my first trip to Kimberley Alpine Resort, I can't imagine a better introduction to the hill, or the town.
Book a special occasion
"It's a perfect thing to do for a birthday party, a low-key staggette, or just a gathering with friends," said Fossheim. "If people ever get the chance, they should come and experience it for themselves. It's amazing."
Kimberley Alpine Resort offers its Snowshoe Fondue Experience every Thursday, Friday, and Saturday from 6:30 p.m. to 8:30 p.m.
For the latest deals, snow reports and contests, sign up today to our SnowSeekers e-newsletter.