Pow aplenty for the masses
 A relaxed vibe, no lift lines and a snowy abundance await in Kimberley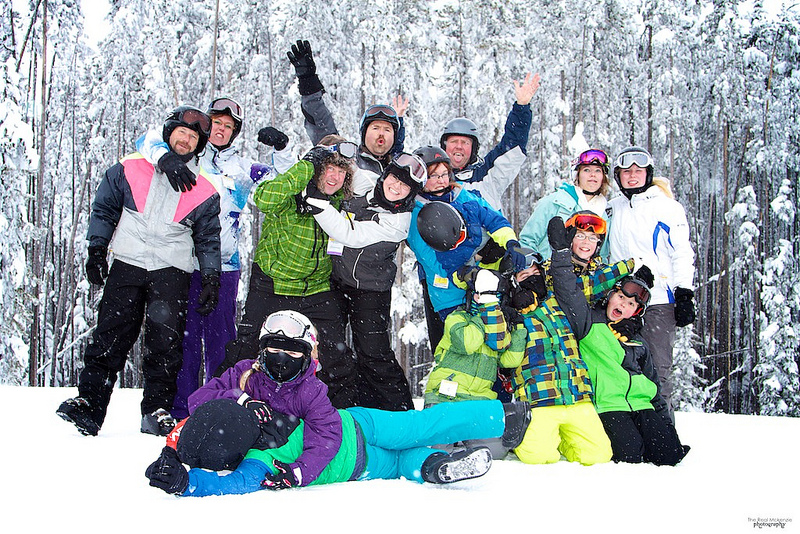 Kimberley Alpine Resort has the powder dumps and short lift lines to give people of all ages and abilities an ideal day on the slopes.
Photo courtesy of Kimberley Alpine Resort
STEPHANIE LAKE
KIMBERLEY, B.C. - Kimberley's laid-back ski town vibe, down to earth locals and heavy-hitting resort make for the perfect combination to an idyllic ski getaway.
Top that off with a serious helping of annual powder and you can see why the locals stick around. They eagerly await those powder-filled days, but are willing to share that best-kept snow secret with us non-townies.
For those of us impatient to hit the slopes, there's nothing worse than long lift lines. When you want to bank as many turns as you can before you and your tired legs call it a day, those pesky lines can put a damper on your plans.  Skiers who are unfamiliar with the Kimberley area might be curious about what they can expect on a typical day at the resort in regards to lift lines and amount of snow.
According to Kimberley local, Courtney Forster, you will not spend most of your highly anticipated ski time in a lift line at this resort.
"You can get in early and get out early. You get the whole hill to yourselves for at least two hours if you're there at 9 am," she said.

With locals vouching for the resort's abundance of glorious powder to look forward to and minimal ski-lift lines, Kimberley is a place where long-time skiers and newbies can spend an ideal day at the slopes.Forster continued to explain that when the snow comes during the week you will likely never have to wait in line, but even during holidays and weekends you'll rarely wait more than two to five minutes to get on a chair.
Forster has some insider suggestions for must-ski runs. "Geneva, Tramway, Moe's and Boundary are pow day staples." She adds, "be sure to hit up Blueberry to finish off the day."
Not just renowned for its ski resort, the town of Kimberley itself has a lot to offer with no shortage of places to eat, drink, explore and stay. Unwind from a day on the slopes by taking in all of the amazing scenery around the town.Another Kimberley local, Matt Ballard, shares some wise advice for those who have never been to the resort before, or are heading out with the family.  He warns to "watch out for the main run bombers. Folks ride it all day doing mach speed."
If you're looking for a more relaxing and scenic tour of the area, Ballard and Forster both suggest snowshoeing at the Trickle Creek Golf Course to change up the pace.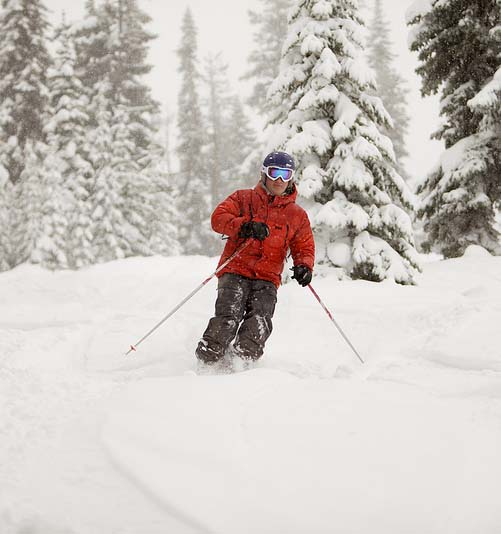 Arrive ready to ski at 9 a.m. and you can have two hours of the hill to yourself.
Photo courtesy of Kimberley Alpine Resort
You might need to rent some gear for other activities like snowshoeing or perhaps you're in need of some outdoor gear. Ballard suggests checking out a couple of local shops for rentals or other essentials.
"If you need some ski gear, go see Rockey at Rockies Ride and Glide. Or if you're looking for snowboard gear, go see Chris or Cory at Boardstiff."
Kimberley's secret has been uncovered - yes, it gets a hearty helping of powder during the winter and it isn't overrun with masses of people from the city.
Both Ballard and Forster second this notion.  "My favourite thing about riding in Kimberley is the freedom of going where ever I want, when I want, with little or no people on the hill," Ballard said.
Forster adds, "The best thing about Kimberley is getting the big pow dumps in January and February and the laid-back, old-school ski resort vibe - it's a beer-in-the-parking-lot kinda place."
Story Links:
For the latest deals, snow reports and contests, sign up today to our SnowSeekers e-newsletter.