Kimberley Alpine Resort snowy opening day a good omen for the season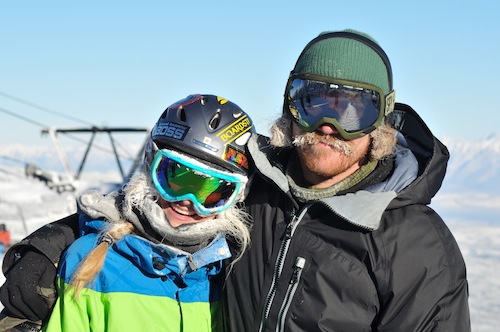 Skiers didn't let a little frosted locks and goggles get in the way of an excellent opening day at Kimberley.
Photo by Dave Quinn
DAVE QUINN
KIMBERLEY, B.C. - Even -30°C couldn't freeze the opening day stoke at Kimberley Alpine Resort last Saturday.
After all, more than 100 centimetres of the Kootenay's famous champagne powder had fallen over the previous five days and Resorts of the Canadian Rockies pulled out all the stops for a special preview opening weekend on Dec. 7 and 8. Beneath frozen balaclavas, rimmed-up goggles, and frosty locks, faces were frozen into powder-eating grins from the top of the mountain to the bottom. 
With all runs and lifts open, plus a metre of fresh snow on a great base from early November, these were some of the best opening conditions Kimberley has seen in years.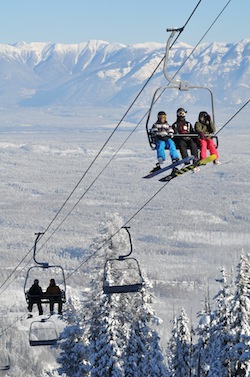 The lifts ran smoothly and skiers enjoyed a fantastic day on the slopes on opening weekend at Kimberley.
Photo by Dave Quinn
One former resort manager called it the "biggest dump I've ever seen all at once here."  The hoots, giggles, and cheers from the chairs confirmed this claim. It was pretty much steeps or groomers all day, as the powder was too deep to ski, although by the end of the day it had settled to the point where snowboarders and fat skiers could straightline some of the steeper blue runs.
Although it warmed up to a balmy -24°C, under crystal blue skies, and no wind, nipped toes, fingers and noses commanded skiers to head home or to the lodge for a hot cuppa near the noon hour. Numbers were bolstered, however, as skiers from Fernie began to arrive like Snowbirds, fleeing the -36°C conditions plus wind chill in the Rockies.
After the morning crowds dispersed, Kimberley returned to what it does best: no lift lines, open runs with nobody to dodge or look out for, and long, fall-line, leg-burner runs. Even as the backside runs of Geneva and Notre Dame closed at 3 p.m., ski patrol on sweep were still getting first tracks along the edges, or just crossing a few tracks in the centre of the runs.
Kimberley's excellent grooming team had been working overtime as well, and the front side, as well as runs like the Caper on the back, was in excellent corduroy condition.
With the winter solstice approaching, the low angle sun made for a gorgeous winter day. Backlit powder clouds trailing out behind skiers and a warm light on the Rocky Mountains, with views all the way from the U.S. border to Kootenay Park, made for an exceptional early opening at Kimberley Alpine Resort.A few spots on the front were a little harder than normal from the man-made snow, which KAR's outside operations staff is making like crazy in these cold conditions to bolster the base in some of the later season thin spots.
Skiers and staff alike are gearing up for another awesome Kimberley winter.
For the latest deals, snow reports and contests, sign up today to our SnowSeekers e-newsletter.