A winter wonderland getaway in a B.C. provincial park
Just a few hours from Vancouver, super natural Manning Park makes for a great getaway for downhill and Nordic skiing, tobagganing, skating and tubing
The last time my sister and I enjoyed the great outdoors at Manning Park we were on a family vacation as teenagers, paddling a rented canoe between the provincial park's Lightning Lakes. This past weekend, we glided between the lakes once more, only this time on skis.
Did you know that Manning Park Resort is a quick drive from Vancouver? Learn more about accommodation packages here.
Families have been making memories at Manning Park for generations so it was fitting that I brought my sister with me for our first ski weekend of the season.
Driving up from Vancouver on a Saturday morning, it took just three hours to reach the Manning Park Lodge turn off from Highway 3, just past the sign for the Gibsons Pass Ski Are. We had no idea that such fantastic winter adventures awaited beyond those signs.
Ski and sleep over
Manning Park offers several accommodation options: 41 rooms in the main lodge building and 24 cabins and chalets that can sleep from 10 to 14 people. There is also The Last Resort, a character building on the opposite side of the highway that can sleep up to 50 people. The Last Resort was built in 1949, the same year the Hope-Princeton Highway opened, providing an efficient way to connect the Lower Mainland with the Southern Interior of B.C.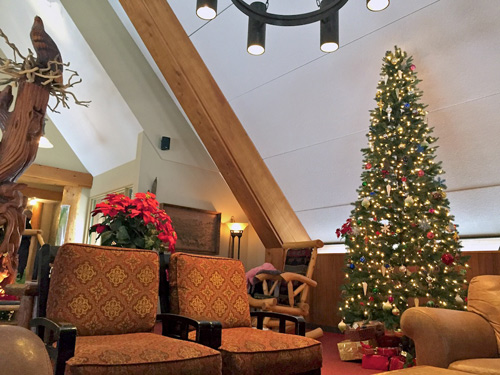 Manning Park offers a range of accommodation for large and small groups of visitors. 
We left our vehicle in the main parking lot of Manning Park Lodge, arriving at the same time as some day-trip skiers who awaited the complimentary shuttle connecting the lodge with the ski area about 15 minutes away. 
The lodge was decked out for the season with a Christmas tree, carols playing on a sound system, and stockings hung from the mantel of the grand fireplace. We arrived before check-in, so we stowed our bags and suited up for a tour of the grounds with the resort's marketing manager, Robyn Barker.
"I'm born and raised at Manning Park," Robyn told us as we walked from the lodge building to the Loon Lagoon Rec Centre, which boasts a heated, salt-water indoor pool, exercise room, sauna, two hot tubs, and a steam room.
Robyn's family has worked with Manning Park for two generations. Her father Mike has worked at the resort for over two decades. Her career at the resort began as an instructor while she was in high school. After a few years of travel, she returned home to teach, be the mountain coordinator, and to recently take on the marketing role.
Until a few years ago the resort was in receivership, which was a bit of a trying time for long-time visitors and staff alike.
Resort undergoes a revival 
In recent years, with the help of new ownership and the management team, the resort is having a revival – and the amazing snowfall helps too.
"When it's ugly and raining in the (Fraser) Valley, and you think there's no where to go or nothing to do, chances are Manning has snow – and it's a winter wonderland up here."
The resort currently has an average base of 146 cms. The base level is at an elevation of 1,350 metres and goes up to about 1,800 metres. The ski hill was open more than 110 days last year.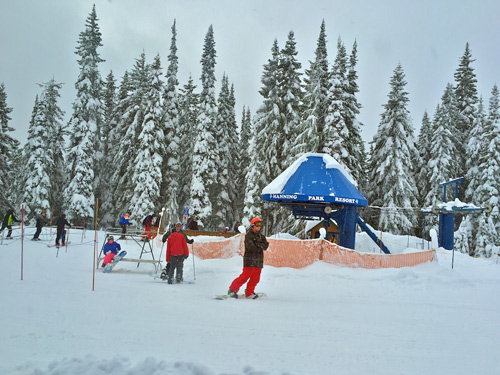 The snow keeps falling at Manning Park, with a top elevation of about 1,800 metres.
"We like to say we're close enough to the city but since we're further inland, we have drier snow and higher elevations."
Manning Park doesn't just get returning visitors; it also has staff that looks forward to working there each year.
"We offer free rentals and lessons to our staff so they can take advantage of the skiing, cross-country skiing, snowshoeing and ice skating. In the summer, they get rentals for canoeing, kayaking, and we want to attract people that love doing that stuff.
"It's such a cool place, and cool experience to work up here because you get to live and work in a provincial campground – in a playground basically."
Miles of Nordic trails
Robyn took us to the Nordic rental building to pick up our cross-country skis and check-in for a lesson.
I'm a snowboarder and am very comfortable on one plank, so clicking into two immediately took me out of my comfort zone. Luckily, our instructor Jo Hughes was patient with me. My sister did just fine on the other hand, being an avid skier. It was only fair since I was going to take her out of her comfort zone the next day when I got her on a snowboard.
Teaching me "from the snow up" on a beginner course with tracks already carved, Jo helped me find my balance and pace. Once our lesson was over, my sister and I took off to explore the Nordic trails.
Nestled in the Cascade Mountains, there is a 64-kilometre cross-country and snowshoe trail network along with 160 kms of backcountry trails, under the evergreen forest canopy and between valley lakes. We traversed the area around Beaver Pond, passing an area that is used as a corral for visiting horses in the summer. The snow was soft, and falling gently from the sky and every branch above us, sticking to our toques and painting them white.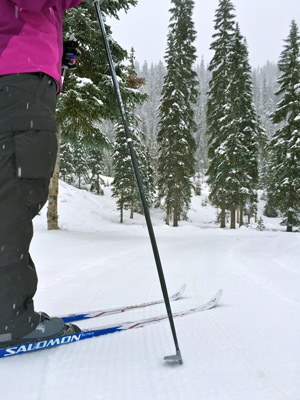 Manning Park has an extensive has 64 kms of Nordic ski trails.
After our day on the trails, we returned to the lodge and eventually made our way across the parking lot to the Pinewoods Building that features a dining room, country store and gift shop, and the Bear's Den pub. At the Bear's Den, we sat by the fireplace, over which a growling bear with outstretched arms was mounted. A chessboard was set up on a table in front of the fire and Christmas garlands dipped overhead. The menu featured a variety of salads, burgers, and snacks – like the deep-fried pickles that called our names.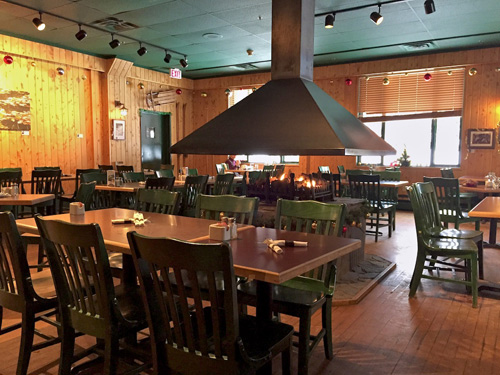 Finish a day on the slopes or trails with deep-fried pickles in the Pinewoods Building.
Word of great snow spreads
In the morning, we hopped on the shuttle that stopped right in front of the lodge door. Although we were on the first trip up (8:30 a.m.) the bus was fairly full and when we arrived at the ski area, the parking lot was filling up. This was supposed to be opening weekend for Manning Park. But since the snow has been so great, they opened for the weekend two weeks ago. Word must have spread!
We were dropped off in front of the Day Lodge at the ski area's base where we grabbed some breakfast wraps and met our snowboard guides.
I went up each of Manning's lifts, blue and orange, for a couple of runs with my guide, while my sister learned how to stand, maneuver and turn on her first-ever snowboard adventure. We met up following our 90-minute sessions and while she did become frustrated at some points, she said her instructor was incredibly patient. I have promised her that when we return, she can simply downhill ski.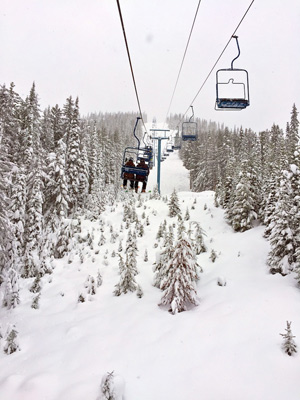 The blue chair at Manning Park surrounded by snow-covered pines.
Skiing, tubing, tobogganing, skating…
My sister is also planning to return with her four children. There's an outdoor skating rink back at the main lodge, a toboggan hill, and snowshoe trails. She'd love to teach them to cross country ski too, now that she and I are both hooked on the activity. Up at the ski area, there's also the Polar Coaster – the ultimate downhill tubing adventure.
Bring your own gear, or rent
Because Manning Park is within a B.C. Provincial Park, it's open and free for everyone, with the exception of the ski hill, which is operated by the resort company. It's the only ski area with accommodations located inside a B.C. Provincial Park.
You can bring your own cross-country skis, snowshoes, or toboggans up for the day and play all you want in the snow. Visitors can rent from Manning and if you plan on using the groomed Nordic trails, you can purchase a pass at the resort as well.
In case the 15-minute ride from one lodge to the other isn't enough, you can park your RV at the ski area. Stay overnight, use the Day Lodge's amenities, and be within one-minute walking distance to the ski lifts
You can also fully disconnect at Manning. There is Wi-Fi in the Day Lodge at the ski area and in the main resort lodge, but there is no cell phone service.
Manning Park also offers reciprocal deals with some Vancouver ski hills that give season pass holder discounts. If you have a pass for Mount Seymour, you can get two free days (conditions apply) at Manning and vice versa. There are a handful of resorts in the network that offer similar deals.
Young or old, it's easy to see why this resort has been a favourite for so many generations, and why it's once again an easy and fun winter getaway in one of B.C. beautiful provincial parks.
If you go:
Click on the links to learn more about the amenities and services at Manning Park Resort.
Accommodations: 
http://winter.manningpark.com/accommodations/
Shuttle:
http://winter.manningpark.com/shuttle/
Cross-country skiing:
http://winter.manningpark.com/lessons/group-public-2/
Pinewoods Building: 
http://winter.manningpark.com/food-dining/pinewoods-dining-room/
Tubing:
http://winter.manningpark.com/polar-coaster/ 
Headed Manning Park way? Share this page with friends and get them excited to go there, too. 
For the latest deals, snow reports and contests, sign up today to our SnowSeekers e-newsletter.