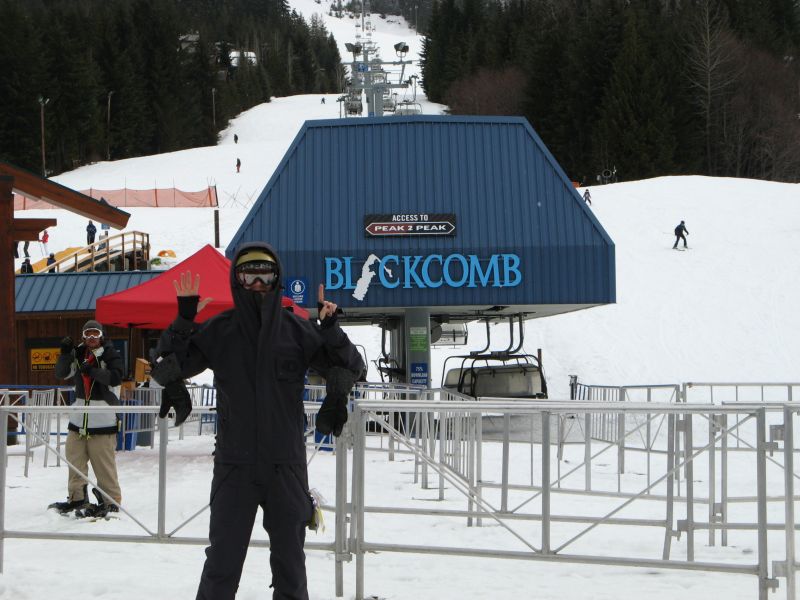 Photo courtesy of Kevin Prisiak
KEVIN PRISIAK
After another delicious breakfast served up from the fine people at The Ram's Head Inn at the base of Red Mountain, it was time to pack up and get on the road for the last leg of our journey: a quick eight hour drive from Rossland to Vancouver. 
The drive was quite scenic down the number 3 Highway. Going through Osoyoos and wine country made me want to make that drive again, only this time in the summer. Fruit stands and wineries dotted what seemed the entire highway. Leaving Rossland and Red Mountain behind with 2 meters of snow at the roadside, to green grass and almost no snow to be seen anywhere was a huge difference.
After an amazing night in Van catching up with old friends, we headed out bright and early (too early...) and made the trip to Whistler and the illustirous Fairmont Chateau Whistler.
The Fairmont Chateau Whistler is amazing! After a night out on the town in Vancouver, I was in no shape to be riding...yet. I rested for about an hour in a marvelous bed, before I decided that hitting the hill was a good idea. I felt a little bit out of sorts, but the cool mountain air was quite refreshing.
Whistler Blackcomb was in excellent shape. We find out later that the 7th Heaven chair (on Blackcomb Mountain) had been closed for about 2 days before we had got there due to about 40 cm of snow and crazy wind. Riding the 7th Heaven chair at 2:30 in the afternoon on a Saturday, we were still finding stashes of untouched powder all over the place. It made for a very diverse day of riding: powder at the top, slushy spring skiing at the base, and lots of traversing the middle.
There is so much snow at Whistler Blackcomb right now, and the diversity of terrain at is unbelievable; there is something for every level of rider in almost any direction to choose. It is pretty much all there; whatever you are looking for, you will find it. 
It seemed like we found a new terrain park every time we rode a new lift. There are a total of 5 terrain parks on Whistler Blackcomb and 2 half pipes. One is a 22-foot (Olympic sized) and the other is a smaller 14-foot half pipe. I am not sure if someone can actually ride every lift on both mountains in one day, but the next time I'm here, that is my goal.
My last trip to Whistler was a few years ago and they had just installed the new Peak 2 Peak Gondola. On Sunday it was decided that we would check it out, as Chris had never been on it. The Peak 2 Peak is a marvel, as far as an engineering masterpiece goes, breaking three world records: with the longest unsupported span of 3.024 kilometres, the highest lift of its kind at 436 metres above the valley floor, and it completes the longest continuous lift system on the globe. We met people on the Peak 2 Peak who to the mountain with the sole purpose of riding it.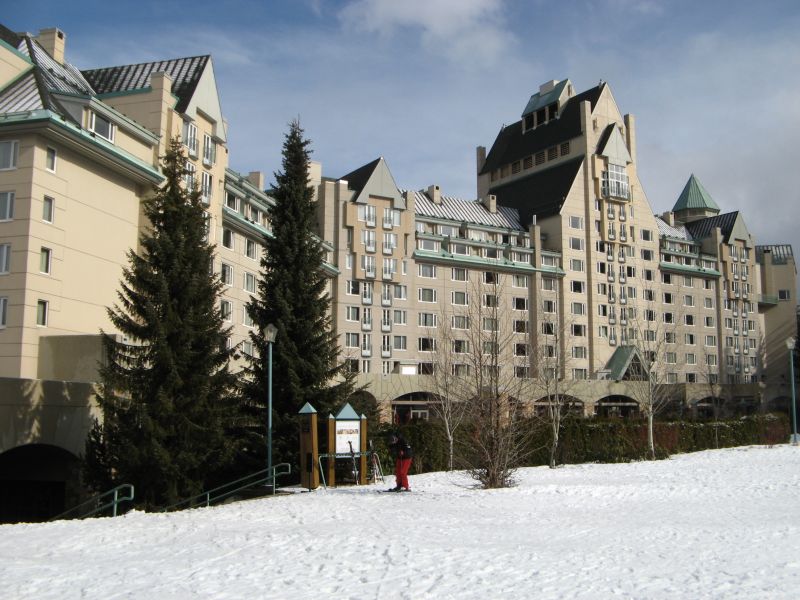 Photo courtesy of Kevin Prisiak
In Whistler there is the Upper Village and the Lower Village. If you are on Blackcomb Mountain, you will probably see more of the Upper Village, and if you are riding Whistler Mountain, you will probably end up in the Lower Village. For our trip to Whistler Blackcomb we stayed at The Fairmont Chateau Whistler. Located in the Upper Village, right at the base of the Wizard Express lift (at the base of Blackcomb Mountain), the Fairmont Chateau Whistler is an exceptional hotel. One of the highlights for me was getting down the hill, unstrapping, walking down a flight of stairs and handing my snowboard to a friendly attendant at the Ski Valet. How cool is that? 
I found all the staff very friendly and super helpful any time we needed anything. The Fairmont had everything you could imagine for amenities, and probably some you never thought of, like the ski valet for example. Pretty sure that of all the beds I slept during the Rocky Mountain Road Trip, the Fairmont Chateau Whistler was at the top of the list ... but I can't at all complain about any of the exceptional accoms we've had along the way. They were all terrific. 
With Whistler, our 10-day undertaking definitely ended in style. I think I will head to the day spa just two doors down and see if they can make me pretty.
Tomorrow we fly back to Edmonton. I am not sure how I feel about that. Perhaps some sense of relief, a sense of accomplishment, sadness, and happiness. To be able to do this trip and have everything work out is good enough for me. I never like leaving the mountains behind, and I am sure that as relieved as I will be to get home, I will miss the snowy slopes of the Rocky Mountains very much.
Photo courtesy of Kevin Prisiak