DOC POW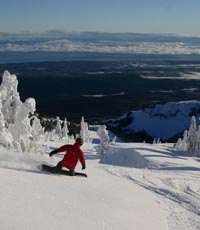 Mt. Washington's Outback is loaded with chutes and glades. 
Courtesy MT. WASHINGTON
MOUNT WASHINGTON, BC — A dude walks up to a bar that houses a surf board overhead and orders up a Mai-Tai. He's geared up in snowboard boots with his deck under his arm; no this is not the start of a bad joke – it's just another great day at Fat Teddy's Bar & Grill, found at one of British Columbia's top ski resorts—Mount Washington Alpine Resort.
With runs including Billabong, Whitecap, and Riptide you may think board shorts and some Dr. Zog's surf wax is all you need; but don't be fooled, it's the snow gear you're after. Just outside of Comox on Vancouver Island, Mount Washington stands ready for some serious snow adventures.
Ocean view
As part of my island getaway, I hooked up with senior snowboard instructor and Surf's Inn proprietor, Michael Bray for a surf safari on snow.
"There is just something about being able to shred the snow in view of the ocean," said Bray. "The view from here is incredible. Not only do you have the sea, but also the coastal mountain range. On really clear days we can see Mount Baker—it rises from the horizon like a white volcano."
With an annual snowfall of 10.5 metres (35 feet) and a gnarly offering of some sick terrain, Bray and I spent the day experiencing why this is in the top three for BC's most visited ski destinations.
Home to Canada's deepest snow pack, it's those same ocean storm systems that come in off the Pacific coast that unleash on the resort.
"We will see 20, 30 or 40 cms in a 24 hour time period here," said Bray. "We've experienced storm cycles that have cars being pushed off our lot cause the snow plows didn't even know they where there, that's how much snow we can get overnight!"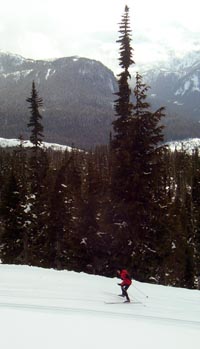 Mt. Washington is home to some excellent Nordic terrain. 
DOC POW,SnowSeekers
Heading to the Outback
We found some of these epic conditions launching into Billabong, which is in the resort's Outback free ride zone.
This double diamond playground located on Washington's back side features about a dozen runs of shoots and stellar snow. The area is serviced by the Boomerang chair, the only one of its kind in Western Canada that has three on or off stations, one from the bottom of the Outback, one at its peak and then it continues on for access from the front side.
Even though we spent some of our day swapping surf stories, here at Washington it's all about the snow.
"Last year we had guys up on the roof of the day lodge shoveling to get some of the weight down," said Bray. "They had been up there for two days and didn't even make a dent. We had to bring in the snow cat and get it up there just to clear it off, it would have taken them months otherwise."
In addition to the great snow, with over 4,000 pillows on the mountain, you can stay slope-side to enjoy this island amusement park.
Water's edge to mountain peak
"Comox Valley (home to Mount Washington) is the crown jewel of BC," explains Teddy server, Sara Brown. "Where else can you go from a ski or snowboard session in the morning, hit the links at Crown Isle for the afternoon and then still get in a late afternoon fish at Kitty Coleman Provincial Park."
In addition to the shredding, the vertical gnar options, Mount Washington hosts a healthy amount of cross-country trails and snowshoeing opportunities.
"We have miles of cross-country trails that are located right from our pedestrian village area," said Bray.
I was impressed with the terrain options Washington offers, but even more impressed by the vibe. Here, the surf's always up with plenty of special events all season long.