Mid-winter getaway at Whistler's Crystal Lodge
MICHELLE LEROUX
WHISTLER, B.C. - Make a plan with your significant other (the #SO) to take next Monday off and head up to Whistler for a mini-getaway to chase away your mid-winter blues and reconnect after festive season madness.
Or, better yet, book off an entire week and enjoy the delights of this world-renowned resort town over seven sweet days. With Crystal Lodge and Suites as your home base, you can't go wrong. There are packages for all kinds of stays – like the Relaxation Package with access to the Scandinave Spa Whistler included. Explore here.
Here's a mini-itinerary for your escape.
Monday
6 a.m.
You and the #SO head out of the city before rush hour and nose the car towards Whistler. It snowed last night, but the roads are clear and not very busy; it's a sneaky weekday mission, after all. Since you'll be overnighting at the Crystal Lodge & Suites, park in their underground lot for the day. You're only a short wander away from the base of Whistler Village Gondola and Excalibur Gondola to access Blackcomb. You have 8,171 acres of terrain on your doorstep. Also, a Starbucks, so you grab an Americano to fire you up while you wait for the mountain to open.
8:30 a.m.
Decisions, decisions. Whistler or Blackcomb first? With the PEAK 2 PEAK Gondola connecting them, you really can't go wrong. You decide to go to the dark side (Blackcomb for the uninitiated) and make tracks over to Crystal Ridge Express first thing. With nine centimetres in the last 12 hours, the warm-up lap you take on freshly groomed Ridge Runner has you whooping. Your legs are firing, and snatches of fresh powder off the side of the run have you hungry for more so you and the #SO dive into Fraggle Rock. You decide to go straight down the centre line, and because it's a weekday, there's hardly a track to cross.
11 a.m.
After sessioning Crystal Zone, it's time for a bite to eat. You opt for the famous waffles at Crystal Hut. The sun has decided to appear and so you take a seat on the deck and share a stacked waffle with the #SO. See? Proof of true love, right there.
Noon
Time to change things up, so you head over to Whistler. The views are positively majestic, and you don't bother waiting for a glass-bottomed gondola on the PEAK 2 PEAK this time. Fissile Mountain is looking mighty fine with a fresh coat of snow. In no time you are heading over to the Peak Chair. In search of more freshies, you speed down Highway 86 towards Bagel Bowl and drop into some wind-sifted powder off Cream Cheese Ridge.
3 p.m.
Many runs later, you and the #SO decide to ski out the near mile of vertical to the village and check into the Crystal Lodge. Upon check in you receive a Crystal Advantage card providing discounts on a ton of Whistler businesses. Their helpful (and complimentary!) ski concierge by the Spaghetti Factory whisks away the gear leaving you to take just a few steps into the Beacon Pub & Eatery.

Just a sample of the beer selection on tap at the Beacon Pub & Eatery.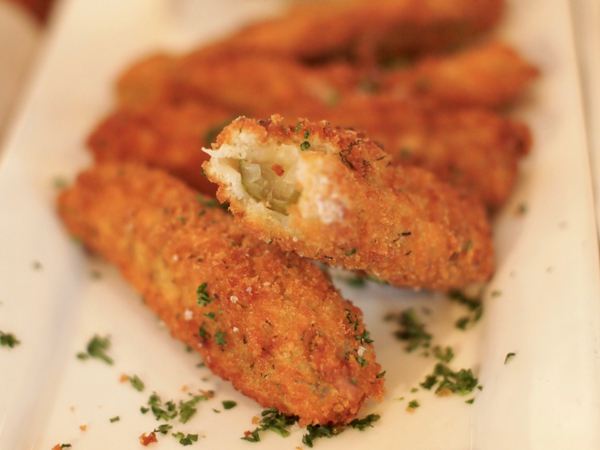 You have to try the deep fried dill pickles.
3:30 p.m.
The craft beer selection is impressive, and after much deliberation and a tasting from the server, you settle on a Bridge Brewing Bourbon Blood Orange Wheat Ale while the #SO goes for the very local and fresh Coast Mountain Fire Steel Red Ale. A plate of highly addictive deep-fried pickles and wings (ask for a side of their housemade hot dipping sauce) rounds out your apres. As the day winds down in Village Square and locals and tourists start to fill the pub, you're finished and dig out your Crystal Advantage Card – 15% off menu items, BOOM!
4:30 p.m.
Before heading back to the hotel, you duck into the Whistler Grocery Store next door for some cold drinks to enjoy in the hot tub. Back at the hotel, you flop onto the bed to take a moment to appreciate the comfort of the room and admire the new contemporary décor, all part of a recent $1.9-million dollar renovation. You like it. A lot.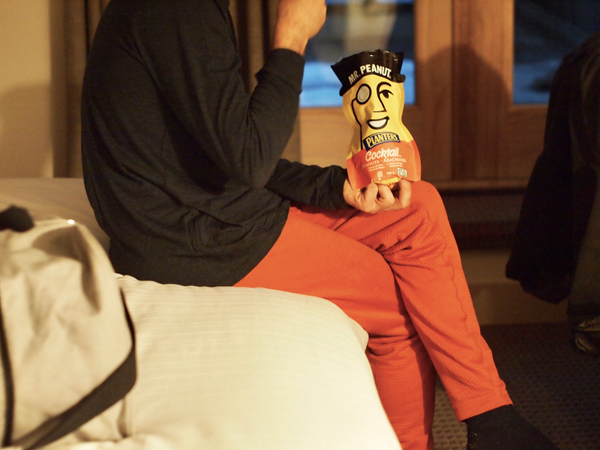 Relaxing with Mr.Peanut before heading to the hot tub.
5 p.m.
Time to get moving. You know there is a games room with pool table and ping pong, but you have your heart set on a soak. You quickly unpack your bathing suits and pull fluffy white robes out of the closet and walk through the lobby to the outdoor hot tub. If you were looking to soak in privacy, renovations included the installation of deep soaker bathtubs but tonight you are keen for an al fresco soak. The hot tub is delightful and works its magic on your powder-weary thighs. Soon you are lowering yourself into the heated outdoor pool for a few lazy laps.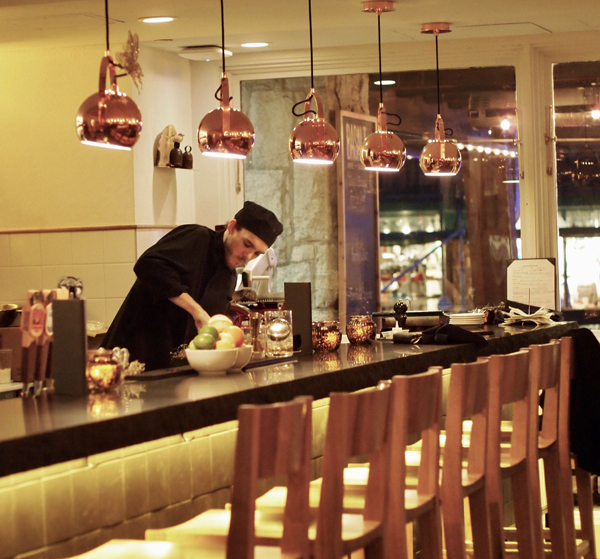 Basalt is small and cosy with a warm and sophisticated feel.
7 p.m.
After getting ready for dinner (the #SO appreciates the new flat screen television while you love the full-length mirror, you head downstairs to Basalt Wine & Salumeria. This newer addition to Whistler's celebrated restaurant scene is an unsung hero. You start with an exceptional cured meat and cheese platter that looks like a piece of art. And it tastes like a masterpiece. You and the #SO gorge and feel a slight pang of worry about how you will fit in the rest of the meal. Each course that follows is nearly better than the last. You would heartily recommend Basalt to anyone looking for a remarkable yet approachable dining experience. You are so sleepy from the food and wine you almost forget to present your Crystal Advantage Card, but the #SO reminds you and just like that, 10% is taken off the bill. 
10 p.m.
Fully sated, you toddle back to your room at the Crystal Lodge. The bed is looking oh so comfortable and you and the #SO collapse after setting the alarm on your iPhone and docking it on the in-room recharger.
Tuesday
7 a.m.
You've slept like a rock, and despite last night's meal, you are eager for breakfast. That might be because this morning you will be noshing at Wildwood Pacific Bistro, voted Whistler's best breakfast by locals for around 13 years running in the Pique Newsmagazine's annual "Best Of" poll. 
As the server fills your mugs with steaming coffee, you and the #SO peruse the menu. From hearty basics like their egg and bacon Classic Breakfast to delicious twists on tradition like the pulled pork French Toast, Wildwood covers the gamut of morning cravings. This place is famous for their Wild Bennies eggs benedict and the #SO decides on the Bacon Benny while you go for a Wild Breakfast Bowl, a heaping dish of sautéed onions, peppers and mushrooms served over pan fried Pemberton potatoes and two scrambled eggs with melted cheddar.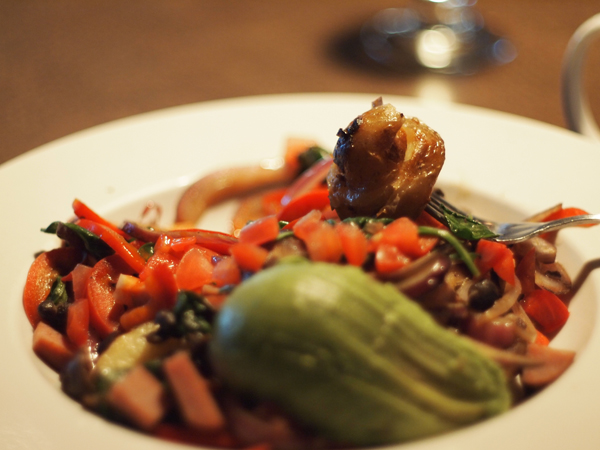 The Wild Breakfast Bowl is the perfect sort of fuel for a day on the mountain. 
8:30 a.m.
Now here is where the story can continue, with a short jaunt through the village to upload on Whistler this time or a hop back to your hotel room to pack up your things and sneak back to work by late morning. That's the beauty of this mid-winter getaway at the Crystal Lodge; you get to choose your adventure, and the best of Whistler is right on your doorstep!
Watch the Perfect Ski Day video
If you go
Check out deals and reserve your hotel room by visiting the official Crystal Lodge website.
Like this story? Share it with your friends on Facebook and start planning your trip to Whistler.