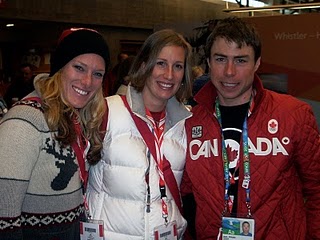 Olympian Jason Myslicki was on hand to greet the kids, take some photos, and take in an astounding breakfast.
RICK MACDONNELL/SnowSeekers
RICK MACDONNELL
- Feb. 28/10
No disrespect to Doc Pow and the bountiful breakfasts that have been cooked up in the SnowSeekers RV all week, but today's pancake breakfast at Canada House was the best meal I've had before noon all Olympics long.
I stuffed myself on pancakes and sausage, and treated myself to my first juice box since I was probably 15. It was in keeping with the atmosphere, though, as dozens of kids were on hand to make crafts, listen to some tunes, play the Nintendo Wii, and get their pictures taken with Quatchi and Miga.
It was hilarious to see how the kids largely ignored the athletes, including Canadian Olympian, Jason Myslicki (nordic combined). They were way more interested in the mascots, mounties, and, predictably, the games.
Olympians ... or Wii? Olympians ... or Wii?
Luckily for the Olympians there were a fair number of adults who wanted nothing more than to shake hands and congratulate them on a job well done (myself included).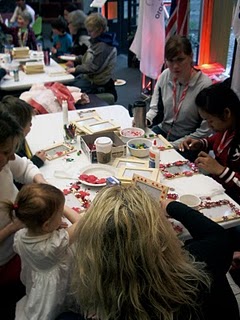 Olympians schmolympians. When there's crafts to be had, nothing else stands a chance.
RICK MACDONNELL/SnowSeekers
Kids are kids, though, and no amount of Olympic glory can trump Mario & Sonic at the Olympic Winter Games.
Mayor Ken Melamed was also on hand to say a heartfelt thanks to everyone who got involved with the Games, participated in their own way, and made these past two weeks something that Whistler can be proud of.
Given the considerable negativity in British Columbia in the months approaching the Olympics, I have to say that both Vancouver and Whistler have come through and then some.
Almost over
"I haven't spoken to a single person that hasn't said that this has been the best time of their lives, here in Whistler" Melamed said to the gathered crowd at Canada House. "I'm getting a lot of requests to do it every year. I'm not sure we can pull that off, but let's celebrate and enjoy this time together. Thank you, again, everyone in Whistler for being here and helping to welcome the world."
As I heard the mayor speak I suddenly realized that in about 30 hours this would all be over. This Olympic journey has been a long time coming for so many people (talk to Doc Pow and he'll regale you with a delightful tale of his 14 year wait), so it's kind of surreal to think that by tomorrow night we'll all be heading back to our regular lives.
While we're here, though, I can't think of anything better than to chow down on some syrup-drenched sausage. If you'll excuse me, I'd like to get back to my juice box, please.