WILL COLFORD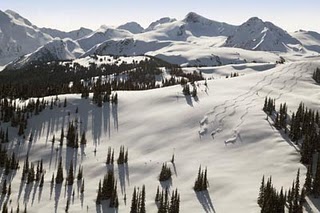 'Epic' doesn't even begin to describe the amazing vistas found in every direction atop Whistler Mountain.
WILL COLFORD/SnowSeekers
WHISTLER, BC – After skiing and snowboarding for 19 years, getting my first turns at Whistler today left serious impressions. Not to brag, but I've ridden nearly every resort in Western Canada. I rode the day "epic" became canon. I've had turns so deep, my board ran into bioluminescent sea creatures. In short, the last two decades have been good … really good.
However, my life as a rider will forever be divided into two categories: before and after Whistler. Coming into town it's very clear Whistler is not a typical ski town; it's a mecca. There's a reason Whistler is consistently ranked amongst North America's best ski destinations, and it begins in the village.
Perfection around every corner
The cobblestone streets are lined with the best restaurants, shops, pubs and clubs. Each one potentially contains your idea of a perfect party. Each menu contains your idea of the perfect meal. Each shop has that perfect item you can't find anywhere else. Sure the chains are present, but they're buried within the most eclectic collection.
Of course the good attracts the bad. Prices go up. Pretensions rise. Exclusivity becomes the norm. The only element devoid of this phenomenon, however, is the riding. It's all good.
Best of the best
To get an idea of what Whistler Blackcomb is like, picture your top five favourite mountains. Then think of what makes them your top five: terrain, specific areas, hiking, glades, groomers. Then take those five elements and put them into one hill. Heading up the 7th Heaven chair, I saw the Sunshine Garbage chutes, Revelstoke's North Bowl, Lake Louise's glades, Terminator from Kicking Horse, and Red Mountain groomers. Then I realized, I was on one chairlift, of one section, of just one hill.
For the latest deals, snow reports and contests, sign up today to our SnowSeekers e-newsletter.