Whistler opening - by the numbers
What's it take to prep for Day 1 of the winter season? Read on.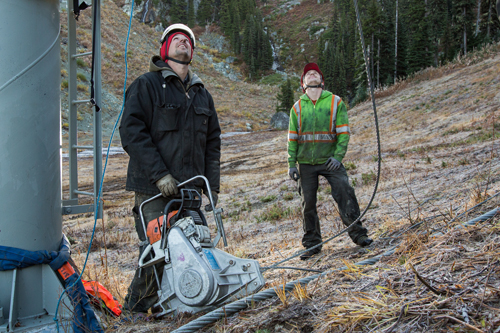 It takes round-the-clock work for Whistler Blackcomb to open every year.
Photos by Whistler Blackcomb.
LISA MONFORTON
So complex are the logistics of opening North America's largest ski resort.
"It could be compared to sending the space shuttle into flight," says the Whistler Blackcomb mountain operations manager. "Many hours of planning, budgeting, staffing occur. We have a countdown date and work backwards from there. We work around the clock in preparation to opening."
Once everything is up and running, he says there are legions of unseen support staff whose work continues behind the scenes, vital to the operation of the resort.
There are also plenty of  much larger numbers that define the four-season resort: terrain (8,171 acres), elevation (2,214 feet), average snowfall in a season (38.2 feet), number of restaurants (17) and number of trails (200+).
But working towards opening day – this year on Nov. 26 – brings in a whole other set of statistics. As Francis says, getting ready for that first day of the winter season begins as soon as the last skier or boarder leaves the resort in spring. 
"We are really working from when we close the winter operation in June (also when the summer ops finishes) … and are working with the common goal of getting the mountains open for the upcoming winter season," says Francis.
The average skier would hardly believe what it takes to get ready for Day 1.
"Just due to the sheer size of our resort, and weather and difficulty with rugged terrain and travel time to get our crews to their work sites is an enormous effort. It is certainly not like throwing a switch to "on"?and we are open.?
Here's a numerical look at a dozen of the extraordinary efforts in opening Whistler Blackcomb for Day 1 and keeping it going at full throttle until mid-May.
1 So powerful are the snow guns, that just a single one over 24 hours at -20°C could fill an NHL hockey rink with snow to the top of the glass.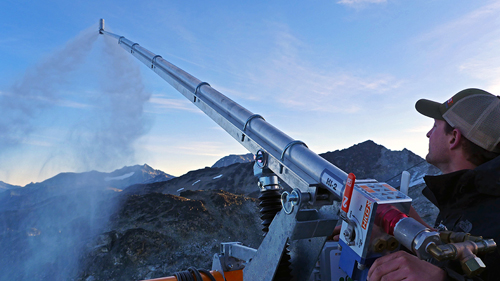 38.2 Average amount of snow in feet snow that falls in a season
37 Total of lifts between Whistler Blackcomb operating during peak season
8 + 1 The number of runs to be open on opening day, including one small terrain park, but are weather dependent.
4 + 1The number of lifts (including 1 carpet) that will open on the Nov. 26 weekend at Whistler Mountain.
11 The length in kilometres of the longest run on Whistler (Burnt Stew to Side Winder) and Blackcomb (Green Ride down)
78 Number of groomers in operation during peak season.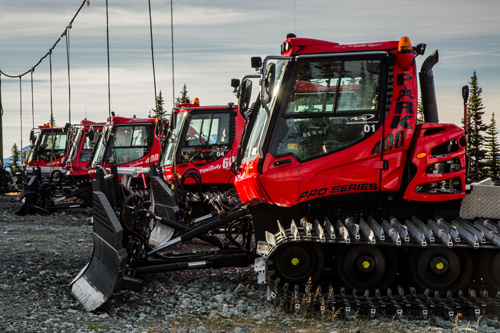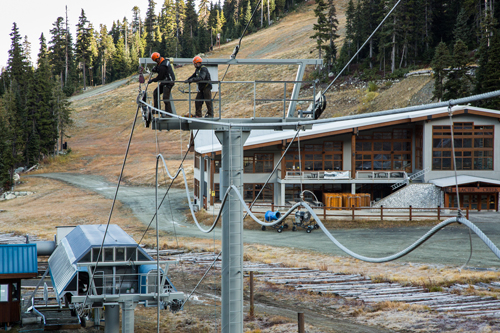 270 That's how many snow gunshelp pump up the powder factor when the snow isn't falling from the sky.
60,000 The amount of litres of water per minute that the snow guns can throw.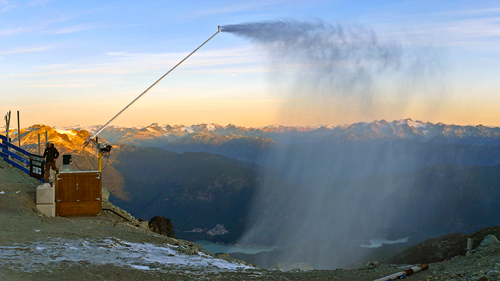 69,939 The number of skiers per hour that the two mountains that make up Whistler (31,168 skiers) Blackcomb (33,791) can accommodate at peak season.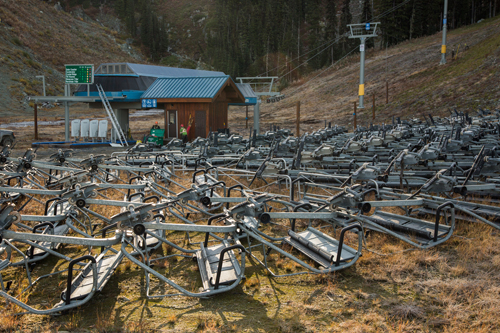 55,000,000 The holding capacity in litres of water among the three holding reservoirs at WB. That's equal to about 1,600 Olympic-size pools. 
For the latest deals, snow reports and contests, sign up today to our SnowSeekers e-newsletter.