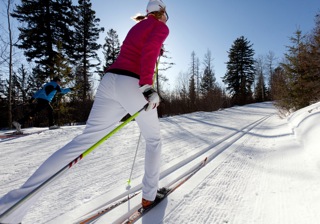 There are 105 kilometres of groomed trails between Silver Star's Nordic and Sovereign Lake areas. 
Photo courtesy of Silver Star
STEVE MACNAULL
VERNON, B.C. - An unprecedented amount of cooperation is happening up at the Silver Star and Sovereign Lake cross country ski areas near Vernon, B.C.
US friends: With the exchange rate in your favour, why not come and visit your neighbours in the great white north this winter? Explore winter deals and getaway packages at SilverStar Mountain resort.
"We are two different organizations," says Guy Paulsen, the manager at Silver Star Nordic.
"But combined we have 105 kilometres of interconnected groomed trails  - the largest system in Western Canada. It only makes sense that we work together."
Silver Star Nordic, which has 55 kilometres of those trails, is connected to the sophisticated Silver Star Mountain Resort, which has downhill skiing and a village packed with shops, restaurants, bars, spas, accommodations, skating and tubing.
Sovereign is linked with 50 kilometres of trails, but is on B.C. Parks land.
The partnership means for the first time the two areas are co-hosting XC Supercamps (more on that later) and have dual area day and seasons passes.
"There are a whole bunch of invisible lines where skiiers don't know if they are on a Silver Star trail or a Sovereign trail," says Sovereign Lake's communications manager Julie Melanson.
"With the advent of the dual area pass people can have what I call 'a guilt free ski'."
By the way, the day pass for Sovereign's trails is $16.50, the dual area day pass is $21.
A Silver Star seasons pass is $170 or go dual for $319.
Already open
The combined cross country ski system opened Nov. 16 with a base of 20 centimetres of snow.
By season peak there will be a compacted base of a metre-and-a-half at the areas' top elevation of 1,664 metres (5,500 feet).
"We have the luxury of a lot of snowfall here," says Paulsen without a hint of brag in his voice.
"It's just the way it is. We open early and have a great long season."
Varied terrain
With 105 kilometres of groomed trails the Silver Star-Sovereign one-two punch means diversity, choice, views and options.
Both areas have upper and lower trails creating the illusion that you're skiing four different resorts.
Upper trails not only offer fast wide trails, but incredible views of the Vernon Valley and surrounding Monashee Mountains.
Trailside respite
Both ski areas have rustic trailside cabins with wood burning stoves for rest stops and to eat your packed lunch or snack.
Sovereign's Black Prince Cabin also has waxing facilities.
And Silver Star's Mountainview Cabin supplements all the facilities of adjacent Silver Star Mountain Resort.
Olympic connections
Sovereign's head coach is Darren Derochie who competed in cross country skiing at the 1992 Winter Games in Albertville, France.
And its groomer is Bill Pfifer, who was loaned to the 2010 Olympics in Vancouver for his world-class skills.
Boomers
Paulsen has been with Silver Star for 28 years and during that time he's seen a lot of youngsters take up cross country skiing because it has a newfound cool factor.
But he's also seen a lot of baby boomers switch or split their time from downhill skiing with cross country because it's easier on the body, but still one heck of a workout.
Competitions
The area's incredible terrain, reliable and plentiful snow and infrastructure means a steady stream of domestic and international team training.
It's also attracted world-calibre contests like the 1992 and 2005 World Cups, various NorAms and the 2011 Masters World Cup.
XC Supercamps
Designed to get skiiers of all levels ready for the season these supercamps are offered through November and December over either a two-and-a-half day long weekend or five day week.
The long weekend camps run Friday at noon to Sunday and are $259 for half-days or $319 for full-days and include trail pass, coaching, lunches, stretch class and access to the fitness room.
The weekday camps include all that plus a massage and come in at $689 for half-days or $799 for full-days.
Check out XCSupercamp.com, SkiSilverStar.com and SovereignLake.com.
For the latest deals, snow reports and contests, sign up today to our SnowSeekers e-newsletter.