Eat up, then ski down from Panorama resort's Mile One Hut fondue dinner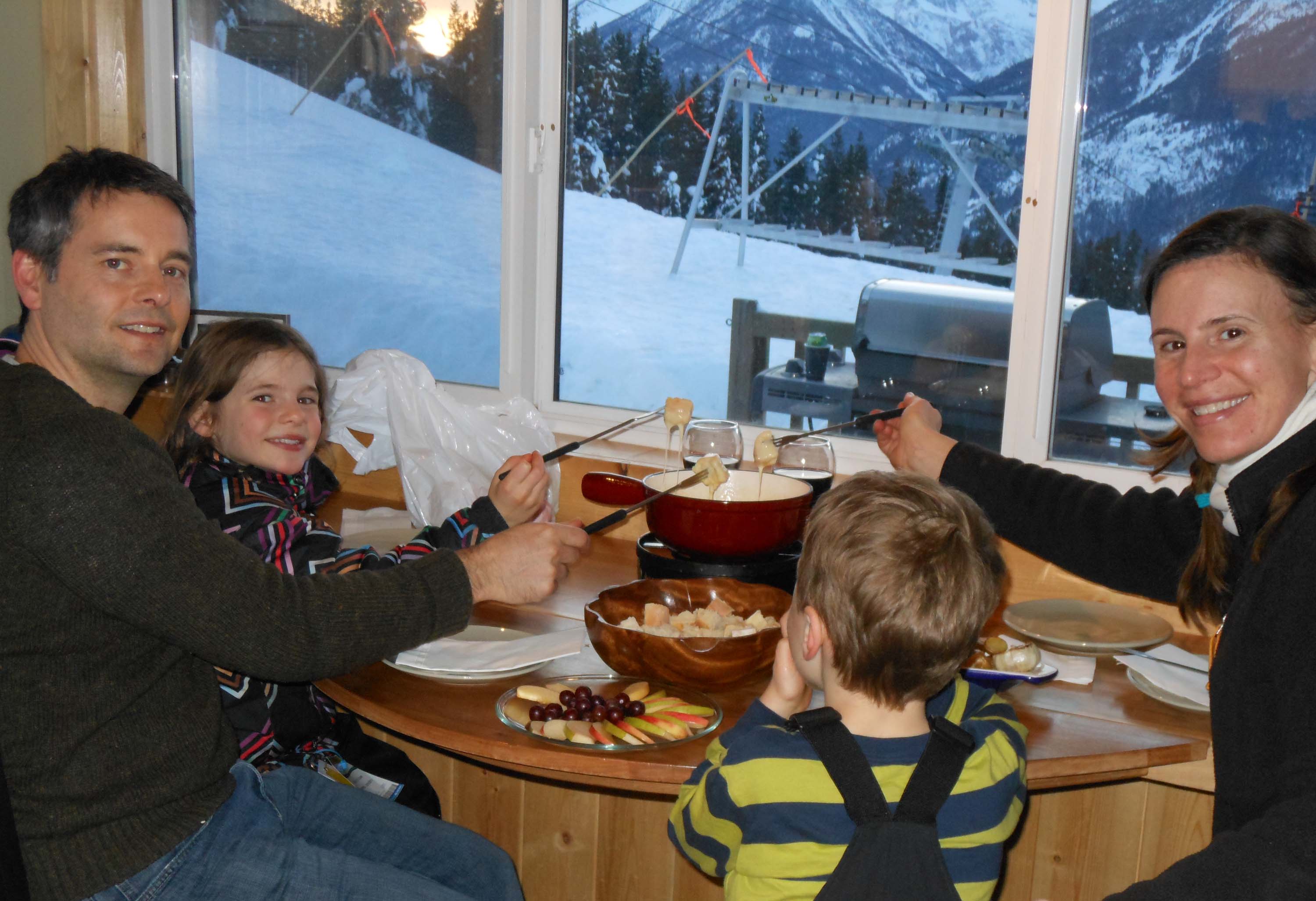 The Kadane family enjoy their fondue dinner at Panorama Mountain Village's Mile One Hut.
Photo courtesy of Lisa Kadane
LISA KADANE
PANORAMA, BC - Whether dunking a cube of bread, roasted potato or apple slice into the pot of bubbling Swiss cheeses, my daughter quickly gets the hang of cheese fondue. Our family of four is crowded around a table in the cozy confines of the Mile One Hut, located at the top of the Mile One quad chairlift at Panorama Mountain Village in B.C.
We're eating the delicious meal while our remaining senses digest the feast of colours exploding around the pointy pinnacle of Paradox Peak directly outside the window. In between bites we watch the sunset sky fade from blue to pink to orange to purple and finally to inky darkness.
We're an adventurous family but I can honestly say we've never before ridden a chairlift to dinner, nor have we exposed our children, ages seven and five, to fondue enthusiasts (at another table, mind you) knocking back shots of Bailey's between courses. As kids do, they take everything in stride, even sampling the roasted garlic that accompanies a plate of potatoes.
Panorama's seasonal fondue dinner is a must. After an exhilarating evening ride up the chairlift, guests are greeted warmly by hostess Crystal Leonard, seated at one of only four bar-style dining spots and then offered wine to pair with their fondue cheese (and later, chocolate).
Next comes the fondue, an indulgent, house-made mix of three Swiss cheeses - Gruyere, Emmental and Appenzeller - fortified with white wine and Kirsch cherry liqueur, and seasoned with black pepper and garlic. A bit of cornstarch binds everything together. The combination is pure cheesy goodness, with just a hint of stinky for good measure.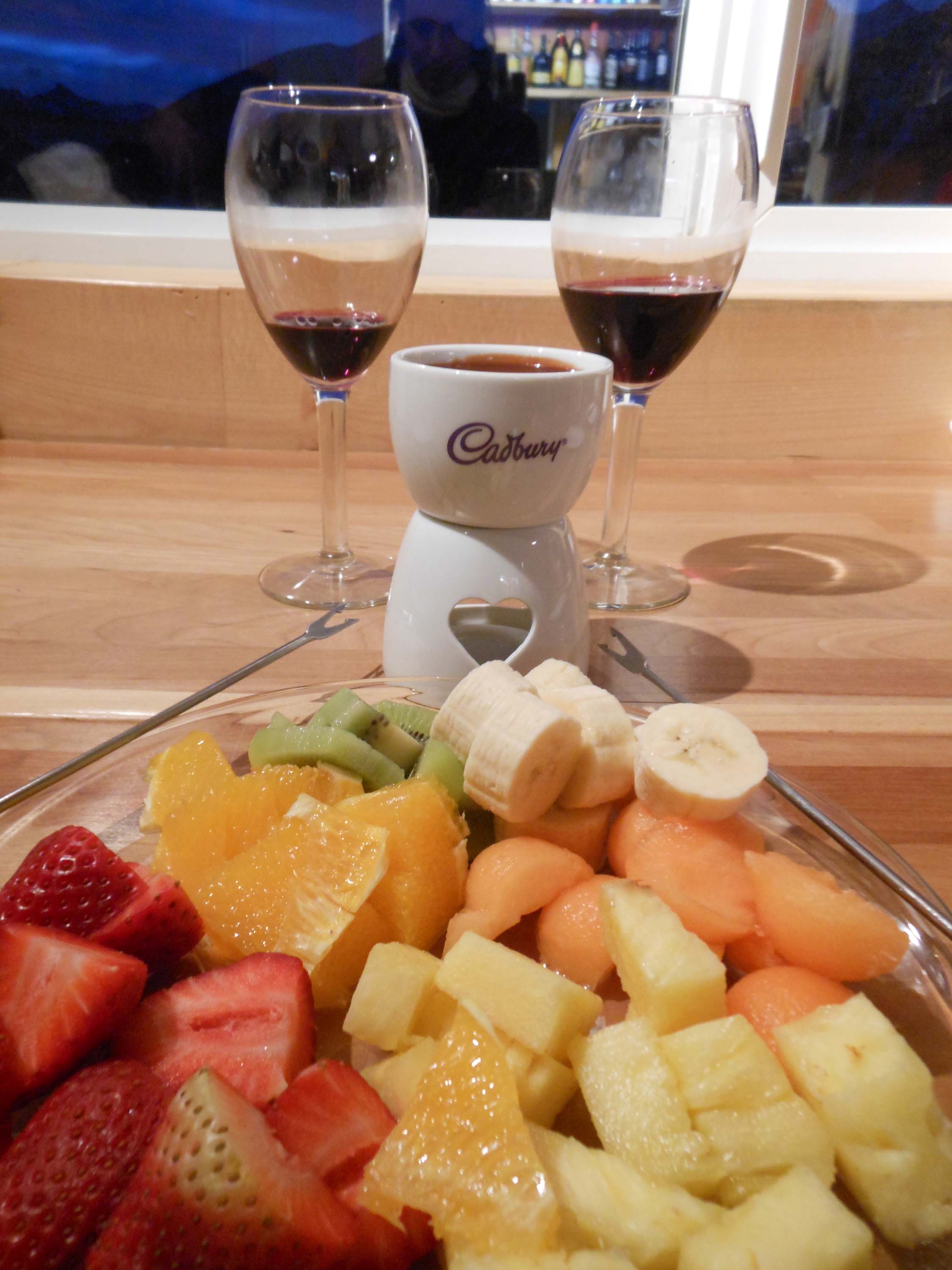 Chocolate fondue is a decadent and delightful dessert.
Photo by Lisa Kadane
"The Appenzeller is a very stinky cheese - it reeks - so it makes up only about one-tenth of the fondue," Leonard explains.
While I could continue stuffing my face with the cheese fondue until the pot is empty, I pace myself - chocolate fondue is still coming, after all. Leonard brings out a tiny pot of molten, dark Swiss chocolate made even tastier by a splash of Amaretto. The chocolate is accompanied by a plate of fruit, including bananas, strawberries, pineapple, oranges, canteloupe balls and even kiwi pieces. What follows is a game of "drown the fruit in chocolate and hope it doesn't fall off the fork." The kids are beside themselves with delight and proceed to dance a bit crazily to the retro music after dessert (this is when you're glad the other diners have also been drinking wine - and the aforementioned Bailey's).
After dinner most people ski down to the base on Showoff, a blue run that is illuminated for night skiing. If they've partaken in too much of a fondue "party" up top they can download on the chairlift - that's what my husband does (but not because of the wine; our son can only ski on the bunny hill). My daughter and I click in to our skis and laugh our way down while trying to avoid shadowy moguls.
While I loved the meal and the whole experience, my daughter, the adrenalin junkie, easily picks her favourite part of the evening. "Skiing down seemed special because it was dark out," she says.
It was special, and it was made even sweeter by a belly full of cheese and chocolate.
Get more info on Panorama on our SnowSeekers' destination page.