Ski, soak, sleep and repeat at Panorama Resort
RADIUM, B.C. - You really can't do it all in a day.
I'd always thought of Radium as the place you stop and stay when the highway conditions are bad, or when you don't want to drive any further at night. Look a little closer and you'll recognize that Radium is the perfect "base camp" destination to jump off to a number of attractions and ski areas.
Located at the crossroads of Highways 95 and 93, Radium is well-centred on the famed "Powder Highway," Golden's Kicking Horse Mountain Resort to the north, Fairmont and Kimberley to the south and Fernie to the southeast. Known as the "warmer" side of the Rockies, Radium offers spectacular vistas and easy mountain access, all while avoiding the bitter cold wind chill temperatures that occasionally hinder ski days in other locales.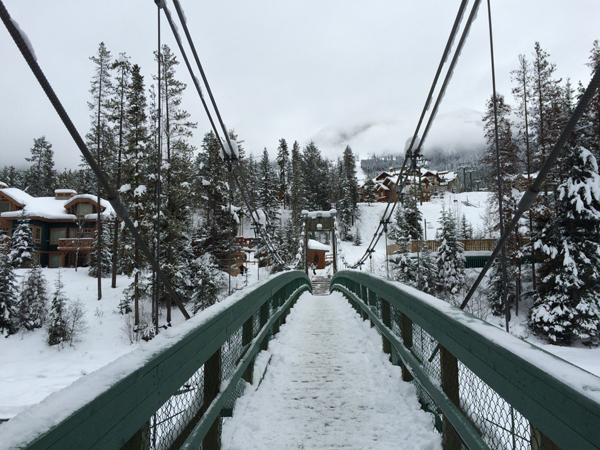 The mountain village of Panorama is picturesque with ice-encrusted rivers and a serene ski setting.
Photo provided by Paula Worthington
Ski
After a comfortable stay at Radium's Prestige Inn, I headed up the next morning to Panorama Mountain Resort. Exiting Radium to the valley and then winding up into the Purcell mountains, the hustle of daily life quickly dissipates. Beautiful mountain scenery, snow-blanketed trees and ice-encrusted rivers introduce a serene ski setting with all the amenities.
Panorama's terrain offers a lot of variety, with experts making their way to Taynton Bowl and other steeps, while intermediate skiers can feel comfortable on about 75 per cent of the terrain located on the front of the mountain.
If you're planning a trip to Panorama, plan to do some squats before you go — your legs will need to be in prime shape for its 4,019 feet of vertical — one of the top 10 longest in all of North America.
Picturesque Nordic trails provide a scenic tour of the area with classic track set, skate and snowshoe trails. The on-site Nordic centre provides maps, a selection of ski rentals, plus a fleet of fat bikes. Fat bikes give cyclists the chance to explore and get their fill during the winter months, (somewhat) amicably sharing the trails with Nordic skiers. The bikes are a blast — and are a great workout for the legs (another great way to prep for all that vertical on the mountain).
Soak
Once a day of winter adventures are behind you, it's time to head back to quiet and cozy Radium. "Staying in Radium offers a huge variety of accommodations to suit all price points," says Cassidy. "It's close to the hot springs, is peaceful, quiet and offers a number of dining options, including the renowned Helna's Stube and Old Salzburg restaurant."
After a hot meal, head to Radium Hot Springs, conveniently located just two kilometres from the village. The springs, open well into the evening, offers towel, locker and bathing suit rentals, and a single adult admission is economically priced at $6.30.
Located in the stunning Sinclair Canyon, a trip to the hot springs has been a Radium tradition for more than 100 years. Day or night, the springs offer a tranquil setting to relax in a peaceful mountain setting.

It's hard to beat a soak at Radium Hot Springs after a day on the slopes.
Photo provided by Paula Worthington
Sleep
After a long day of exploring, tuck in to one of many accommodations available in Radium. Many hotels offer exclusive "Ski and Soak" packages, which offer accommodations, a lift ticket to Panorama Resort and access to Radium Hot Springs. Accommodation listings with price points are available at www.radiumhotsprings.com.
Repeat 
Whether it's getting up the next morning for another day of adventuring, or planning your next visit to the Radium area, adventurers in the know make Radium the perfect base camp for all-season exploring.
Like this story? Share it with the world. Radium Hot Springs is the perfect place to soak away those winter aches?