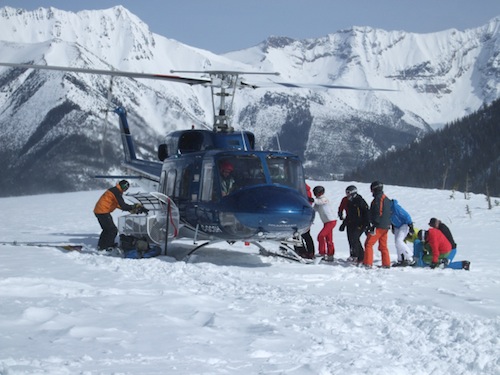 A group of heli-skiers gets into the helicopter to be taken to another spectacular place in the Purcells.
Photos by Lisa Monforton and Doug Firby
LISA MONFORTON
PURCELL MOUNTAINS, B.C. – "If I have one bit of advice for you Lisa, it's this – BREATHE."
That was our guide Rod Gibbons' words to me – after apparently noticing that I hadn't exhaled since stepping out of the helicopter onto the glacier we were about to ski down. His skilled intuition was right; he'd seen this look before.
It was the first run of the day for our adventure with RK Heliski, based at Panorama Resort near Invermere, B.C.
We were a group of 11, including Gibbons, ranging in age from 16 to 60, with varying levels of skiing and snowboarding skills. There were one or two in our group who'd already ticked this experience off their bucket list and were back for more, but the rest of us were nerved up neophytes.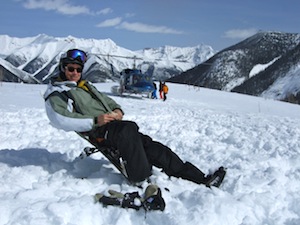 We made a "lawn chair" out of our skis and took in the blue bird day on a mountaintop in the Purcells, before taking off for more adventures.
Everyone had a case of the jitters. In my case, it had started around 4 a.m., several hours before we met at the heli-plex to have breakfast and get our safety briefing.  I'd had dreams of vertigo and careering out-of-control down a narrow tree-cluttered chute bordered by sheer rocky drop-offs in the wee hours of the morning.
These kinds of pre-heli-ski jitters are normal, Laura Hall of RK Heliski told me the evening before as we dropped off our boots to be fitted with our rented big, fat powder skis and sign the waiver forms.
One thing RK Heliski is known for is its willingness and professionalism in accommodating the able and fit intermediate skier who doesn't always have a taste for the gonzo antics witnessed in Warren Miller's ski films. That and its unblemished safety record in 43 years of business.
Gibbons jocular pre-flight presentation helped squelch the butterflies as he informed us of the restrictions – "We're way worse than the airlines," he quipped, indicating cellphones and musical players are strictly forbidden while heli-skiing.  He demonstrated the contents of two "guest packs" to be worn by two of our group on all runs. Inside, were a telescoping shovel, a walkie-talkie and a 3.2-metre probe. These items were to be used in the unlikely event of an avalanche.
How unlikely? I asked this in a roundabout way as we practised in the parking lot using our avalanche beacons, a three-by-six inch device each of us would have strapped around our chests the entire time we skied.
"Have you ever flown overseas?" Gibbons asked. I nodded. "You know that flotation device under your seat? Have you ever had to use it?"
Gotcha.
In the 27 years, that Gibbons has been a heli-skiing guide, he'd never once had to go searching for someone in an avalanche. Pretty decent stats, I concluded.
Handing our skis to Gibbons to tuck away into the carrier on the side of the Bell 212 helicopter, we scrambled into the chopper, sitting knee to knee on the facing benches. With the whop, whop, whop of the blades, we were up into the sky and flying between the snow-covered spires of the Purcell Mountain range.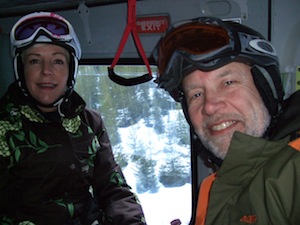 The helicopter ride is half the fun of heli-skiing.
Our faces were a combination of smiles, grimaces, giddy laughter and wide eyes looking out at the extreme beauty of our surroundings. Then in a cloud of swirling snow, we landed on the top of our first run called Snowbox.
As we huddled in our group about a metre or two from the helicopter waiting for our skis to be unloaded and our pilot to lift off, Gibbons words, "It's always winter around the helicopter," came back to me as I tried to snap a photo of the chopper lifting off and got a face full of snow.
I was a bundle of nerves mixed with adrenaline as I looked up and around at where I was. Ragged teeth-like spires poking up against a backdrop of deep blue sky. Normally fierce looking mountainsides of rock softly draped and softened by a winter's worth of snow – somewhere in the realm of 10 to 12 metres.
As we waited to strap on our skis and boards, we hooped and hollered and tried to pick up a glove-full of the dry granules of powder we'd soon be floating through. It fluttered away light as air, like dust in the wind.
If you haven't worn the fat powder skis before, they might take a half a run or an entire run to get used to. Lean forward, was the advice I got, as well as try not to strain but rather get into the rhythm of floating over the powder – which the skis are designed to do.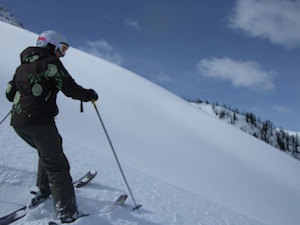 Lisa Monforton gets her heli-ski legs in the Purcell Mountains.
The first run was tough. Wearing unfamiliar skis, trying to control the snow (first mistake) rather than going with the flow, I struggled.  Gibbons took a couple of us aside and patiently gave us some tips about skiing the fine powder. Slow down, don't crap on your skis (in other words, lean forward, not back) and really get a feel for the airiness of what's underfoot. Relax.
By the time we'd reached the bottom, our helicopter was waiting for us, ready to take us back up.
The second time is much better and Gibbons knows everyone is having fun now. "Try not to smile," he says.
My visions of extreme pitches dissipated as I floated over the rolling meringue peaks of powder. With runs ranging from 800 to 1,500 metres in length, my quads were quivering but that prediction of a big grin is bang on and mine is a mile wide as I get into the groove.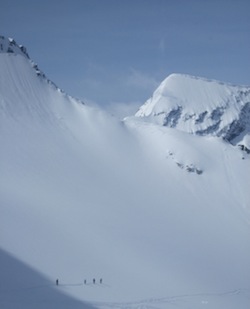 The scenery is larger than life in the Purcells. It's not unusual to feel miniscule amid this landscape.
Run 3 begins on the edge of a deep crevasse, which we'll have to give wide berth to. With Gibbons' excellent instructions, we follow his lead and head into a bowl known as Sundae Cirque. It's a long way down and we get into our conga line – like a groove breaking through the fresh powder. Our ski lines look like a beautiful Etch-a-Sketch through the snow.
We head into a bit of sparsely treed terrain where the snow is a bit crustier. By this point, my legs aren't making the turns so well and I take the clue from my body that the third run might be my final.  I ski to our meeting spot and flop onto my back in the snow. Someone in our group aptly calls my position the "shavasanah" (a.k.a the corpse pose) of heli-skiing, referring to the blissed out moments where you relax after yoga practice.
As I'm lying under the blue sky - inhaling and exhaling heavily now - I'm also thankful to have experienced this amazing day in a spectacular place.
I also think about the words "do something every day that scares you." I'm well stocked on that account – at least until the next time I go heli-skiing.
Get more info on Panorama on our SnowSeekers' destination page.