LAKE LOUISE, ALTA. - With all the snow that keeps falling, it's a good time to kick into celebrating all things white, icy and cold. As usual Banff and Lake Louise are doing it up just right. For the second year, the SnowDays Festival will feature a month of events and specials with the Ice Magic Festival at Lake Louise tucked into two weekends. With so much to do, affordable accommodations are in order and with the The Mountaineer Lodge open for the winter season it's a good reason to check out the magic.
SnowDays
Banff National Park has been hosting winter festivals almost every winter for the past 96 years and this year the fun is totally ramped up. A full slate of festivals and activities bring the activities of yore to life including, ice climbing, skating, hockey, ice carving and human curling. OK, human curling isn't exactly an activity of yore but it's definitely worth a try. Check the details and schedule on Banff Lake Louise Tourism website.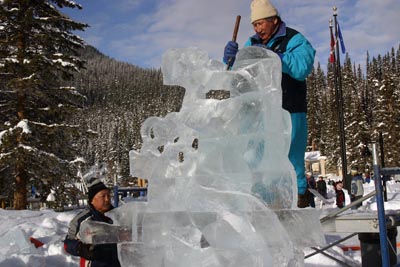 On the first weekend of the Ice Magic Festival, teams of two carvers from 24 countries will start carving towering ice sculptures from 300 pounds of ice.
Photo by SnowSeekers
Ice Magic Festival
The annual Ice Magic Festival held at Fairmont Chateau Lake Louise, has become so popular it's now held over two weekends for "Twice the Ice".
On the first weekend, teams of two ice carvers representing 24 nations will start carving marvellous towering ice sculptures out of 15 blocks of ice - each weighing 300 pounds. Teams only have 34 hours to complete their sculptures. 
In the past the sculptures have been breathtaking and inspiring. Carvers chip and carve from 8 a.m. to 10 p.m. Friday and Saturday, then finish carving on Sunday from 8 a.m. to 2 p.m. There are prizes awarded by judges and the coolest part is – you can vote for the People's Choice Award.
If speed sculpting is what you'd rather see, then check out the One Carver, One Hour, One Block speed carving event at Lake Louise Inn. The chips of ice fly as the carvers dig in with picks, blades, chain saws and yes, even a hairdryer or two. Check it out at the Lake Louise Inn (down in the village not at the lake).
Families are encouraged to join in on the fun. Not only can you marvel at the finished ice carvings from the previous competition weekend at the Fairmont Chateau Lake Louise, you can skate with the Ice Queen on Lake Louise, watch an ice carving demonstration, or meet up with Parks Canada Interpreters to be a "wildlife detective." The family fun continues down in the village with activities and experiences that are focused on family fun at the Samson Mall/Visitor Information Centre. Expect to find an Ice Playground with activities including ice mini-golf, an ice tunnel and icy cold slides. You can also try carving your own block of ice. All events are free.
New this year to relieve parking congestion, there is a free shuttle running from the Samson Mall to The Fairmont Chateau Lake Louise during Ice Magic.
Voids in your schedule?
In between sculpting ice and skating with queens, maybe you'd like to try cross-country skiing. The Tramline trail is an easy 4.8 km one way trail from Lake Louise down to the village. A few bucks and a taxi ride takes you back to your car. Skis and skates can be rented at Chateau Mountain Sports at the Fairmont Chateau Lake Louise or at Wilson Mountain Sports in the village.
Johnston Canyon is not far away. You can walk the icy canyon yourself or take a guided tour with White Mountain Adventures to learn about the rock and ice formations.
Stay close to the action
The Mountaineer Lodge is the perfect "base camp" for Ice Magic and it's a five-minute drive from Lake Louise Ski Resort. The rooms are spacious with mini fridges and coffee makers. The hot tub is a welcome retreat after all the Ice Magic activities. 
Check out the details on Snow Days and Ice Magic Festival.