Seven wonders of Lake Louise
LISA MONFORTON
LAKE LOUISE, Alta. - Standing on a snowy trail with Mount Fairview at our backs, we're looking across the treetops of the Bow Valley. As we gaze across at some of the runs at Lake Louise Ski Resort where we'd had a blast skiing the day before, our guide tells us the village is the highest elevation community in Canada.
It's a fact that not one person in our all-Albertan crew knew, but it was a weekend for learning some cool things about this little village of around 1,200 people and its majestic backyard of massive mountain peaks.
It had been a while since I'd last skied at The Lake and I'd forgotten what I enjoyed so much about it - slipping over the backside for bowls of snowy stashes of fun and the nice mix of terrain to satisfy a cruise-y or a more crushin' it kind of day.
Over the past couple of years, there's plenty new at Lake Louise - the kinds of offerings you might expect from some big American ski resorts. But it's not over-the-top Disney-fied fun at the Lake, but rather more natural pursuits. Some things they've been doing for years, and others are refreshingly new. It's likely why the ski resort keeps landing on the top of the best-of lists for several consecutive years running.
Here are seven new and cool things I rediscovered and learned about Lake Louise Ski Resort on my latest – but certainly not last – visit this season.
1. Skiing + sushi = dynamite apres
I'd happily trade in my usual go-to apres ski lunch of a steaming bowl of chili for a delicious tray of hand-crafted sushi. And served on a slab of Canmore quarry rock, just to make it more special. Lake Louise's new executive chef Scott Green, who's worked the Las Vegas dining scene, is the man behind the menu at Kuma Yama (translated as "mountain that bears live on"). It's fun just to watch Green and his gang wrap, roll and plate the goodies. Ingredients are as much local as possible, including the Alberta beef in the beef tataki. There's a reason the brand new sushi restaurant has people lining up at lunchtime. From the miso soup to the green tea ice cream book-ending a fresh lineup of sushi, sashimi and rolls - it's a fresh surprise and welcome departure from nacho platters.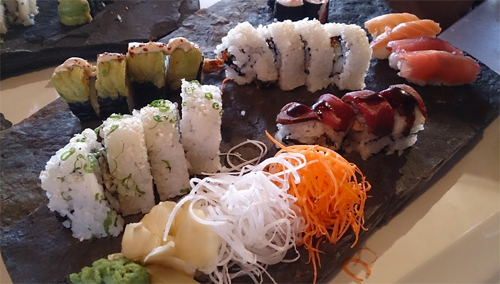 Kuma Yama is Lake Louise Ski Resort new sushi restaurant, serving a delicious array of rolls and sashimi.
Photo by Lisa Monforton
2. Get your fibre in the glades
The perfect appetizer to all that protein at the sushi bar is a healthy dose of chewing up the woodsy fibre of the glades off Ptarmigan chair on Louise's back side. Nicely spaced in some spots, and a little squishy in others, it's the perfect combo to whet your appetite for more of the same - or a tall, cold Sapporo when it's time to take a break.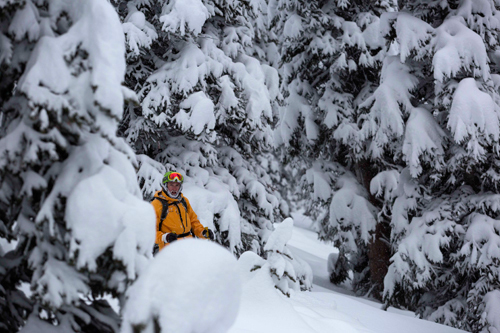 Enjoy some gladed, powder-filled goodness off the Ptarmigan Chair. 
Photo by Chris Moseley
3. Blue and green days
Some moments - or days - are just meant for cruising. Hanging with your crew can often mean an odd but friendly mix of gonzo guys and gals - and those who prefer the milder side. That's one of the nice features at Louise. Just as you're heading up all 4,200 feet of the Larch quad, you might be thinking, is there a thigh-forgiving way down from this face? Why yes. While your friends head for the randy sounding Lipalian Chutes or Tower 12, you have more choices than they do in your favourite shades of green and blue with friendly names like Lookout, Marmot and 30 Goats.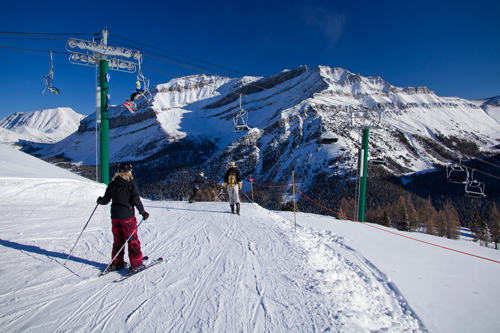 All that snow and blue skies means it's shaping up to be wonderful day at the Lake.
Photo by Chris Moseley
4. Apres hours Torchlight Dinner
Want to impress your ski friends from elsewhere? Or just experience a unique and surreal Lake Louise event? Put on your headlamp and follow the magical glow of torchlights as you're guided down the slope. There's something supernatural in seeing the mountain peaks fade into the dusky light of another terrific day on the slopes. What awaits is a down-home party with appies, drinks and perhaps a little dancing, if the legs allow, to live music in the Whitehorn Lodge. Better book now, because these specials fill up fast. Next torchlight date is Feb. 14.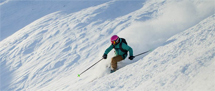 What's new at The Lake?
A lot, including a new sushi restaurant, interpretive snowshoeing tours. 
5. Lake Louise Sightseeing Gondola
There are no skis or hiking poles required. Floating 6,000-feet plus above the valley, you will feel as if you've just landed in the midst of a 14-minute IMAX movie. There is a 360-degree panoramic view of some of the most gobsmacking vistas in the Canadian Rockies on the gondola that operates year-round. Consider that you're serenely floating over a UNESCO World Heritage Site on the doorstep of the Valley of Ten Peaks.
6. What animal paw is this?
It's not every day you glide off a ski lift only to be stopped by a nice young woman who asks if you can identify the clay facsimile of an animal paw she's holding. Bobcat? Lynx? Cougar? Wrong on all counts. Annick, one of the interpretive guides on site at Lake Louise Ski Resort, politely corrects us and tells us she's holding the print of Canada's national animal – the beaver. Who knew the little guys had such big feet? It's just a fun way that Lake Louise tries to educate visitors about the area's natural wonders.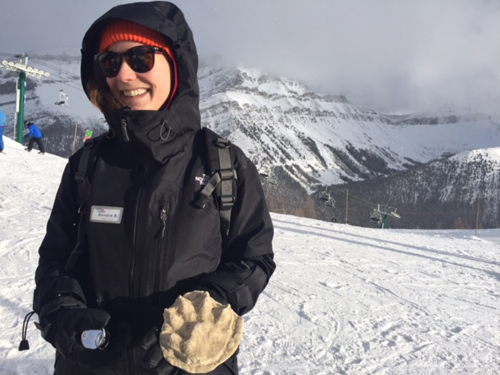 Interpretive guide Annick surprises us with a pop quiz as we depart the Larch ski lift.
Photo by Lisa Monforton
7. Taking it slow by snowshoe
My newfound passion for floating - and sometimes stumbling - over thigh-high powder on oversize shoes is delighted by the news of Lake Louise's interpretive program, which includes snowshoeing by day or night. Tours range scenic to wildlife and under the light of the moon. Anything that forces me to slow down and enjoy being in the moment surrounded by absolute beauty is on my list of cool things to do. 
If you go:
Skilouise.come offers $99 per person, mid-week ski and stay packages, with accommodation at the Great Divide Lodge. More information here. 
Like this story? Share it with your adventure loving friends!