Revelstoke is a snow mecca
Writer's first visit leaves him wanting more
TREVOR SUER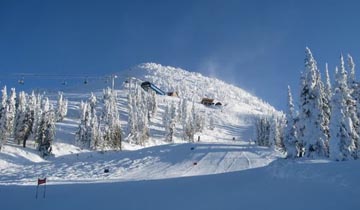 Blue bird skies and epic snows greeted SnowSeeker scribe, Trevor Suer on his first trip to British Columbia's Revelstoke Mountain Resort.
DAVE BENFIELD/Special to SnowSeekers
REVELSTOKE, BC — I have been to many mountains, from Fernie to Jackson Hole to Alta, and Revelstoke Mountain Resort just blew me away. It is huge, with 5,620 vertical feet, the most in North America, 3,031 acres of incredible terrain and spectacular views. You will need multiple days to explore this mecca.
We were able to fit in 10 runs and it felt like we had just scraped the tip of the iceberg. I told my friends, Dave Benfield, Liz McBroom and Todd Bown that it felt like two complete mountains of terrain and I have to come back for more.
We meet up with Karilyn Kempton from Revelstoke Mountain Resort, our guide and host for the day. She took us up the gondola which rises 3,547 vertical feet to a winter wonderland. It looked and felt like mid-January up and it is only Dec. 5. 
Time to dive in
From there it was over to the Stoke Chair, which is aptly named because man I was stoked to ski this mountain. The day was also a bluebird day so when we arrived at the top of the Stoke, we were blessed with a beautiful view; peaks as far as the eyes can see. I was thinking this should be a postcard but enough of that, it was time to tear it up. 
Kempton started us on a run called "Pitch Black" which is a 5,500 vertical foot continuous steep groomed run, and man does Revelstoke groom the steeps nicely thanks to 40 plus buried anchors for its winch cats to hook up to. Benfield and McBroom are ex-racers so off they went, arcing huge GS turns showing us what you're supposed to do with an awesome groomer. 
Everything is bigger at Revy
Then it was over to North Bowl with a short traverse to an entrance called Meet the Neighbours. It's an enormous bowl, filled with huge jumps and cliff drops for the big boys and some smaller ones for the little guys too. We stopped in the middle of the bowl to gaze at our surroundings and we all agreed that everything at Revy just seems so big. 
The snow was awesome and we still couldn't believe it was only the beginning of December. With 295cms of snowfall already this year, the base should be set for the year. We finish off the run with a steep gladed pitch filled with pockets of fresh powder – epic.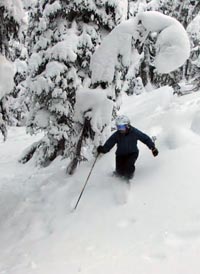 Liz McBroom, from Edmonton, Alberta found some delicious glades to play in at Revelstoke Mountain Resort on opening weekend.
DAVE BENFIELD/Special to SnowSeekers
Our last run took us over to the Ripper Chair which is another fitting name. 
"Pro skier Eric Hjorleifson frequents the resort," said Kempton. "As well as Chris Rubens, who also opened a Bed & Breakfast in town. He has a blog with a link on the Revelstoke Mountain Resort website and now calls Revelstoke home."
A gem worth hunting for
Arriving at the top of the chair we headed for a pillow line just skiers' right of Chopper, a run that Kempton told us was a hidden gem as it isn't on the map but is still in-bounds and really cool. The run consisted of pillows at the start, funnelling into glades, then a natural half pipe with cool features, back into glades and finally to a cat track that takes you right back to the Ripper chair.
For some après ski we tried out The Village Idiot Pub for some local beers and pizza which were both awesome. This pub has a great laid back atmosphere, with ski or snowboarding movies playing, cool ski chairs and even a bucket of old binding pieces. For our java fix we went to an incredible place in town called The Modern, which serves up superb coffees and lattes plus some wicked desserts. How wicked? I had to buy three desserts as I couldn't decide and boy was I glad I did.
With my first day in Revy behind me, I am really stoked to make a return visit. Make no mistake, Revelstoke is a great family resort as well with something for all ability levels. Everybody should make the Revelstoke Mountain Resort experience a must today ... or as soon as you possibly can. Just make sure you book enough time to do it justice.
For the latest deals, snow reports and contests, sign up today to our SnowSeekers e-newsletter.