RICK MACDONNELL
FERNIE, BC — Impeccable.
That's the only word that truly describes Pinnacle Ridge Chalets in Fernie, British Columbia. These accommodations are beautiful inside and out, of the highest quality, a truly high-end experience.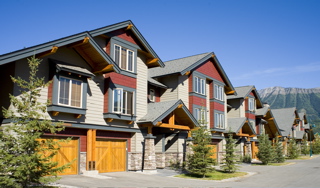 Pinnacle Ridge Chalets offers one of the most luxurious stays in Fernie.
Photo courtesy of Fernie Central Reservations
These spacious chalets (all are three bedroom suites) offer a massive 1,800 square feet of elegantly furnished living. With natural finishes, enclosed garages, slate floors, stone fireplaces, stainless steel appliances, granite countertops, private hot tubs, and designer furniture, Pinnacle Ridge Chalets spares no expense when it comes to providing the most luxurious stay in Fernie.
"What's great about Pinnacle Ridge is that it's literally in no man's land," said Derick Berry, owner/director of Fernie Central Reservations.
"It's between the hill and the town, so it's like you have the place to yourself."
Comparable to only the 901 Fernie in terms of calibre and quality, Pinnacle Ridge Chalets is truly the pinnacle of accommodations in Fernie. 
"No one will be let down when you stay here. I can guarantee that."
For more on Pinnacle Ridge Chalets and Fernie Central Reservations, visit its website, or call 1-800-622-5007.
For more stories and detail on Fernie check out our SnowSeekers' destination page.