RICK MACDONNELL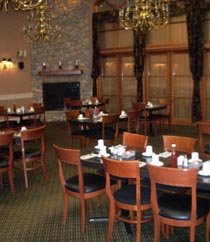 Park Place's Max restaurant serves up hearty, delicious breakfasts.
RICK MACDONNELL/SnowSeekers
FERNIE, BC — Located just a few minutes from historic downtown Fernie, as well as Fernie Alpine Resort, Park Place Lodge offers you all the comforts of home while providing all the amenities of a first-class hotel. Whether you're planning a powder day, fly fishing on the Elk River, or experiencing Fernie's legendary hospitality, Park Place Lodge is the perfect spot to set up your base camp.
"Park Place Lodge is the most centrally-located, full-service hotel in Fernie," said Scott Gilmet, sales and marketing director of Park Place Lodge and Fernie Getaways. "It's three blocks from the downtown core, an area that features both upscale and casual restaurants. Yamagoya, the best sushi bar in Fernie, is right across the street. There are five pubs within a 10 minute walk, and you're right next door to Fernie Memorial Arena, the home of the Ghostriders."
Boutique apporach
Approaching its thirtieth year of operation (it opened in 1981), Park Place Lodge remains a family-owned, independent hotel. 
"We call the lodge a 'boutique hotel,' because we all take pride in offering our guests the best service possible in a hotel that has a truly unique feel. There's nowhere else like it in Fernie."
That unique feel is evident as soon as you step through the front door. Just past the front desk, you'll find yourself within the indoor atrium courtyard – the centrepiece of the lodge – which contains a swimming pool (large enough to accommodate 60 guests) and a whirlpool. 
The courtyard is the central hub for all other amenities at the Park Place Lodge, as well. 
Shuttle service
"There's also a sauna, room service, a fitness room, The Cold Beer & Wine Shop, Max Restaurant, and The Pub Bar & Grill and we are pet-friendly." 
Since they couldn't manage to fit the ski hill inside their three-story hotel, the folks at the Lodge settled for providing their guests with everything else they'll need during their stay. 
"Other than taking the shuttle to the hill [a service offered by the Lodge every half hour], you really never have to leave."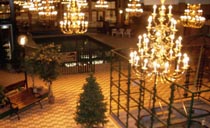 Chandeliers, seating, a large pool and a whirlpool fill Park Place's large atrium.
RICK MACDONNELL/SnowSeekers
But, on the off chance that you pry yourself away from this all-in-one accommodation, there are few community programs that the lodge is involved with. Perhaps the best of these is their tour of the Fernie Brewing Company. 
"At 6 o'clock we all meet in The Pub (just off the atrium) for a pint of Fernie beer and a fantastic meal that has Fernie beer cooked right in. After this, we head off to the Fernie Brewing Company for a guided tour, where you'll sample all five of its beers, before heading back to The Pub for another pint." 
Take in a hockey game
Within a short walk of the lodge is the Fernie Memorial Arena, home to the Fernie Ghostriders Junior B Hockey Club. Tickets, normally $9, are just $6 when you order a meal from Max Restaurant. 
"There's really not a better time to be had in Fernie than a Ghostriders game. The crowd gets really intense, and the hockey's terrific. Prepare for some fireworks," laughs Gilmet.
Max Restaurant is a great way to both begin and end your day, as it serves up first-class food for breakfast, lunch, and dinner. 
"The Eggs benny are the best in town, and you'll have to check out the Blackened Steak Salad on days when you want to skip the starch. For something more substantial, you won't regret the Wild Pacific Salmon."
For the latest deals, snow reports and contests, sign up today to our SnowSeekers e-newsletter.