Panorama offers fun for the whole family
Though still a ski village at heart, 'Pano' goes the extra mile with family-friendly off-piste activities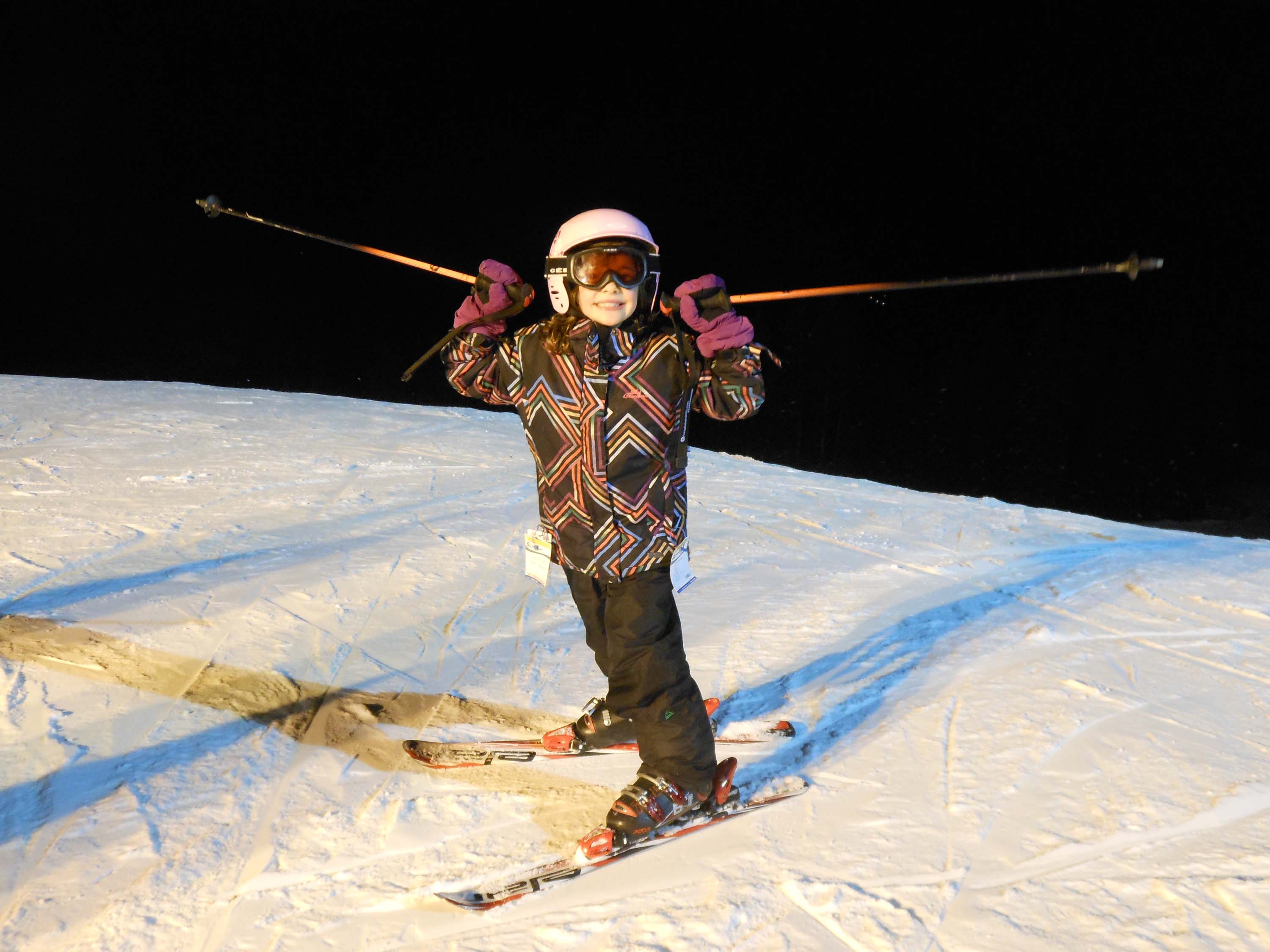 Kids like Avery love night skiing as they race their own shadows down the illuminated hill. The night skiing experience is just as fun for adults who will enjoy skiing under an inky blanket of stars.
Photo by Lisa Kadane
LISA KADANE
INVERMERE, B.C. - During one morning of skiing with my seven-year-old daughter at Panorama Mountain Village,  she manages to get us hopelessly lost in the Secret Forest kid zone, crashes terrifically on a black diamond run called Fritz's, and then launches herself off at least 10 jumps on her way down the aptly-named blue trail Showoff. I have clearly become somewhat of a second-fiddle at this kid-friendly resort in B.C.'s beautiful Purcell Mountains.
My husband Blake and I last visited Panorama - or 'Pano' as locals call it - a decade ago. We agreed then that the resort would be a great place to bring children, what with its ski-in/ski-out accommodations and giant slopeside hot pools. So here we are, 10 years and two kids later, ready to see if Panorama lives up to its promise of being an ideal family resort.   
The consortium of owners that purchased Panorama from Intrawest in 2010 has tried to make the resort even family-friendlier, going so far as to ban "wet" ski party buses and shutter the old Glacier nightclub. At the same time, the new owners have added more activities that appeal to youth (and the young at heart), such as the tubing park and the EuroBungy.
"These are the types of things that we're doing to enhance the family experience," said CEO Rick Jensen, Panorama president and CEO.
At its heart Panorama is still very much a ski village, but these extras make it super easy for families to enjoy the entire mountain experience. During our weekend there, my kids, aged seven and five, weighed in on the various activities.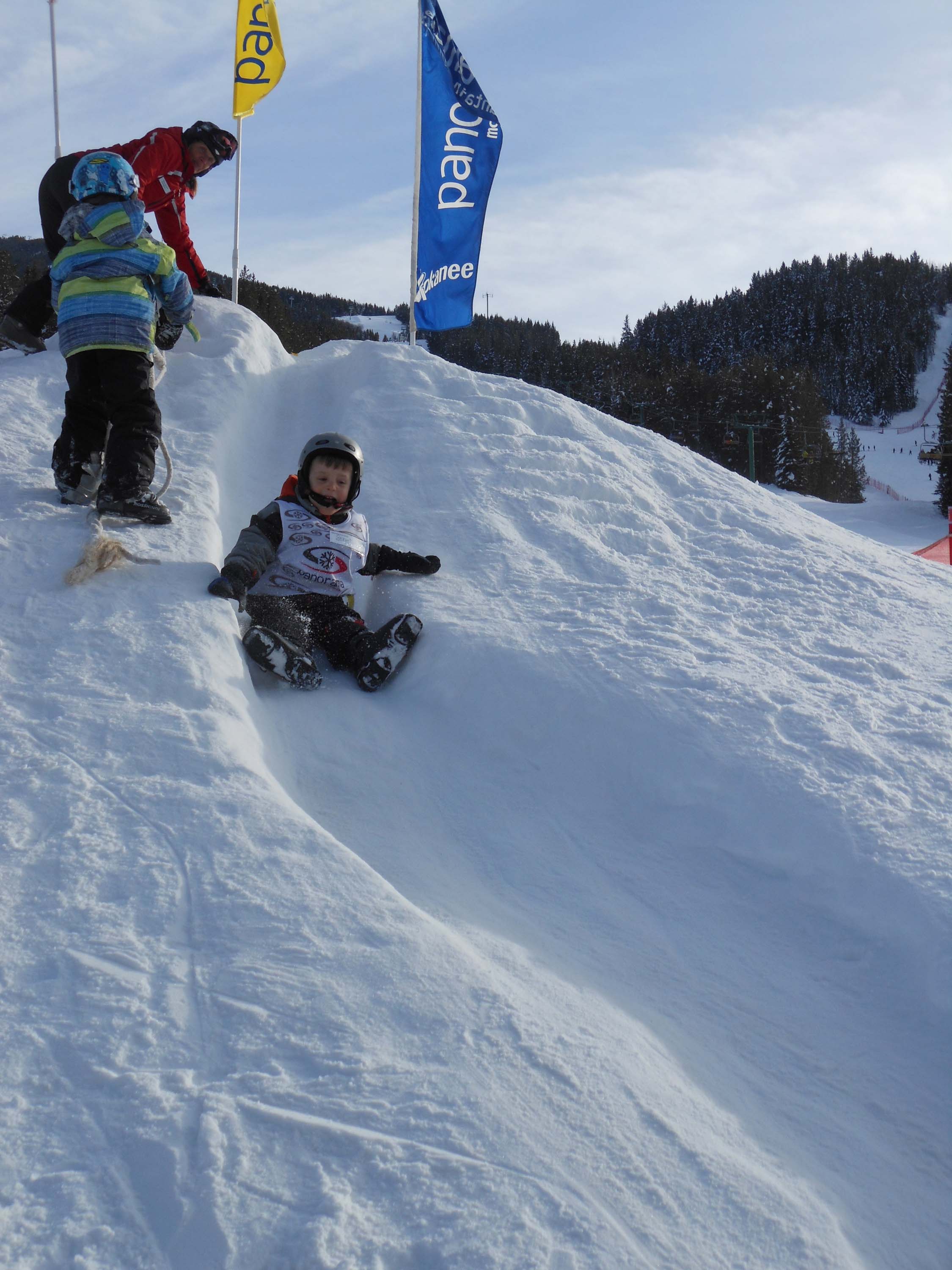 Bennett slides down the man-made snow slide.
Photo by Lisa Kadane
Ski lessons
Because a family ski weekend needs to provide mom and dad with the opportunity to go hard sans kiddos, we enrol the children in lessons. Bennett, our five-year-old, likes the daycare and his trips up the Mini Carpet conveyor lift, but his favourite part is sliding down a steep man-made 'snow slide' after his half-day lesson.
Though Avery, our seven-year-old, is incensed about being in a full-day lesson with the Outriders (she feels her snow skills to be somewhat superior and wants to be a Surfer), she enjoys a great bluebird day skiing all over the 2,847-acre mountain and up to the summit (4,000 vertical feet!) with instructor Chris Wilsmore. "I can't believe I went to the top of the mountain today," she declared. "I'm a surfer now!"
Panorama springs pools
Bennett and Blake spend a morning floating around Canada's largest slopeside hot pools. Bennett is a true water baby and the expansive warm pools are a trip highlight. Avery and I visit the pools before bed one night and find them a great way to relax after a day of skiing.
EuroBungy
We wait an hour for Avery's five-minute turn on the resort's reverse-bungy apparatus (Bennett opts out). She immediately bounces high enough to execute a back flip and spends the remaining four minutes trying to perfect her front-flip technique. While she enjoyed the EuroBungy experience, she didn't like the long wait in the cold for such a short turn. It's definitely an extra and better suited for a warm spring afternoon.
Fondue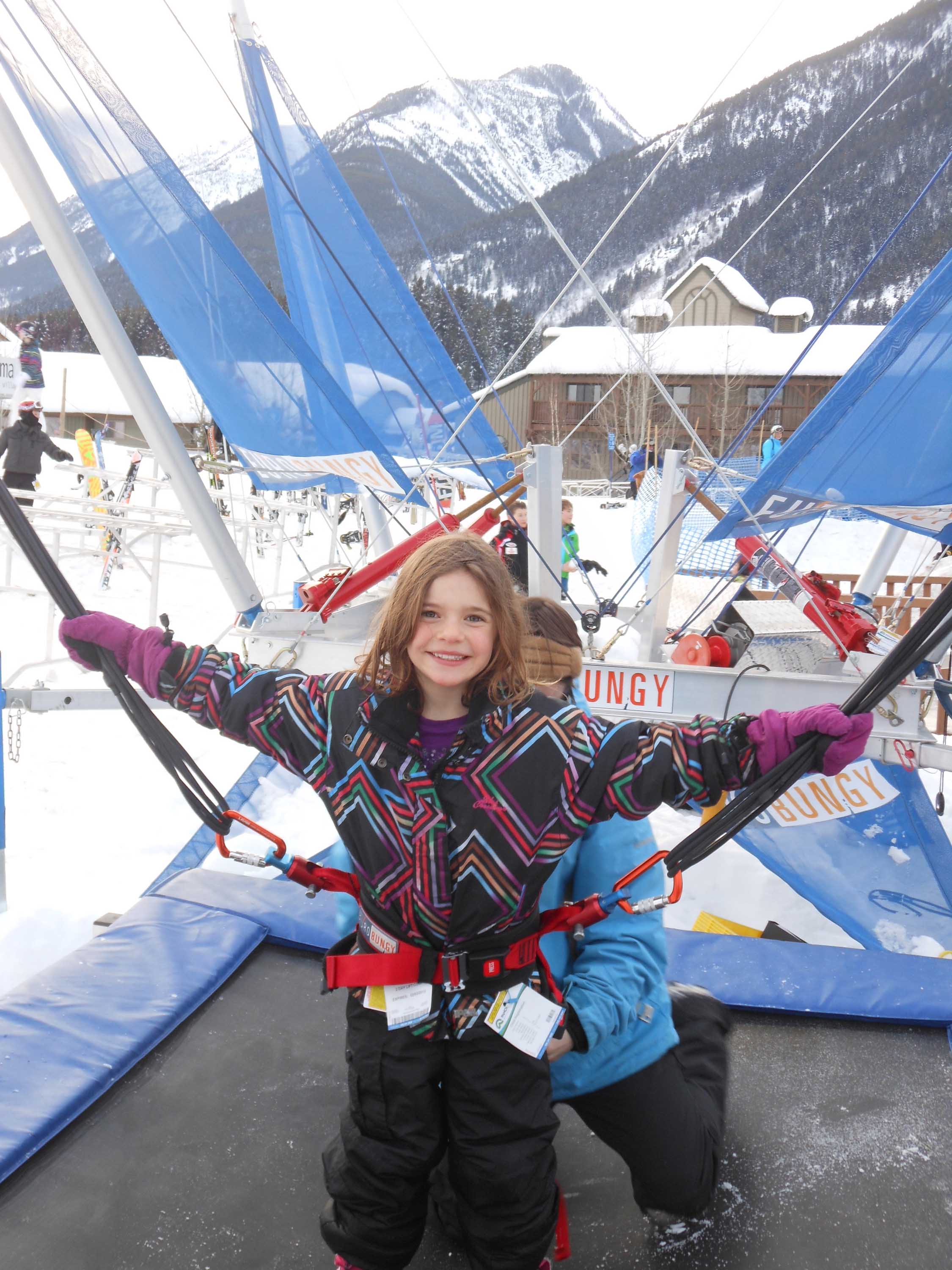 The Eurobungy is perhaps better suited for warmer weather.
Photo by Lisa Kadane
A weekend highlight, both kids love riding up the Mile One chairlift at dusk to eat a cheese and chocolate fondue dinner at the Mile One Hut. It's a fun family adventure and parents and kids have the option of downloading on the chairlift or skiing down Showoff, which is illuminated for night skiing.
Night skiing
To be honest, I have never understood the attraction of skiing in the dark. But after trying night skiing with my daughter on our way down the mountain after a fondue dinner I realize why: it's because I am not a kid. Avery loves speeding over dark moguls and racing her shadow down the hill. I like carving turns under an inky blanket of stars. Night skiing runs from 4:40 to 8 p.m. on Thursday, Friday, and Saturday nights.
Tubing
The Tube and Tobogganing Park is adjacent to the Red Carpet conveyor lift so families can easily access the three tubing lanes by riding up the conveyor. After a day of skiing, fondue-ing and hot pooling, however, we simply can't muster the energy to tack on tobogganing. We also miss out on snowshoeing and Nordic skiing.
To say that Panorama keeps us busy for the entire weekend is an understatement. We hit the ground running (and schussing) and don't stop until we ski in to our two-bedroom condo at Taynton Lodge after fondue and collapse into bed. Then, we rise early the next morning and ready ourselves for a repeat of the previous day's action. And did I mention that everything is located mere steps (or a short ski) from our condo door?
Tip: plan to stay a third day so you have time to either relax between activities, try the tubing park or explore more of the mountain - we skied barely a fraction of its 120 trails.
Click here to read about the fondue experience at the One Mile Hut
Get more info on Panorama on our SnowSeekers' destination page.