Denise Lemaster, a painter living in Invermere, creates oils paintings of the Invermere area landscapes, such as this one titled Powder. Her work can be found in Invermere at Artym Gallery.
Photo courtesy of www.deniselemaster.ca

 
Painters, wood-turners and designers draw from valley's beauty
KIM GRAY
INVERMERE, B.C.  - This small but vibrant B.C. mountain town is a magnet for creative-minded people. Why? Well, if you ask the artists directly, they'll say it's the combination of Invermere's stunning natural environment, strong community support and steady stream of art-hungry tourists who pass through their town year round.  
Here's a Snowseekers snapshot of five local artists - their stories, their art and where to find them. They're a friendly bunch, so if you find yourself travelling through town, be sure to look them up and check out their studios. You may, like us, end up returning home with a suitcase full of artful souvenirs.
Bavin Glassworks
Who are you? My name is Pat Bavin. I ski and I hike and, for most of my life, I've been a glass blower. My family owns and runs Bavin Glassworks in Invermere.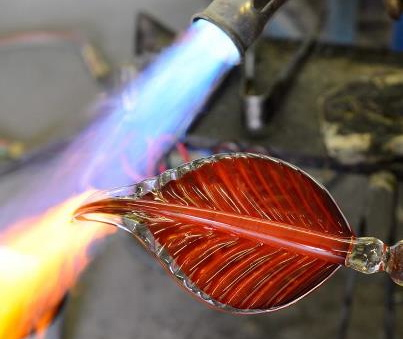 Pat Bavin and his family owns and operates Bavin Glassworks in Invermere.
Photo courtesy of www.bavinglass.com
Tell us about your art: For 31 years, I was blowing glass - a very seductive and demanding art form. Recently, I've become an assistant to my son Ryan, who is a master. I'm more of a painter these days. I work with acrylics and mix them in with fine glass beads and add chunks of glass into works that feature everything from mountain to glacier scenes.
How did you end up in the Invermere area? I'm an original in the valley. I was born in nearby Windermere in 1949.
What's it like being an artist and living in Invermere? Artists have a very strong patronage both locally and from "second home" homeowners, mostly people from Calgary. But, honestly, art in the valley is not just money-related. It's as much about passionate pursuit and inspiration as it is about financial survival. At Bavin Glassworks, we are very engaged in mountain living and the lifestyle that goes with it. We try to promote these values through our art - expressing the need to recognize the integrity of high places.
Where can we find you? Our studio is located at 4884A Athalmer Village.
Black Star Studios
Who are you? My name is Natalie Ruby. I'm a glass artist, wife and mother of two small children. I own Invermere's Black Star Studios and share it with two close girlfriends - one is a metal artist and the other is a fabric artist.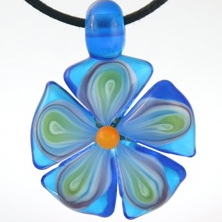 An example of Natalie Ruby's glass work. Photo courtesy of blackstarstudios.ca
Tell us about your art: I've been working with glass for ten years making everything from traditional beads to sculpture pieces. 
If they're interested, people can come in and watch me work in my studio. I like the movement of glass - the colour and the freedom.
How did you end up in the Invermere area? I moved to this area 15 years ago from Toronto. I was hired to work at Panorama and I fell in love with the mountains and the valley. Invermere is a small, tight community and it's a very nice place to raise a family and own a small business.
What's it like being an artist and living in Invermere? This town is full of talented artists - from hobbyists to professionals. The whole community is behind you. It's an inspiring place to live. I go down to the lake with my dog in the mornings and then head to the studio during the day to do what I love. It's always been a dream of mine. To do what I love every day and make a living at it.
Where can we find you? At Black Star Studios. 1021 7th Ave. downtown Invermere.
Brian Hoffos Wood Design
Who are you? I'm Brian, the owner of Brian Hoffos Wood Design. I'm a saxophone player, love to golf, hike and boat. And I'm in love with wood.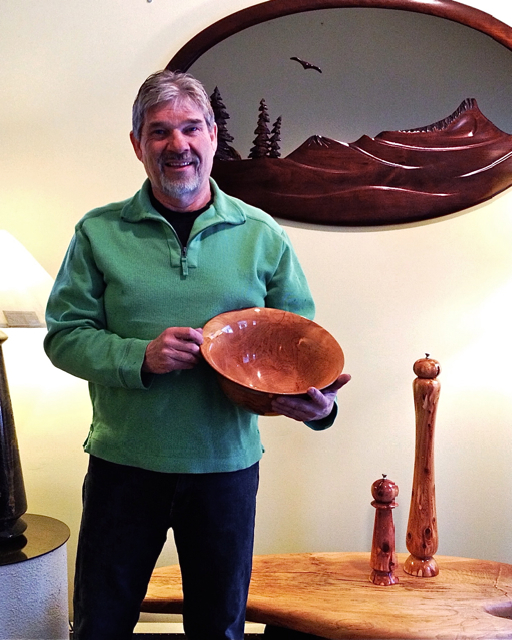 Brian Hoffos is a wood turner who designs everything from bowls to furniture.
Photo courtesy of Brian Hoffos Wood Design
Tell us about your art: I do a lot of wood turning. I make floor lamps, table lamps, pepper mills and bowls. I try to create objects that are functional but with an artistic twist.
How did you end up in the Invermere area? I had a good friend from Edmonton who moved here sometime around 1975. I came to visit from my home in south central Saskatchewan, met my wife in the valley and never looked back. She has been a great support for me.
What's it like being an artist and living in Invermere? This town is a great place to live and connect with people. Also, I grew up in the prairies where there isn't much wood to look at. So as an artist who has chosen wood as his medium, this would be the biggest draw.
Where can we find you? Brian Hoffos Wood Design in Windermere at 1661 Sinclair Ave. phone: 250-342-3819
Artist Denise Lemaster
Who are you? My name is Denise Lemaster and I'm a full-time painter, an art teacher and an outdoor enthusiast.
Tell us about your art: I'm inspired by the region I live in. I paint primarily landscapes in oil. I'm hopeful that through trying to communicate the beauty of our natural surroundings that people will take notice and appreciate their environment more.
How did you end up in the Invermere area? I was raised in the Columbia Valley but I've lived everywhere - from Vancouver to Banff to Yellowknife. I eventually came back to the area, to Invermere, to work for Panorama in 1979.
What's it like being an artist and living in Invermere? Invermere is a wonderful place to be an artist - especially if your inspiration is the natural environment. I would say Invermere attracts people who appreciate nature, who make a choice to live in a place like this. I am living in my inspiration. I can go out and paint on location and paint what I care about. I have the best of both worlds.
Where can we find you? Artym Gallery in Invermere or in the Stephen Lowe Art Gallery in Calgary.
Artist Gabriele Bridgwater
Who are you? My name is Gabriele Bridgwater and I'm an artist and a designer, a wife and a mother. I used to be an outdoor enthusiast but that's not what nurtures me these days. Now, it's my art - taking all those collective experiences and revisiting them through my art.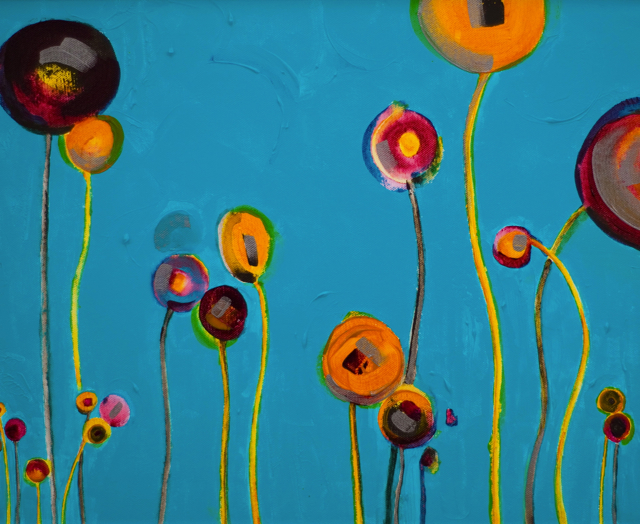 Lollipop Garden by Gabriele Bridgwater, a painter who calls Invermere home and is inspired by the town's community spirit.
Photo courtesy of gabrieledesign.ca
Tell us about your art: I do mostly acrylic paintings. I'm known for my fun use of colour. My work ranges from impressionistic to abstracts to scenes with canoes on the Columbia River. Whatever they are, I have a broad range. There's no limit to my palate. I have 75 colours that I paint with.
How did you end up in the Invermere area? My roots are Southern Ontario. During the early eighties, I read something in the Globe and Mail about this new ski hill called Panorama. It was an awesome thought to have, to think you could actually live in a small town and be fairly close to Calgary and be at the ski hill within minutes. That's why we moved West. We liked the idea of living in a quieter place where there is more time for reflection.
What's it like being an artist and living in Invermere? Visually, it's very rich. You never get tired of the views. And there's an energy here. Being in a small town and being surrounded by all this majesty. When people come and visit, I watch as they, too, become enchanted with our town. Faces and hearts open up. Time stands still. For all these reasons, this is a great community for artists.
Where can we find you? You can find me at my studio. 1280 13th St., 
Invermere. Phone: 250-342-2243 E-mail: [email protected] 
Story links:  www.bavinglass.com 
For help planning your getaway to Invermere and Panorama, visit, http://invermerepanorama.com/home.html for accommodations, dining and things to do in the area. 
See more SnowSeekers stories about Panorama
Did you enjoy this story? Follow us on Facebook for all things snow.
Stay connected this season on everything winter, please sign up for our SnowSeekers e-news