RICK MACDONNELL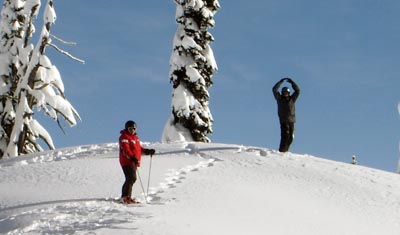 SnowSeekers' Doc Pow signals that he has found a cache.Fernie Geocach guide, John Avery stands just downhill from Doc Pow.
RICK MACDONNELL/SnowSeekers
FERNIE, BC — At Fernie Alpine Resort, there's a snow-bound adventure for nearly every powder hound imaginable. Understandably, the big draw is alpine skiing, but visitors can also spend their day – or week, or season – snowmobiling, snowshoeing, dog sledding, and cross-country skiing. 
But regardless of how many adventures there are to be had on the mountain, there's always a new frontier. The latest snow-bound activity in Fernie: Geocaching, a treasure hunt like you've never experienced.
"It's essentially orienteering on a ski hill, but with GPS," said John Avery, one of Fernie's two Geocaching guides. 
Mystery prizes
Stashed all over the mountain and base area are hidden buried treasures, called "caches", that can be located with GPS devices. Within each cache is a book (where you can mark your territory), along with some cool mystery prizes.
"All you do is download the GPS coordinates into your device, and away you go. You'll spend the rest of your day – or days, if you're really ambitious – on the hunt for these things.
"Whether you're a Fernie veteran or it's your first time on the hill, Geocaching offers a fun, yet focused way of exploring the mountain. Each cache is placed in a fairly accessible area of the hill, so it's a great activity for families. 
"The caches aren't put on any steep or dangerous runs. Anyone can do it. And the kids just love it."
Terrain keeps it interesting
The caches are small enough that they can be hidden in a variety of places. Some are buried in heaps of powder, others are tucked away near a special landmark or two. There are even caches located within the base area, allowing non-skiers to join in on the fun.Once the coordinates are locked in, your GPS device points you in the direction of your cache and tells you how far you have to go to get there. If it sounds a bit too easy, there's a little thing called terrain that spices things up. 
"Navigating the terrain is what makes it fun, because people have to make decisions on how to get to where they need to go." 
Accurate coordinates
The GPS units tap into more than 30 satellites when determining the cache locations, so they're incredibly accurate. You won't be spending half your day trying to find a cache you're supposedly right on top of.Currently, the resort doesn't have any GPS units for rent, but if you own a unit already, all that stands between you and your latest adventure is downloading the cache coordinates off of Fernie Alpine Resort's website.
You can also get them from Guest Services while you're at the hill. For anyone without a GPS unit, you can book a tour with one of the resident guides, where you'll learn to use the units, and find the caches as a team. And once you've found all the caches that Fernie has to offer, head over to www.geocaching.com, where you'll find thousands and thousands of coordinates all over Western Canada, and eventually, the world. 
"I know someone who went on a Geocaching trek from Fernie all the way to Victoria," said Avery .Geocaching tours are offered every Wednesday, Saturday, and Sunday from 1:30 to 3:30 pm. For more information on Fernie Alpine Resort, visit www.skifernie.com.
For more stories and detail on Fernie check out our SnowSeekers' destination page.