Bennett Ford, 5, works on his pizza stance during a Fun Trax lesson at Fernie for kids ages three to five. It's the second year the resort has offered the group lessons for children.
Photo courtesy of Lisa Kadane, SnowSeekers
Bennett Ford, age five, travels to Fernie for a group lesson and learns there are "no parents on a powder day," in Part 3 of our series
LISA KADANE
FERNIE, BC - It's an overcast day at Fernie Alpine Resort  and the sky is blowing giant kisses of fluffy flakes down onto an already huge base of packed powder. But instead of searching for stashes of virgin snow in one of the resort's five alpine bowls, I'm standing out of sight on the sidelines by the beginner hill, watching my son Bennett's first group lesson.
I see a small girl in his group of three kids start off from the top of the moving carpet. She starts, stops, falls, is helped up, then starts skiing again. This time the tiny tyke keeps going — right out of the beginner area and onto the neighbouring bunny hill. The instructor, who evidently thought her pint-sized charge would capsize once more, chases after the child, in her ski boots. Bennett, completely nonplussed by this dramatic turn of events, waits patiently at the top of the moving carpet for his teacher to return so he can have a turn.
Fun Trax ski program for three- to five-year-olds
To keep the momentum from the great strides Bennett made skiing in two private lessons at Canada Olympic Park, we've enrolled our autistic son in a couple of Fun Trax  lessons at Fernie. He'll participate in a group lesson inside the fenced confines of the resort's beginner area, which features a magic carpet called the Mini Moose. We have big hopes that, inspired by the children around him, Bennett will master his pizza, start linking turns and perhaps graduate to the Mighty Moose, a platter tow that hauls sport newbies up an adjacent beginner run that's longer and steeper. Lofty dreams, I realize, given the reality of a group lesson involving three- to five-year-olds: more waiting around, lots of falling, some crying and a line-up at the magic carpet.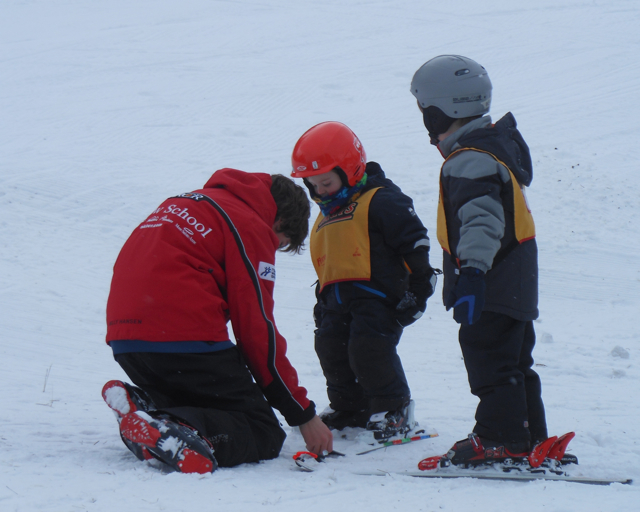 Bennett Ford watches while a fellow student gets his skis adjusted by a Fun Trax instructor at Fernie.
Photo courtesy of Lisa Kadane, SnowSeekers
It's the second season the Fernie daycare has offered Fun Trax, a ski program that introduces youngsters to the sport without overwhelming them. In contrast to the popular Ski & Play program, which sees keen preschoolers skiing most of the day, Fun Trax eases less gung-ho tots into the sport's charms. They get to play in daycare, then hit the slopes for an hour before returning indoors for play and lunch. A similar schedule in the afternoon completes the day.
"Not all little kids can ski for four hours a day," says Moe Fraser, Fernie childcare manager. "Fun Trax kids like coming into the daycare. They like that play time.
Even expert pizza makers crash
After a couple hours on Fernie's slightly steeper (than COP) beginner hill, Bennett has become an expert pizza maker. The stopping skill that eluded him three weeks ago has now become second-nature — when he's paying attention. At times he's so busy looking longingly toward the Mighty Moose platter tow, or gazing at the Deer triple chairlift, that he forgets to stop. On one such occasion I had to chase after him (in ski boots, of course, which is extremely difficult) and still couldn't stop him from crashing into a padded obstacle. He laughed hysterically at this ski blooper.
It's encouraging that Bennett wants to graduate from the magic carpet. "We can ride the chairlift?" he asks. "No, not yet," I answer.  "I can go on the Mighty Moose?" he tries again. "Maybe next time," I say.
Group lessons for kids a great value
Bennett must first work on linking his turns and be able to ski without his edgie-wedgie (that device that keeps his tips together) before he can venture beyond the beginner area, says instructor Geoff Hill.
"His balance is good and his pizza is coming along," he says. Hill instructs me to have Bennett walk around more in his skis and to keep getting him out regularly. No worries there.
"He'll get there," Fraser assures me. "By the time that he's six you'll be amazed at what he can do."
Though Bennett could have probably progressed more in private lessons, I found the Fun Trax to be unbeatable value ($69 for a full day including daycare and two one-hour group lessons vs. $49 for just a one-hour private lesson). As a bonus, having him in a full-day program allowed me to chase that legendary Fernie powder up high on the mountain while my son face-planted at the base. That old maxim, "No friends on a powder day," applies to parents as well. 
Read part one of the SnowSeekers Learning to Ski Series HERE.
Read part two of the SnowSeekers Learning to Ski Series HERE.
For more stories and detail on Fernie check out our SnowSeekers' destination page.