Let this man's epic ski adventure inspire you
Join SnowSeekers this winter with The Challenge
Ted Allsopp has a passion for skiing that inspired him to do something most western Canadian skiers might only dream or think about - ski every resort in Alberta and British Columbia. 
It took six years, but the Fernie-based Allsopp set down his skis on all 78 resorts - big and small - from massive Whistler-Blackcomb to tiny Troll Ski Resort in Quesnel, B.C. to Kinosoo  and Cold Lake in Alberta. 
Why would he do that? It's simple. He lives to ski.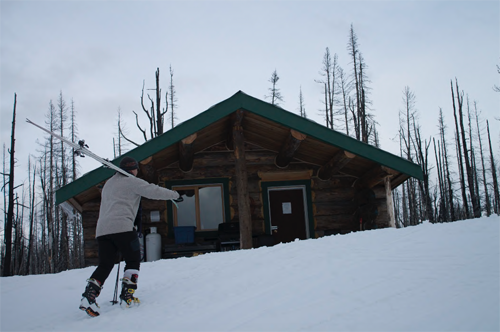 Allsopp's quest to ski every resort in Alberta and B.C. was born out of his love of skiing. 
Photos by Doc Pow
Last March, Allsop and I got to Tweedsmuir, B.C. to complete his epic adventure.   
"It was an incredible adventure, discovering and skiing all of these little out of the way places that you probably didn't even know were there," said Allsopp. 
I've known Allsopp for more than 15 years. In fact, most people in the ski business know him as, "Ted Shred."  We met talking about skiing, selling skiing and getting in a lot of skiing together.
Over the past 53 years, Ted's passion for skiing has led him all over the world and now he's on a quest to ski all of Canada.   
Start your own ski adventure this winter 
In Canada, we're blessed with incredible winter experiences literally right out most of our back doors.  No matter where you live you can likely think of at least a ski hill or maybe five within a short drive from your home.    
Allsopp's quest to ski two provinces and now the country, inspired us at SnowSeekers to put out a challenge to you. We want to help you experience some of those ski hills either out of the way, just around the corner or a short flight away.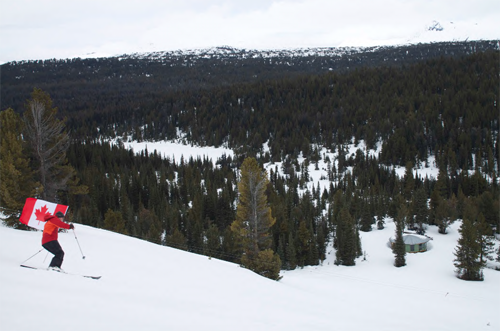 Where will your bucket list take you?
We're calling it The Challenge. It's as simple as drafting your Canadian ski bucket list and joining The Challenge. Then we'll keep you informed about those destinations and deliver deals and incentives to your inbox to make your ski wishes a reality.  
Thanks to our friends at Pacific Coastal Airlines, Allsopp realized his dream when he completed his goal to ski every area across Alberta and B.C. "I thought I had finished this quest last winter until my buddy, Trevor Suer, asked, "well what about Tweedsmuir?"
The Tweedsmuir Experience 
Allsopp says he'll never forget how he completed the missing piece to his Canadian ski adventure. He heard David Flegel, president of the local ski club say "we don't have lineups." No surprise, because the resort is literally in the middle of British Columbia's wilds. 
Located an hour's drive east of Bella Coola and with a 20-minute snowshoe in, it's places like the Tweedsmuir Ski Club that can re-ignite your passion for snow sports.  At Tweedsmuir, you may have to call ahead to insure that the single tow rope is even going to be working.  By calling ahead you "book time" at the ski hill. If you go, be sure to book the Skookum backcountry cabin for your stay.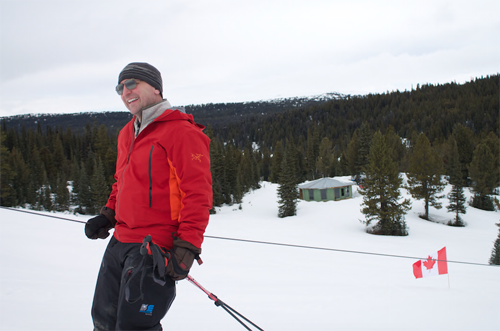 You may never have heard of Tweedsmuir Ski Club, but it can re-ignite your passion for snow sports.
"Starting from sea level, as opposed to Fernie where you start at 2,500 feet, the mountains look bigger there," says Allsopp.   
It was fitting that Allsopp's quest finished in a location that was all about getting there and the adventure.   
Are you ready for The Challenge? 
We all know skiers and snowboarders are some of the coolest people - outgoing and adventurous. We invite you to join our tribe this season, become a snow seeker and sign up for The Challenge.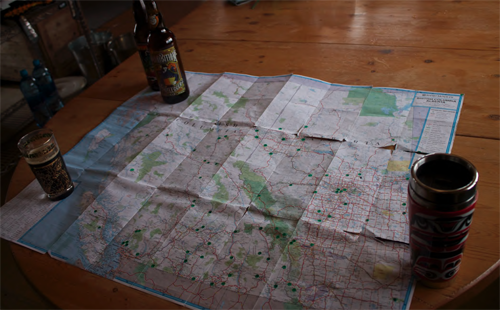 Ted Allsopps ski map. Tell us all the places you've skied.
The next thing you know, you'll be knocking off your own ski bucket list, which will have you standing taller and seeing the world with fresh eyes. 
Become a SnowSeekers member and get exclusive access to deals and more.
Learn about Big White, where you will find snow ghosts and glades covered in fluffy pillows of snow.
Show your stoke for the the SnowSeekers Challenge by sharing this page with your friends!