Kinosoo Ridge: a snow resort with heart
Jurgen and Val Grau have achieved something special with this Cold Lake snow resort
LAURA ENGLAND
EDMONTON, AB — Anyone with money can build a ski hill. They can install lifts, create runs, and fill a lodge with skis, boards, food, and drink. But not everyone can create a sense of community and offer a second home to so many. Jurgen and Val Grau have achieved this monumental feat at Kinosoo Ridge Snow Resort and it was our privilege to experience this first hand.
My husband, Boyd, and I made the three-hour trip up to Cold Lake, (no, that's not a typo) to visit the area's alternative to sledding and hockey. Kinosoo Ridge has been in operation for more than 27 years and for 17 of those years, the Grau husband and wife team has been at the helm. During that time, they have introduced this sport to countless northern Albertans and Saskatchewantonians - generally starting with the younger folks.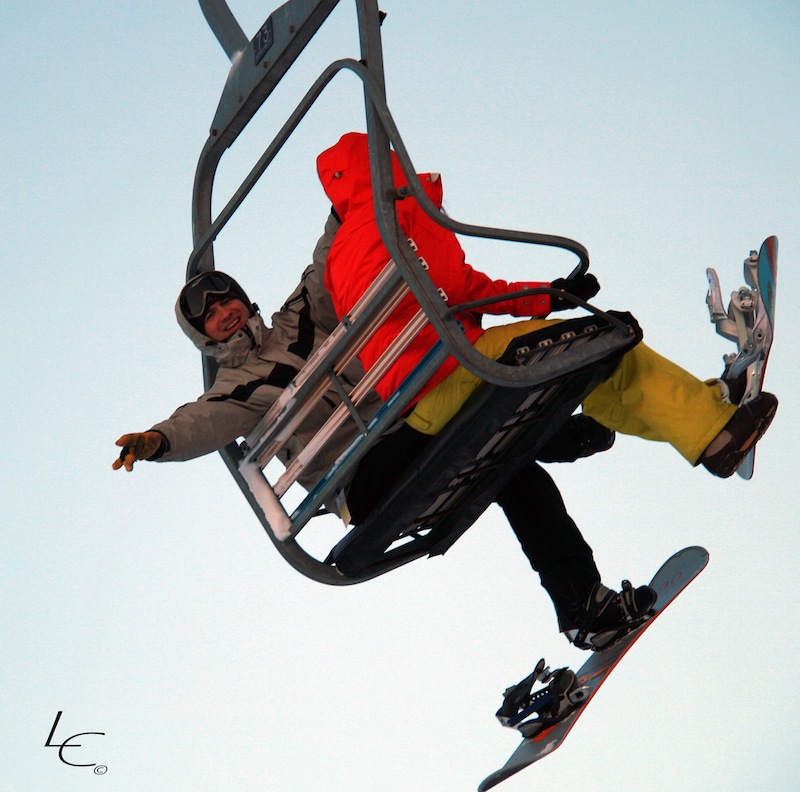 There may only be 10 runs to speak of at Kinosoo Ridge, but it's easy to attest to the fun to be had there.
Photo courtesy of Laurie Cross
One of the great joys of Val Grau's position at the ski hill has been watching children grow up; from kindergarten to high school, from the bunny hill, to green, blue, and black diamond runs. Typically, there's an abundance of Kinosoo visitors under three feet tall, "They're like mice," Val jokes. "But these kids are the ones going home to mom and dad to tell them what a great time they had. So next time, the whole family comes out for the day."
And that's what makes this facility unique. The Grau's are true ambassadors of this sport and are introducing it to so many in a fun and friendly way. Cold Lake is not a well-known ski destination - to be honest I wasn't even aware they had a hill. But Kinosoo Ridge is a real alternative for those seeking a winter sport where there's no pressure to put a puck in a net and the main objective is to have as much fun as possible.
One big, happy family
And then there's the Grau management style. Val states, "We're trying to be as innovative as possible through lots of interaction with our staff and patrons. My door is open to staff at any time." I witnessed this true open door policy as I wound my way through a gaggle of Kinosoo employees to get into Val's office for a few last minute details.
This management team takes feedback seriously. Jurgen Grau is the kind of guy who is more than happy to hear your ideas to improve this hill, and not only will he act on it, but he'll probably get you to help him too. This rapport builds a sense of ownership and mutual respect. You're not an employee or customer here, you're part of a family.
That's partly what drew instructor Jamie Stedman to Cold Lake. Stedman states, "The last place I worked I was instructor #95; here I'm Jamie." Mike Carvell, another newly acquired instructor, is so impressed with the area he'd consider making the move permanent.
Everyone I spoke with was obviously proud to be part of this organization, but it certainly makes it that much easier to brag with a meticulously groomed ski hill and a brand spanking new chalet. Together with our two instructors, Stedman and Carvell, Boyd and I were given the grand tour of Kinosoo Ridge's 60 acres and made our way down several of the hill's 10 runs. I discovered a few runs that suited my cruising style of snowboarding while Boyd found more challenging ways down. As always, I deferred to my instructor for tips on improving my style and Stedman provided a few welcome pointers.
Kinosoo Ridge is worth it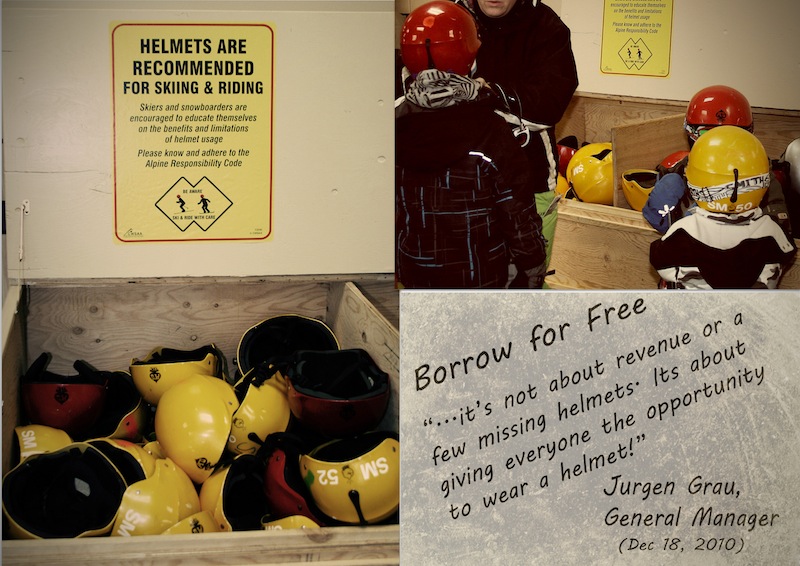 Jurgen and Val care so much about the safety of their patrons they're willing to hand out helmets for free.
Photo courtesy of Laurie Cross
We then broke for lunch and I was delighted to discover french fries with gluten-free gravy on the menu. Fellow celiac sufferer Jurgen made a point of offering this option and I was truly grateful. Boyd tackled a Swiss mushroom melt burger with fresh mushrooms the size of golf balls. The Grau's are very health conscious and offer a wide assortment of salads along with the more traditional ski lodge fare. "Everything here is homemade and fresh," boasts Val. And everyone cleans up after themselves. Amazing.
Boyd spent the rest of the day in the terrain park riding tube rails, taking jumps and grooving to crazy awesome tunes. Was this a taste of the upcoming Slush Cup with DJ Ian Carey? Kinosoo Ridge ends the season in style with an annual big blowout bash complete with a BagJump. Yup, that's a huge bag at the bottom of a jump. Boyd and I are planning on heading back just to get a shot at that.
Kinosoo Ridge isn't the biggest hill in Alberta, but it certainly has the biggest heart. There's a sense of home, family and support that just doesn't occur everywhere. Val and Jurgen care so much about the safety of their patrons they're willing to hand out helmets for free. So if you ever find yourself in northern Alberta looking for a little fun on frozen surf, check out Kinosoo Ridge. It's worth it.
For the latest deals, snow reports and contests, sign up today to our SnowSeekers e-newsletter.
Ready to learn more about how you can #SkiNorthAB? Learn more here.