DOC POW
It wasn't that long ago that accommodations at Kicking Horse Resort were non-existant. Now, you have a wealth of options from top to bottom – literally. There is everything from funky boutique hotels to large and inviting condo-style accommodations.
At 7,700 feet above sea level, Eagle's Eye Suites are the definition of staying 'on mountain.' Two well-appointed rooms that feature one of North America's most unique sleeping experiences. Perks include your own concierge, chef, ski instructor for the day and certainly some exceptional powder in the morning. 
European sensibility 
Another on-mountain accommodation potential is the Vagabond Lodge with hosts, Ken and Lori Chilibeck. This beautifully appointed lodge features 10 rooms and is finished as a modern-day log cabin.
"Any logs from the lot were worked back into the structure, including this one," said Ken, pointing to the bar counter. "It had a curve to it, so it couldn't be used as a beam or post, so the carpenter turned it into our bar."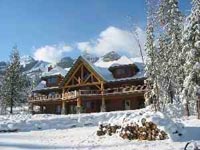 The Vagabond Lodge, located at Kicking Horse Resort in British Columbia, provides a sense of European ski culture. 
Courtesy VAGABOND LODGE
The lodge is named after the famed Club Vagabond once found in Leysin, Switzerland.
"We want people to stay here that used to or are trekking around and backpacking and now, get to sit down and meet like-minded people," says Lori. "Just like what I used to see at Club Vagabond, we want to encourage return visitors. People meet different characters at the lodge, drawing them to come back the same time next year with the same people." 
A highland-inspired retreat
The Highland Lodge, home of the Scottish Mountain Pub, also features some stellar accommodations. Luxury with a rustic twist, the lodge boasts plenty of hand-crafted solid furniture and feather-down beds. Private decks offer stunning views of the mountain ranges. 
Let's not forget the Glacier Mountaineer Lodge located at the base and steps away from the gondola. Definitely an ski-in, ski-out gem, the lodge features condo and hotel-style rooms with access to hot tubs, sauna and steam rooms and a fitness room. But who really wants to spend time in a fitness room when you have the whole of Kicking Horse Resort to test your muscles on – and only steps from your door.
For more stories and detail on Golden check out our SnowSeekers' destination page.