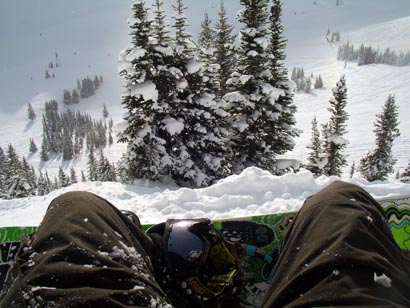 While Kicking Horse Mountain Resort offers some serious steep and deeps, there is plenty of terrain for everyone, regardless of ability.
Photo by Brandon Boucher/SnowSeekers
DOC POW
KICKING HORSE, B.C. — In 1883, Sir James Hector, a surveyor with the Canadian government, was on assignment to find a way for the railroad to get through the mountains. One unfortunate day, he was kicked by a horse and presumed dead. Just as they were lowering him into what was to be his eternal resting place on the mountain, he miraculously sprung back to life – forever stamping the region with the name Kicking Horse. 
Today, that region is home to Kicking Horse Mountain Resort, a ski destination located just above Golden, British Columbia that deserves respect as a stellar spot to shred some serious gnar. If you're not careful, 'The Horse' will buck you off any of its three ridge lines: CPR, Terminator, and Redemption. Kicking Horse is home to some huge opportunities to rack up the vertical!
Fresh snow, excellent terrain
The Golden Eagle Express Gondola flies up from the bustling base area almost 4,000 vertical feet in one fell swoop. This leaves you with runs that are 30 minutes to an hour long, depending on abilities. Guaranteed you'll be making four to 10 stops en route just to get the burning sensation out of your legs.
Just off the Eagle's Eye is Crystal Bowl, which offers any number of adventurous green, blue, and black runs that will get you over to Stairway to Heaven – a quad chair that lives up to its name. From there, any skier or shredder can make their way into the advanced terrain of Feuz Bowl. 
Having received 15 centimetres of fresh snow overnight, we dived in off CPR Ridge and into Feuz, joining the yips and yells of fellow skiers and snowboarders echoing off the walls of this massive powder bowl. The chutes off CPR fan out into some wide-open spaces, perfect for carving a signature turn.
Big pillows of the white and fluffy stuff await your arrival. "A marshmallow forest," said Brandon Boucher.
Consistent fall lines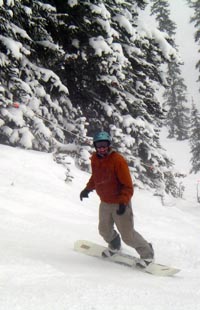 SnowSeekers' Doc Pow is all smiles as he heads in to the glades at Kicking Horse Resort. 
Photo by Brandon Boucher/SnowSeekers
"This mountain offers up some big lines and great options to hit up terrain that in most other places would be marked closed," said Matt Cote, a member of Kicking Horse's freeride team. "Compared to other resorts, people here will discover a succession of ribs featuring chutes with some huge wide-open spaces to play in."  
Cote explained that Whitewall, found in Feuz and Terminator Ridge, delivers one of the most consistent fall lines in North America. As such, the locals are always stoked and anywhere you go you're met by smiles, even during the 12-minute gondola voyage to the top of the world.
In addition, the restaurant at the top, The Eagles Eye, has won numerous awards including best view from a barstool three years running by Ski Canada Magazine. Whether you're perched on the side of CPR or Copper ridge, the views will render you speechless.
Funky garden
If you're looking for glades, Kicking Horse will serve them to you on a fluffy platter. The trees here, especially at the tree line, are filled with character, wooden features, and gnarly branches dressed in thick heaps of moss.
Making our way via one of my favourite runs, a blue known as Master Blaster, we ran into the Pioneer Chair, the original site of the first ski hill at this locale, known as the White Tooth Ski Area, which was founded over 40 years ago.
Today, this spot plays host to some of the more signature glade options and lots of chances to hit some waves in an ocean full of snow.
For more stories and detail on Golden check out our SnowSeekers' destination page.