Fantastic snow and unbelievable terrain lasts for days, and days, and days...
Sterling Todd Keys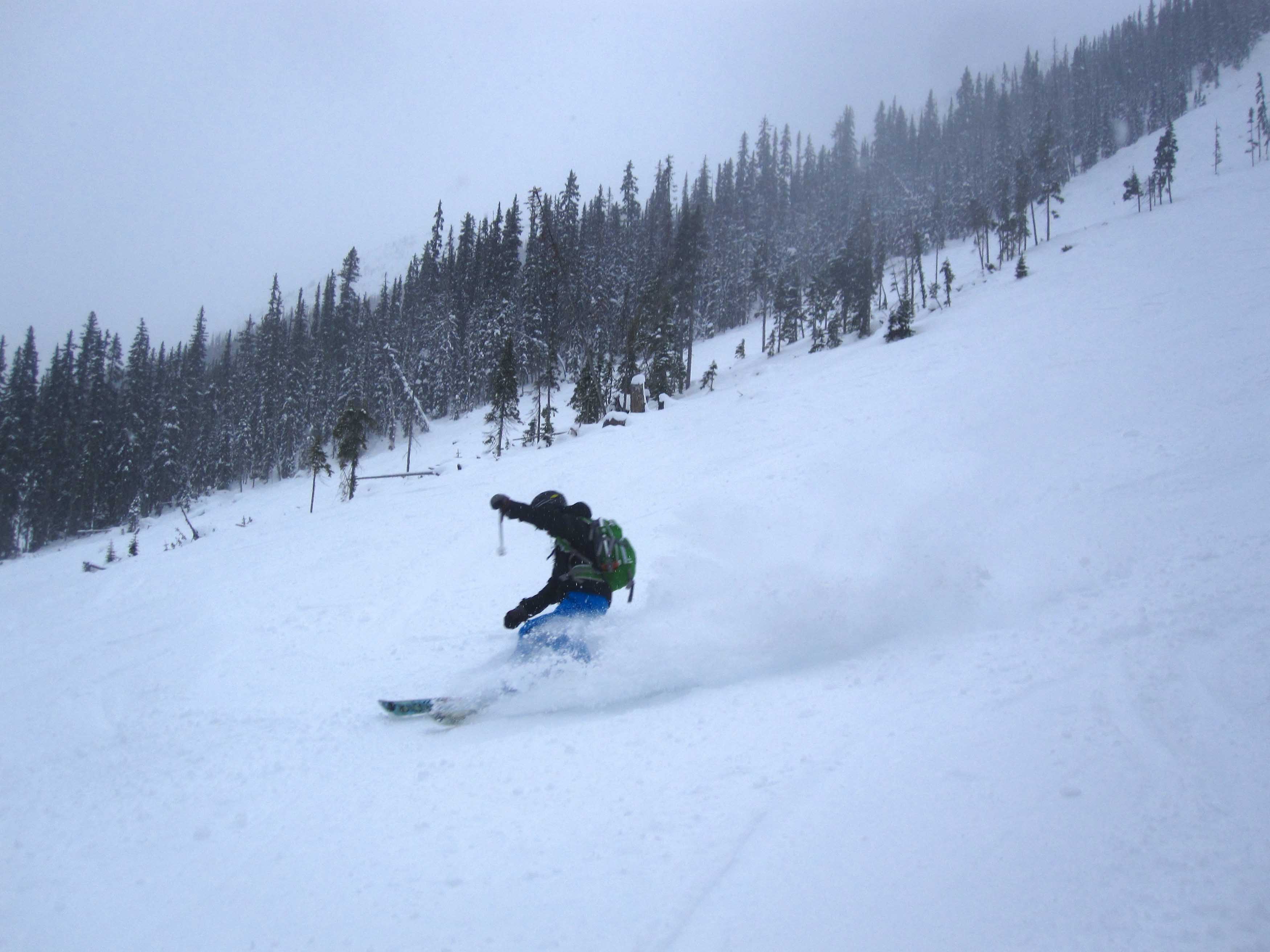 Kicking Horse is a shredder's paradise. No questions asked. You want to rip it up, you head to the Horse.
Photo courtesy of Sterling Todd Keys
GOLDEN, BC — Waking up to fresh snow is one of the greatest feelings in the world, but it's doubly better when you've already committed to heading out and skiing that same day. Thank you, Ullr, thank you.
Living on Vancouver Island, seeing snow in town is quite honestly a rare sight, and it's been quite a while since I've been able to enjoy this guilty pleasure. It seemed only fitting to break my self-imposed hiatus with an absolute flurry of snow, which is what greeted us upon our arrival at Kicking Horse Mountain Resort in Golden, BC.
We were treated to overcast skies and big dry flakes floating around town. Over the past few seasons, Kicking Horse has never let me down in terms of the conditions or terrain, and it wasn't about to break the streak. The visibility, helped by a thin layer of snow clouds and persistent sun, put a bright glow on the resort, providing a clear contrast of the fresh snow that had fallen the night before.
And while admiring from the base of the mountain is a good way to mentally prepare for the day, you can stare at the mountain for only so long before the urge to tear it up takes over. Signs at the resort posted a modest dusting of 2 centimeters of snow, but this was quickly brushed aside by locals in the gondola line who said that the new snow at the base didn't at all compare to what awaited at the top of the mountain or the bowls.
A good problem to have
And so, with the itch of new snow under our skin, off we went, heading up Golden Eagle Express Gondola. As with every first run at Kicking Horse, the hardest part of getting out of the Gondola was choosing a direction to head. Should we start off in the Crystal Bowl and head up the Stairway to Heaven chair? Should we traverse the CPR Ridge and jump in along the way? Maybe the snow is better on the Terminator Ridge side and Bowl Over? Argh! So many decisions! So little time!
Indecision gave way to the will to ski, and as we dropped into the Crystal Bowl, the promise to hit all others faded to the back of our minds as our skis coasted over fresh champagne powder.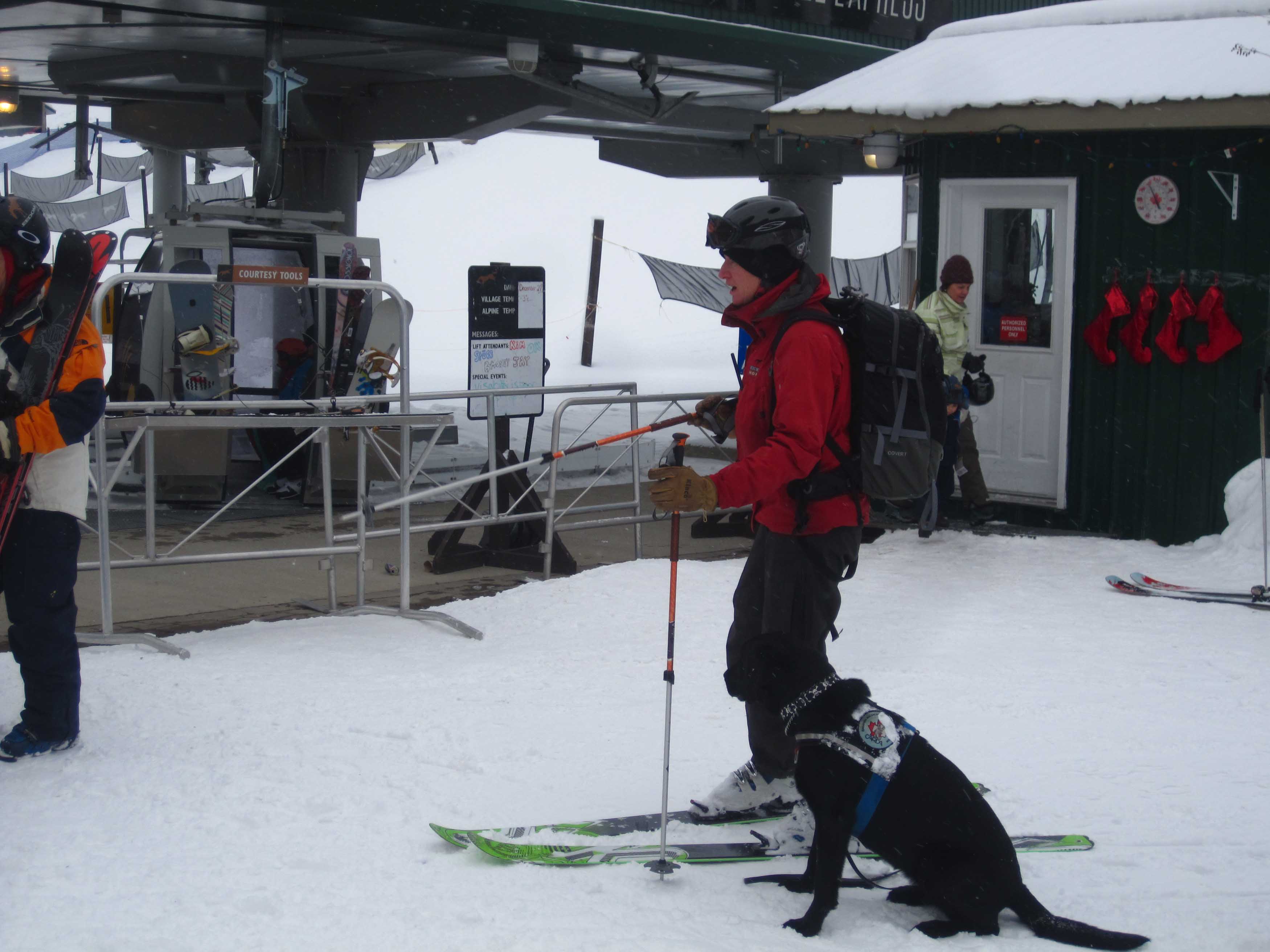 There are fewer things more cool on a mountain than a rescue dog.
Photo courtesy of Sterling Todd Keys
The locals in the line were right: the snow in the bowls and glades amounted to knee-high powder, and for conditions that were still considered "early season", it was absolutely unbelievable. Turn after turn caused snow to fly into our faces, making it seem more like we were floating, rather than skiing. No matter where you were on the hill or how hard the wind was screaming around you, you could still hear the hollering of other shredders as they were overwhelmed with the same feeling.
Never enough time in the day
Unfortunately for the day-tripper, there is never enough time in one day, let alone a week, to be able to explore the vast amount of terrain offered at Kicking Horse. Personally, I've been to the resort half a dozen times now and I am nowhere near able to say that I know the mountain. I am so consistently amazed with the quality of the runs that I end up spending a lot of my time doing laps, straying a bit to be able to find another prime location to add to the list.
On the flip side, this is great for locals and vacationers alike, who still end up finding different ways to scope a line or discover a stash that they never thought had been there before, days and even months later.
A little tip though: keep an eye and an ear out for locals on the mountain and buy them a beer; they may be willing to divulge some of their favorite hidden gems on the mountain. No promises though!
As always with this champagne powder capital, the end of the day came way too soon and left my body ravaged and my thighs burning; yet I still had a strong urge to ride the mountain again as soon as possible. The sheer amount of terrain at Kicking Horse makes it easy to see why there is such a draw for so many people from the surrounding area, and there is something for absolutely all skill types.