Close to 100 cm has fallen over the last 7 days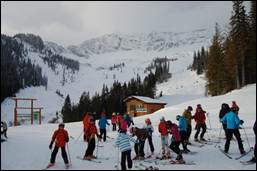 Top of Elk at Fernie Alpine Resort on Saturday Nov. 26th.
Photo courtesy of Fernie Alpine Resort
FERNIE, BC – Fernie Alpine Resort had a great early opening weekend on November 26 & 27. On Saturday, many enjoyed between boot-top and knee-deep powder! 
"La Niña has delivered it's bounty of white gold!" said Matt Mosteller.
With even more recent, huge snowfalls and close to 100 cm of new snow in the last 7 days, Fernie Alpine Resort has announced it will open up the Timber Express Quad, Whitepass Quad, Boomerang Chair, Haul Back, Deer Chair and the Magic Carpet on Friday, December 2. 
"We are fortunate to have mid-winter quality conditions," added Mosteller.