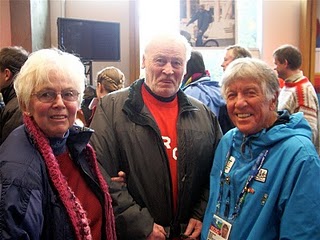 My guardian angels, Torv and Valeri Hugdahl (left and center), pose here with a close friend.
RICK MACDONNELL/SnowSeekers
RICK MACDONNELL
- Feb. 24/10
It's called the Norwegian Church Abroad (or Sjomannskirken), and it has served as the hub of Norwegian activity during the 2010 Games. Norwegians, and honoured guests, have been treated to waffles, coffee, Norwegian newspapers, and wonderful hospitality in what's become a home-away-from-home.
While Norway House (as it's referred to around the Village) has provided a quiet place for respectful reflection, the Norwegians organized an ecumenical service at the Whistler Public Library this afternoon. They were gracious enough to allow me to attend.
Thank God for Torv
Knowing the service would be delivered in Norwegian, I wasn't sure how much of the service I would understand. I grew up in a very strong Catholic household, so I thought that at the very least I would recognize some similarities in the services and be able to participate without looking like, well, a Canadian among Norwegians.
By some stroke of luck I took a seat next to Torv and Valeri Hugdahl of North Vancouver. Torv was born in Norway and emigrated to Canada in 1956, where he met Valeri.
Through what some would call an act of God, but I was set up with a Norwegian-to-English translator for the whole service. Someone was looking out for me, it would seem.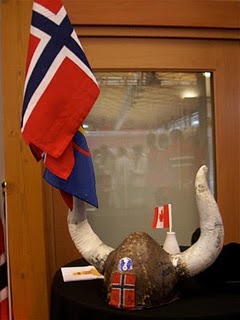 RICK MACDONNELL/SnowSeekers
A poignant reading
Despite the much needed help I wasn't completely in the dark. Following along with the program, I recognized words like "Kristus" (Christ), "Pontius Pilatus" (Pontius Pilate), "Frans av Assisi" (Francis of Assisi), and obviously, "Amen" (Amen).
Bravo, I know. I was in desperate need of help, so I was extremely appreciative of the Hugdahls, my guardian angels for the hour.
In what was a nice touch, there were several moments during the service when a translator would provide some help for the Norwegian-challenged among us. The first reading was particularly poignant, given present circumstances.
James 1:12 - Blessed is the man who endures trials.
As we've seen on the face of many Olympic athletes this week, athletes like Joannie Rochette, Irene Wust and Petra Madjic, there's no victory more precious than one that could easily have been a personal defeat.
The Royal Family was there ... I swear
Much like these Olympic Games, today's service played tribute to perseverance, dedication, and a dogged pursuit of a goal.
Unfortunately for you all, there was a lockdown on photography during the service due to the attendance of the Norwegian Royal Family. They weren't the only celebrities on hand.
We were all treated to the vocal stylings of Christine Guldbrandsen, a pop star in her native Norway, who sang the hymns – absolutely beautifully – as well as an English rendition of You Raise Me Up (Josh Groban). 
As a long-time parishioner, and an admirer of words, I couldn't help but recognize the cadences of the sermon, the ebb and flow of the scripture. In a strange way I could almost fill in the gaps for myself, even though I didn't have a clue as to what was being said.
It allowed me to connect the dots between our cultures, our languages and feel the peace that such services bring.