Celebrating 50 years this season, Panorama looks back at humble beginnings as it plans future expansion
LISA KADANE
Originally posted in 2013
INVERMERE, BC - Ask any seasoned Panorama skier what they remember about the mountain when it opened back in the early 1960s and you'll hear stories so quaint you might question their veracity.
Old timers will talk about how there used to be just a rope tow up the hill's one run, and how they would warm up in an A-frame hut that smelled like wet socks. They'll tell you how the local doctor treated an average of two broken legs a weekend caused by the old "bear-trap" bindings. And you may even learn about a moose that would stand ominously in the middle of one of the ski runs.  
"We had to try and dodge him," confirms long-time area resident Andy Stuart-Hill, who wrote the book A History of Panorama: The Hill that Became a Mountain, in 2006. "Nobody was ever injured. He was the guardian of the Whiskey Jack trail."
The moose is long gone, of course. So are the dangerous ski bindings. Over the decades Panorama has grown from a one-run wonder into a 2,847-acre resort with 120 trails, and the old rope tow has long since been replaced by five chairlifts, a platter tow and two moving carpets for beginners. The A-frame is also gone, torn down to make way for a resort village packed with ski-in/ski-out condos, shops and top-notch restaurants.
Began as a mom and pop hill
Celebrating 50 years as a ski area this season, Panorama's evolution from hill to mountain has been gradual. While much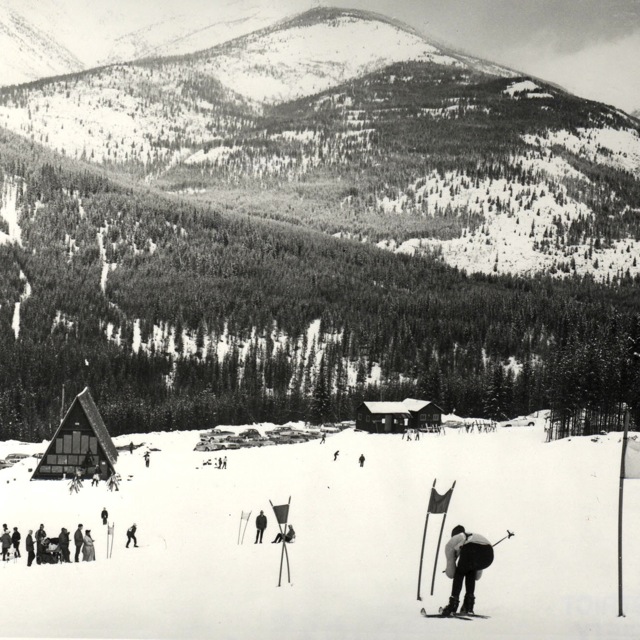 Ski racers at Panorama in 1969 when the resort consisted of not much more than one run and an A-frame lodge.
Photo courtesy of Panorama Mountain Resort
has changed, what's remained the same in the half century since two Swiss-born friends decided to bring skiing to their adopted corner of Canada, is the snow, the scenery, and a desire by other like-minded individuals to keep improving the mountain experience.
At its core Panorama's is a story about passion for skiing. In 1959, Fritz Zehnder and Guy Messerli, the aforementioned Swiss duo who yearned for the skiable slopes of their home country, started looking for a suitable hill in the area. Three years later, in 1962, with the help of Karl Strobl — and a rope tow powered by an old V8 motor — Panorama was born.
"Messerli, Zehnder and Strobl just wanted to go skiing and they didn't want to walk up the hill," says Panorama operations manager George Duncan, who has been working at the resort since 1981. Soon after the trio purchased a platter lift and started selling $2 tickets and the rest, as they say, is history, with a caveat: they never dreamed Panorama would become the resort it is today.
"It was strictly a local mom and pop hill," says Stuart-Hill.
Game changers
Panorama is blessed with beautiful scenery and its close proximity to Calgary (a three-hour drive away) made it popular among weekenders looking to escape the city's bustle. In the early years, however, snow could be hit or miss. The game changer, says Duncan, came in 1983 when the resort added snowmaking. "Once you do that you're guaranteed snow," he says.
A second game changer happened in 1993, when Panorama was purchased by Intrawest. Locals Jane and Peter (a.k.a. "Lusti") Lustenberger, who moved to the valley in 1978 and raised two daughters there, credit the resort development company with saving Panorama from closure. Intrawest capital investment brought more snowmaking, chairlifts and infrastructure, and lodging that funded further expansion. Taynton Bowl, with its in-bounds backcountry-like ski terrain, opened in 2001.
"Before Taynton there wasn't a lot of terrain open for powder skiing and adrenalin skiing," says Jane. Panorama was known more for its cruising runs. "Now, we have everything," adds Lusti.
Everything, including more change. Intrawest sold the resort in 2010 to a consortium made up mostly of Panorama property owners. More development is in store: the resort is still 10 to 20 years away from "build out," the term for when development — both on the mountain and in the village — will be complete.
Expansion plans
"Our intent is in the future," says Panorama president and CEO Rick Jensen. "We have the potential to double the resort."
In the next couple of years, skiers will see a new chairlift to the base of Founder's Ridge, as well as a new beginner area. Eventually, a chair will go to the top of Mt. Goldie at 8,800 feet elevation.
"That would give us 5,000 vertical and open up a whole new side of the mountain," says Jensen. The number of runs would also increase, to 170, and he pegs future skiable terrain at about 4,600 acres. Panorama has also beefed up its family focus since 2010, banning "wet" party buses (those that allow alcohol on board), while adding a tubing park and EuroBungy.
"I really admire what Rick is doing," says Stuart-Hill. "He's making it a really family-oriented hill."
Through these changes and into the future, Panorama remains true to its original vision. It's still a friendly "hill" for those passionate about the sport. But now skiers can have that iconic winter adventure without risking life and limb on a rope tow, in a bear-trap binding or while schussing around a moose.
Stuart-Hill sums it up nicely: "I think they've done a wonderful job."
Lisa Kadane is a Calgary-based Snowseekers correspondent and freelance features writer. Read more of her ski, travel and parenting adventures at www.drink-play-love.com. 
Story links:
Read mores SnowSeekers stories about Panorama.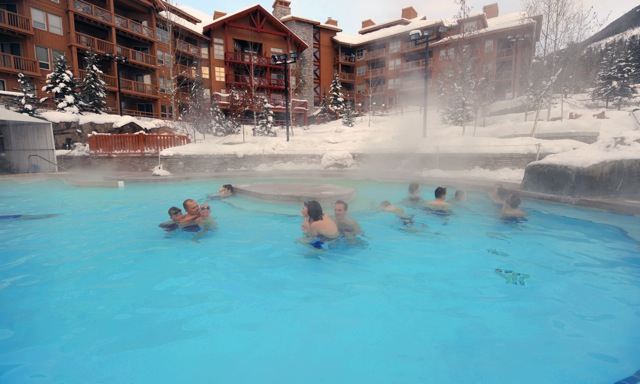 Guests enjoy a hot soak in the pool at Panorama after a day of playing in the snow. Photo courtesy of Panorama Mountain Resort