BARB MARTOWSKI
FERNIE, BC — Fernie is consistently ranked in the top 10 of various ski magazines for the quality and quantity of its powder, but I don't need a magazine to tell me that. 
When I started skiing, Fernie was the second hill I tried out – long before the base village, condos and retails shops existed. In fact I barely remember a daylodge at the base. It was the abundance of snow that I remember most. 
Taking a tumble that took me to the edge of a groomed run, I decided the easiest way for me to get back up was to take off my skis (hey I was a newbie, what did I know) and that's where I made my mistake.
With one ski snapped off, I stood up only to go down instead – plunging my leg into crotch-deep snow. Straight out of Monty Python's Black Knight sketch, I provided my mates with some good laughs as my limbs kept disappearing as I tried to get out.
One large playground
Today, Fe rnie is a fantastic hill with five big bowls: Cedar, Lizard, Currie, Timber and Siberia. If you are making your first visit, I would suggest taking one of the guided tours with a local snow host (9 a.m. and 1 p.m.) because there is a lot of terrain at Fernie.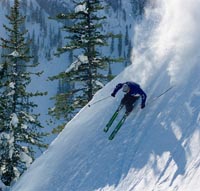 With five large bowls and over 2500 acres to play in, Fernie is a dream hill. 
DAVE HEATH/Tourism BC
The terrain ranges from wide open cruisers to steeps and deeps, chutes and plenty of glades – and everywhere there is powder – light, fluffy powder – champagne powder.
"Everyone knows we get our snow courtesy of the Griz, the legend who lives high up in the mountain and shoots his musket into the clouds – thus causing it to snow," said a completely deadpan Paula Worthington, my personal host from Resorts of the Canadian Rockies, owners of Fernie Alpine Resort. "It's why we throw a party in his honour every March." 
It didn't take her long to break down and start laughing. "Actually when a system comes into the Elk Valley over the Lizard Range it tends to get stuck and produces a swirly like in a toilet bowl, and it just snows, and snows, and snows."
One of her favourite runs to take particular guests on is off the Elk Chair. I can't tell you what the run is, for fear of death, but you will know you are on the right one when you see the Panty Tree. Haven't had the pleasure? Then I guess you haven't found the right run yet. 
The story behind the tree
Worthington told me that the panty tree started blooming several seasons ago, and honestly, it's covered in tossed undergarments. At the end of every season, someone looks after defrocking the tree of its embarrassing decoration, which makes Worthington wonder – who on the hill is the official Fernie panty remover?
As much fun as I have in the snow, one of my favourite runs on Fernie is the one at the end of the day that takes me right to the Griz Bar at the base. Located above the day lodge, it's the perfect venue for a little apres and catching up with everyone to 'swap stories.' If it is a blue bird day, we are on the Kokanee deck, if it's snowing (which it usual is) then it's inside where a live band plugs in around 3 p.m. and plays until 6ish.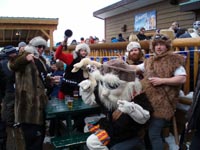 Every March, the folks at Fernie play homage to the Griz with a three-day festival that includes a lot of wannabes. 
BARB MARTOWSKI,SnowSeekers
Time for show and tell
As I said, Fernie is a big hill and you can go with a large group of friends and not see them until Griz time. My friend, Ted Allsopp's favourite place to play is along the ridge of Currie Bowl – the guy has a penchant for chutes and trees and Currie offers plenty of options. On the other hand, boarder friends prefer the big open spaces of Lizard or Cedar where Fernie's signature run, Bear, is located.
And then there are those like Trevor Suer from Edmonton, Alberta who prefers to jump off anything that is around. He and a few mates spent the day in the terrain park. "It was so much fun ... you didn't even mind biting it because there was just so much snow. You were up 20 feet and then it was a complete face plant; it was fun, you got up, cleared your goggles and went again. There was just no way to get hurt today."
Another great area is Siberia Bowl. It's to the far left of the village and doesn't get a lot of traffic, so it makes a perfect place to get in as many runs as you can. The chair is a long one, and I once called it the chair to never, never land because it was snowing so hard the day I was on it, you could barely see the chair in front of you. What a day that was.
Warm smiles, warm welcome
Like all resorts, Fernie offers the same amenities and programs – an excellent ski school, shopping, great nosh houses, including the Lost Boys Cafe at the top of Timber Bowl Express, off-slope activities, on-hill accommodations that range from comfortable to five-star, and fun, if limited on-hill nightlife – but it stands out as one of the best places to spend some time.
I think it has something to do with the people. Whether it's the person scanning your lift ticket, the server behind the lunch counter or the tech in the pro shop, they are all welcoming and gracious. The attitude spills over into the Town of Fernie (a short shuttle or drive down the mountain) as well.
From downtown Fernie, you can see the resort so for the locals, it really is their bit of paradise; they take ownership and are proud of it and happy to share. 
For more on Fernie, visit www.skifernie.com.
For more stories and detail on Fernie check out our SnowSeekers' destination page.