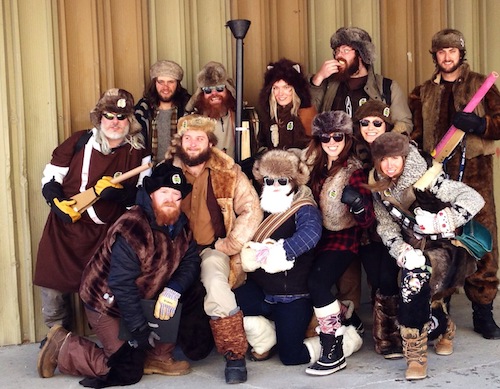 The 2014 Griz Family 
SAGE MCBRIDE
I decided that I would enter the Fernie Extreme Griz Competition. Pancake eating? I love pancakes! Axe throwing? My dad is a lumberjack. Relay racing? I have great cardio. I was ready!
Unfortunately, I threw my back out 2 days before the Griz competition and spent the two days prior frequently visiting the chiropractor and laying on the floor with my legs up. I thought my debut was a miss.
The morning of Griz days I decided I was still sitting it out, but headed over to the meeting place at The Fernie Community Centre to still document the days events.
I arrived at the pancake eating competition in Griz wear, ready to be a spectator, when "Cartwheel," the Griz Competition coordinator assured me that I could take it easy if I still wanted to participate. Because I had a hankering for pancakes, I figured, "what the heck – free breakfast" and maybe just try to do my best. Who knows what could happen.
From the get-go the motto of the competition was that we were all winners. Yes we repeated this mantra all day, reminding ourselves that even in -30 Celsius we would all have one of the greatest days of our winter.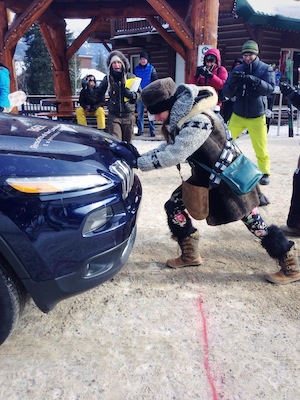 Jeep pushing
The events commenced.
I came in last in the pancake competition.
Last in the relay race.
Last in the axe throwing competition.
Last in the log throwing competition….do you see a trend here?
Last in the jeep pushing competition and dead last in the leg wrestle competition.
I may not have finished last in the trivia portion, but despite my losing streak I was still having an amazing time.
We took a few breaks to warm up in the Griz Bar, and had a Griz sing-a-long in Kelsey's before heading to the Park Place Lodge Pub and the parade downtown.
In the end, Topo and Kat were the male and female Griz winners. I have to congratulate Topo for making it a two-year winning streak.
There was such a camaraderie between the competitors, and genuine support of one another - I dare say that a Griz family was born.
Griz Days was one for the books. Great music, great community spirit and another reason it's great to call Fernie home. The Extreme Griz competition really embodied the incredible spirit of the Fernie community and is what Griz Days is all about. I'm looking forward to the Extreme Griz competition next year. I know I'll improve – even without training!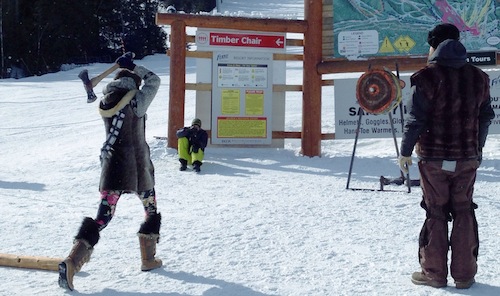 Axe throwing
For more stories and detail on Fernie check out our SnowSeekers' destination page.