Earn your turns, and the best day of your season
DOC POW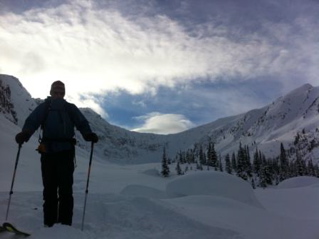 Another great day @ the office for Scott Belton of Adrenalin Descents.
DOC POW/SnowSeekers
GOLDEN, BC – "Those were the best turns of my life!" belted out my buddy Brandon Boucher as we made our way off the summit of T3, found within Golden's backcountry. For me it was certainly the best run of the season, and all it took was a little hiking, the right gear, and a day with Scott Belton of Adrenalin Descents.
We all know the value of what a resort – the incredible lift access, stellar skiing, and epic Kodak moments. Kicking Horse Mountain Resort, found in Golden, British Columbia, is chocked full of incredible lines and eye-popping scenery. But there are days when I'm left looking for more.
And while I have been fortunate enough to be out heli- and cat-skiing before, I've rarely had the opportunity to go backcountry touring, where getting into epic spaces happens on my own power.  
The options are nearly endless
"People like powder skiing, and what we offer is a chance to earn your turns and get into that powder," explained Belton. "When you head out with a certified mountain guide, it can allow you take what you want out of it; maybe that's just to get in some of the best turns, or maybe it's the chance to really educate yourself about best backcountry practices and how to read terrain."
While out on a shoot for Golden's episode of The Snow Show (stay tuned - coming to the site in a few days), Boucher and I went out on a tour with Belton to get a chance to experience what he does for a living. A "tour" traditionally consists of a plan of action, a crew, and some gear that is a little different than what you'd find on the feet of most resort skiers.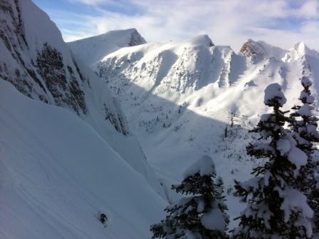 Golden, British Columbia is known for big mountain riding, and if you can see yourself in this picture the folks from Adrenalin Descents know exactly how to get you in there.
DOC POW/SnowSeekers
In and around Golden there are endless backcountry options that can get you into the powder-filled goods. A crew is a must with a tour – these are the folks who you rely on should things go south – of course with any backcountry tour the existence of avalanche dangers are front and centre.  
And the gear is a bit different for us snowboarders; it includes a split board – a board that will literally split into two halves – while skiers will be sporting a pair of telemark skis that allow the heels to click out of the binding and sit free to make for an easy assent up the summit. 
Get geared up
Both boarders and skiers have two things in common when it comes to gear, though: they will be carrying a set of skins to be applied to the base of the skis during the assent. And most importantly, a transceiver, a shovel, and a probe.   
Moving up the side of a mountain with a set of skins on is a bit of a workout, but nothing more than how a walk would be up a hill. When I asked Boucher why it's better than getting on a Stairmaster at the gym, he said "I don't know, I guess if you were on a Stairmaster on top of a mountain it would be just as cool. The whole idea of touring has a really big expedition feel to it, as you are all in a line and going somewhere pretty cool."
For more on what awaits, head over to the website of Adrenaline Descents. 
Disclaimer: These are wilderness areas. Use them at your own risk. Backcountry skiing and hiking is hazardous and should only be undertaken with a full understanding of all inherent risks. Although every effort has been made to ensure this information is accurate and up-to-date, no liability whatsoever is assumed for the use of this information. Be aware you are entering avalanche terrain. Be aware of current conditions. Assess the avalanche hazard before proceeding. Do not proceed if uncertain of the current hazard. Avalanche danger ratings and bulletins are available from www.avalanche.ca. For more on Avalanche Safety Training, check out this helpful article.
For more stories and detail on Golden check out our SnowSeekers' destination page.