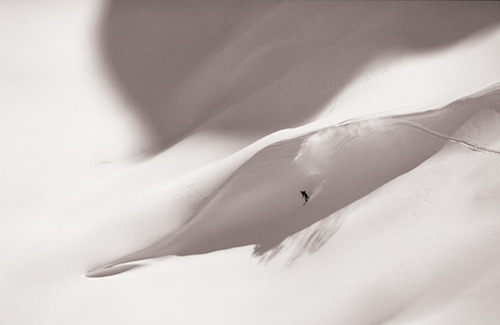 Every photograph in Bears Above the Valley will take your breath away.
Photos courtesy Mike McPhee
DOC POW 
FERNIE, B.C. - Island Lake Lodge. Just hearing the name can evoke great memories for many reasons. If you're lucky enough to have visited before you'll fondly recall its laid-back naturally beautiful setting, seeing the lodge gracefully draped in several feet of snow, its honey coloured log walls glowing in the sunlight or moonlight and the acres of powdery slopes just minutes from the resort primed for cat-skiing and more adventures. 
For anyone who's been fortunate enough to have visited  Island Lake Lodge, you understand why we're excited by the prospect of getting there again - and again.
But the next best thing to getting there is an armchair visit which comes in the form of a  new book called Bears Above the Valley.  The recently released coffee table tome, self-published by Fernie's Oolichan Books, captures the beauty of this special place with dozens of photographs.  It's a virtual trip to Fernie, B.C. anytime you want to go.
There's a reason Island Lake Lodge has been one of the most photographed places in ski and snowboard history. All you have to do is turn the pages to see why. 
Mike McPhee,  a.k.a. "McPhoto" has been at the helm of crafting much of the book's content. His beautiful images grace the pages of the 25-year anniversary odyssey. It's his sharp shooting talents that allow the colour photos to pop off the pages.  
McPhee's amazing eye, good timing and patience let him capture perfect moments as some of the globe's top skiers and snowboarders power through Island Lake Lodge's annual 40 feet of snowy goodness. 
McPhee rolled out west from the flat plains of Winnipeg's Portage and Main for his first time to ski the Rockies. 
"I can honestly say that Island Lake Lodge and Mark Gallup's photos of the place inspired me to move west and follow my passions in the mountains of British Columbia," said McPhee.
He spent a lot of time in Sk8, a skate and snow shop in Winnipeg, where he and his buddy watched a ton of snowboard videos. 
Finally, he couldn't handle the pull of that magnet in the Rockies any more.
"One exploratory season became 17 and I found myself deeply rooted in the once mythical place that drew me west in the first place," said McPhee. 
A timeline shows the development of the lodge from its backcountry beginnings to a now full-service resort, complete with acres upon acres of backcountry bowls.
The book takes you behind the scenes to the ski and snowboard industry, founded by two legends in the industry, Craig Kelly and Scot Schmidt. 
Steeped in history and steeped in powder, Bears Above the Valley will transport you to a truly special treasure of the Rockie Mountains.
 For more stories and detail on Fernie check out our SnowSeekers' destination page.