DOC POW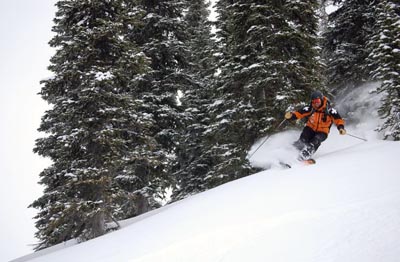 Braden from Fernie Alpine Resort Ski Patrol checks out the 22cm of fresh, natural snow Fernie Alpine Resort received March 9, 2010.
ROBIN SIGGERS/Fernie Alpine Resort
FERNIE, BC — With five powder bowls – the most for any resort in the Canadian Rockies – there is a lot to explore when you get to Fernie Alpine Resort, which is located just five minutes outside of Fernie, British Columbia.
For me, the best way to explore a mountain is with a local guide – either a resort host or a ski instructor. In my case, I hooked up with John Avery – aka Jaws – who has called Fernie home for over 12 years.  
"During many of the days my wife and I visited Fernie, it was epic powder, over the top stuff, and I finally said, 'That's it, we have to move here.'" 
There at the beginning 
Avery had been a member of the mountain operations team at Marmot Basin in Jasper, Alberta. The Fernie folks didn't take long to put Avery back to work in what he knew best – mountain operations – and he was on site to install some impressive new access points to Fernie. 
The installation of both the Timber and White Pass Quad chairs in 1998 really opened up some stellar new spaces.  
Now, thanks to Avery's efforts those who are looking to shred some serious gnar can make their way into the Anaconda Glades off the White Pass chair, which features some wicked tree lines runs.  
Easy access to skiing and riding
"Prior to the install of these lifts, this area was all cat-skiing and backcountry terrain. I used to come in here with my pals and we'd love it. The snow was always so incredible." That snow hasn't gone anywhere; now it's just a whole lot easier to get to.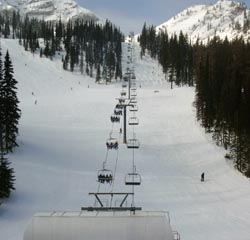 The White Pass quad carries skiers and riders up into some of Fernie Alpine Resort's best glades and chutes.
DOC POW/SnowSeekers
Now a ski instructor with the mountain, Avery spends time with people from all over the world.  
"The folks I instruct can't believe the beauty of everything. Sure the Alps are great, but there are so many less people here, shorter lineups, and from what I hear from my guests, we're a nicer bunch." 
During our day I was grilling Avery for some of his 'secret stashes,' those signature runs that no one should miss while they are here. At first all I was met with a "a hum."  When dealing with a journalist, many locals don't want to give up their insider tips because they know where it's going (ie. onto our site at SnowSeekers.ca). But with a little extra ribbing, I scored some secrets.
Inside tips
"On a nice powder morning hit Morning Glory. Not many will be on it and it lives up to its name," said Avery. "Anywhere in Curry Bowl will not steer you wrong, and if you want to really challenge yourself, head over to Concussion Ridge for some of the steep and deep stuff."  
I know exactly what Avery's talking about. Even though we didn't get over there during our day tour, I have been on Concussion a few times, losing all sense of space and time – a cheap ride to planet powder! 
"I wake up to the sounds of bombs more days than not around here," said Avery, talking about the avalanche bombs that are continually going off to manage the white gold that just keeps on falling. I must remember to toast the legendary Griz next time I am here.
At Fernie, you can book your mountain host out of the ski school - not only will you get a knowledgeable host, but also a few tips on how to improve your time on the slopes. The nominal charge is given back to you as a gift card to be used on hill. Sounds like an excellent plan. For more on Fernie and its epic offerings, visit www.skifernie.com.
For more stories and detail on Fernie check out our SnowSeekers' destination page.