DOC POW
The powder bowls of Fernie Alpine Resort provide a spectacular view from downtown Fernie. 
DAVID GLUNS,Tourism BC
FERNIE, BC — The town of Fernie was established for its coal mines but when the town saw a downturn in the coal industry in 1961, there was an upswing in skiing interest. In their drive to increase tourism to the region, the town folks rallied together and produce a bid for the Olympics. 
The bid wasn't a winner, but the town was so enthusiastic about welcoming the world to its incredible snow playground, plans and development continued with the results being the present day Fernie Alpine Resort. 
One in the same
"This town is so connected to the ski hill, it's within minutes of downtown," says local business man, Simon Howse. He's not joking.
If you had a buddy with a neon one-piece up on the hill skiing, you could easily pick him out from the streets of Fernie's historic downtown with a pair of binoculars. Even off the slopes, Fernie, which has been named best ski town by Ski Canada Magazine and North America's coolest town by Rolling Stone Magazine, is a town that features some stellar activities to keep any winter fan busy for weeks.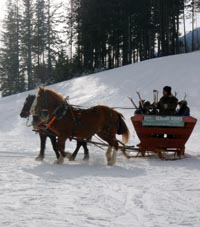 If you are looking for something a little quieter than a hockey game, why not go for a sleigh ride. 
BRANDON BOUCHER/SnowSeekers
Truly Canadian
If you are looking to get in with the locals and spend some time in an environment that is truly Canadian, take in a hockey game. The Ghostriders are Fernie's Junior B hockey team andcatching a game is a perfect family activity or a great night out with the crew. Tickets are cheap, the beer is cold and the action is packed. Ex-UK transplant, Sam Pomeroy comes to these games once a week. 
"Funny enough, it's not the violence that brings me here, it's the social aspect. Having only been here in Fernie for a short time, I think that this experience is one of the best ways to develop a true sense of what Canada is about.
"I am even learning the anthem. Being at these games, you get a sense of belonging. This is my town and my team." Pomeroy added that he liked the idea of supporting the team. "You are helping them reach their goals."
Set right in the heart of town at the Fernie Memorial Arena, catching a game can easily be mixed in with dinner, as there are more than a few great restaurants within an easy stroll.
I was there recently to catch the Ghostriders up against the Kimberley Dynamiters, and considering the two towns are only an hour and a half apart, it was hard core rivalry on the ice. The sold-out crowd was rocking to the tunes and the energy in the arena was high. 
"For those who are from out of town, it's a great chance for people to check in with the locals and get an experience that is unique," said Phil Iddon, president of the hockey club.
From snow soccer to cat-skiing
There are a number of other outdoor adventures available, including sleigh rides, dogsled tours, snowmobliling and a number of snowshoeing options. The resort even offers a Kids Night Out where kids can hang out and meet new friends, while enjoying a kid-friendly dinner followed by some serious kid fun like snow soccer.
All the activities and programs are available through the resort's Guest Services.
Check out this video for a glance at the dogsledding tours in Fernie.
For more stories and detail on Fernie check out our SnowSeekers' destination page.