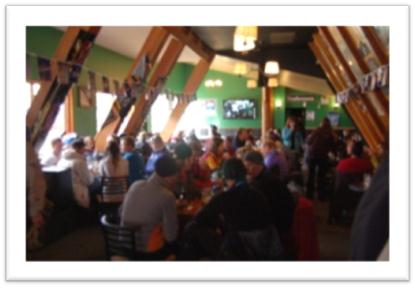 The Griz Bar is one of the best après experiences in Western Canada.
Photo courtesy of Fernie Alpine Resort
FERNIE, BC — Not only is Fernie Alpine Resort known for legendary skiing and riding, but also for its famous après ski bar, The Griz Bar, repeatedly named the Top Après Ski Bar in Canada. 
Ski Canada Magazine editorial staff are noted experts on skiing, however, some might also say they know how to find a great place to share ski tales and enjoy an ice-cold beer. Ski Canada Magazine has recently noted the Griz Bar again as one of the top places for après ski fun in Canada. On top of Ski Canada Magazine it was also voted Best Après in a recent visitor's poll from SnowSeekers.
The Griz Bar has been Fernie's #1 place for après ski since 1962, featuring drinks such as the famous "mogul smoker", and live music every Saturday and Sunday afternoon.
Kokanee and skiing have a long history here in Fernie, BC. Today, some of the best events at a ski resort in Canada continue to celebrate this tradition such as the long running Kokanee Snow Dreams Festival in January, which, since its beginning, has brought snow no matter what weekend it is on. It features the Kokanee Glacier Beer Gardens with ice-cold Kokanee's all day, live music, and a party that goes late into the night at the bar. 
Another great weekend is Fernie Alpine Resort's Kokanee Retro Weekend, which celebrates the best in one-piece ski gear and, of course, more ice-cold Kokanee flowing in the Glacier Beer Gardens and a continuing party with live music all day and night!
Don't miss the most fun you can have with your ski boots on at the famous Griz Bar at Fernie Alpine Resort this winter.
For more stories and detail on Fernie check out our SnowSeekers' destination page.