A family resort, in every sense of the word
ZOE KRUSCHKE
COLD LAKE, AB — Without heading West towards the Rockies, the search for a ski hill in rural Alberta is not for the faint of heart.
In my entire life (all 13 years of it), I have never travelled towards Saskatchewan to go downhill skiing. Looking out of your car window, all that can be seen is beautiful (flat), farmland. Beside us, snowmobile tracks followed us the whole drive. With the wide open skies I could imagine some wonderful cross-country ski trails, but it was hard for my family and I to wrap our heads around the fact that you could carve some tracks down a hill on this never-changing terrain. We ended up in Cold Lake.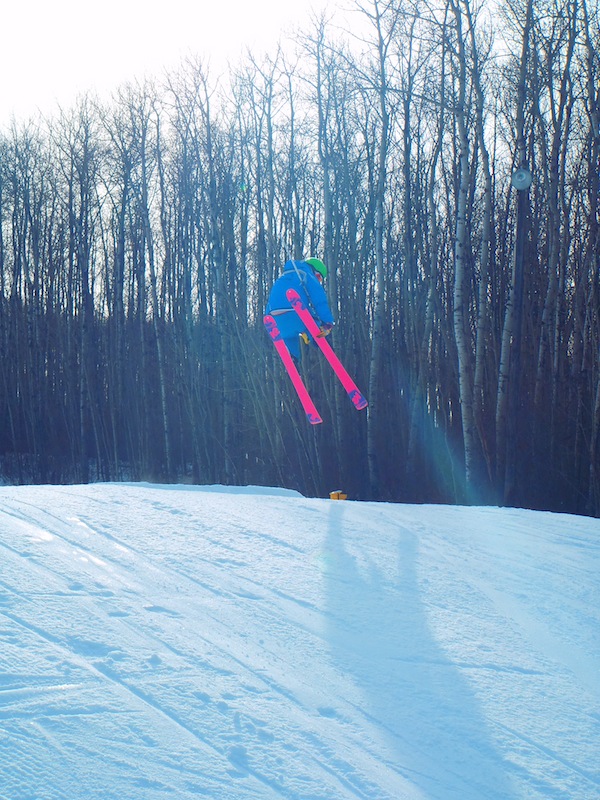 Photo courtesy of Zoe Krushcke.
My family and I had the privilege of staying in a wonderful B&B, the Hamilton House, where the hosts were the essence of hospitality. We got to lounge in their hot tub under the stars, say hello to some deer and woodpecker friends, watched "Oh Brother, Where Art Thou?," and got to sleep on pillows that I was tempted to steal the next morning.
Then we left on the way to the local ski hill, Kinosoo Ridge, with no idea what to expect.
A hill with a view
After the last turn in the road, the magnificent new ski lodge rose into view. Stepping inside we saw bins of new ski helmets that are free for you to take for the day. The workers will wave to you as they are helping little gaffers get their ski boots fitted. Doors opening into the lodge stay unlocked; the local kids are totally at home in this place. In the past seventeen years, there has not been one incident with vandalism anywhere in the new or old lodge. It is a total-family oriented place: parents from Cold Lake will bring up their kids to learn to ski, there is a family within the staff, and there is definitely a family connection with the managers.
We had the pleasure of meeting Val, who manages the hill with her hubby, Jurgen. We learned about many fun activities they host at the ski hill, the latest being a lawn-chair-drive-in showing of the movie Grease over the summer! She told us about the the instructors they brought over from the UK this season, one of them being Tom, who took us around the hill and taught us some tricks in the terrain park. Val also told us they make their own gravy for their poutine, and my sister ate it saying it was the most delicious thing she had ever eaten. Tom can't eat poutine anywhere else anymore.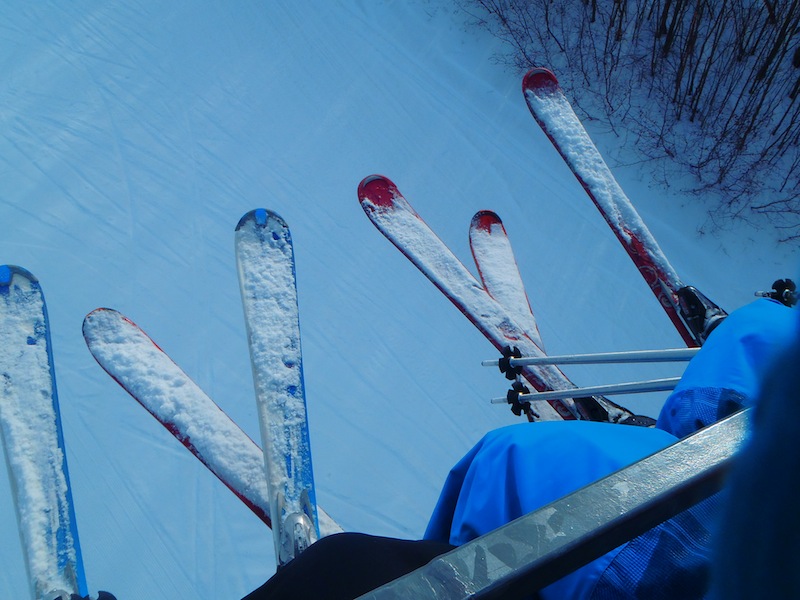 Photo courtesy of Zoe Krushcke.
The quantities of food there aren't small, either. I noticed that everyone knew who Val was, and everyone said "hi". I found it very cool how everyone has a relationship with her there, and they can contact her with any complaints or problems. With all the hills I have been to, I have never seen or known who the manager was.
Tom took us up the chair lift, and when we reached tower number ten, we were sure to look over our shoulders just as Val had advised us. Stretched out below was the spectacular view of the seemingly endless Cold Lake, with islands covered in trees and people out ice fishing. Who knew the view from a ski hill without mountains could still be as beautiful.
Welcome to ... Saskatchewan?
The very last tower of the lift is actually the border between Alberta and Saskatchewan, so as we unloaded the chair we saw the "welcome to Saskatchewan" sign greeting us. Tom took us down every run, and with the great snow and great conditions, we had a fantastic time. We were even able to get some snowmobiles to take us to the terrain park (thanks to Tom), because the T-bar was down. Tom showed us some of his sick freestyle moves, and I know I could have spent the entire day there if I had the time. C'est la vie.
Kinosoo Ridge has such great energy. I have never been anywhere quite like it. It seems not so much a hill but a home to many people. There is a great amount of respect for each other there. It can attract all groups of people. They also will be hosting their 2012 Slush Cup on Saturday, March 31 from 10 am to 5 pm. They put a huge pool at the bottom of the hill which you try to ski through, and after you can lounge in one of the many hot tubs they will also have on the hill. They are bringing in DJ Ian Carey from 2:30-4:30 pm that day.
On this day they also are having a "bag jump", which is a huge blown up bag that you can do crazy jumps onto and land in the safety of the bag. For more info on that check out http://www.bagjump.com/, or for more info on Kinosoo Ridge check out their site, http://www.kinosoo.ca/.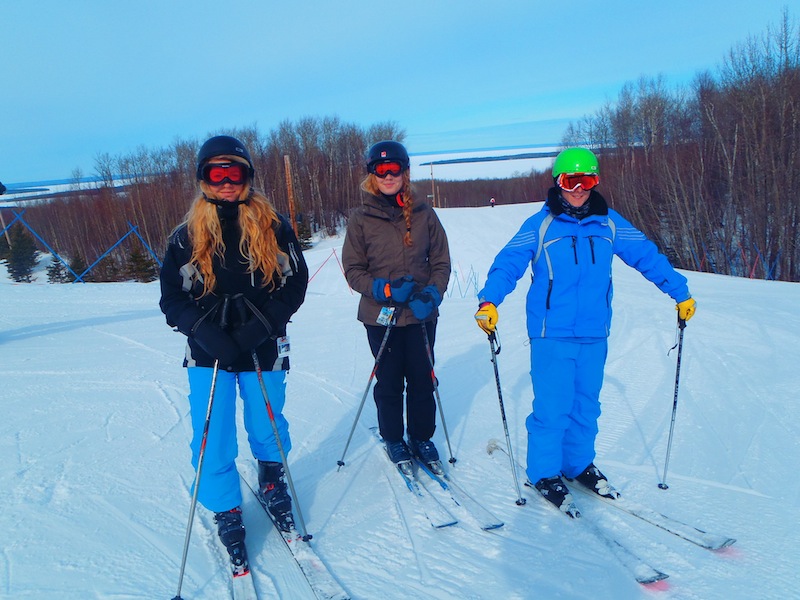 Photo courtesy of Zoe Kruschke
For the latest deals, snow reports and contests, sign up today to our SnowSeekers e-newsletter.
Ready to learn more about how you can #SkiNorthAB? Learn more here.