Calgary-based family finds plenty of winter family fun in Lake Louise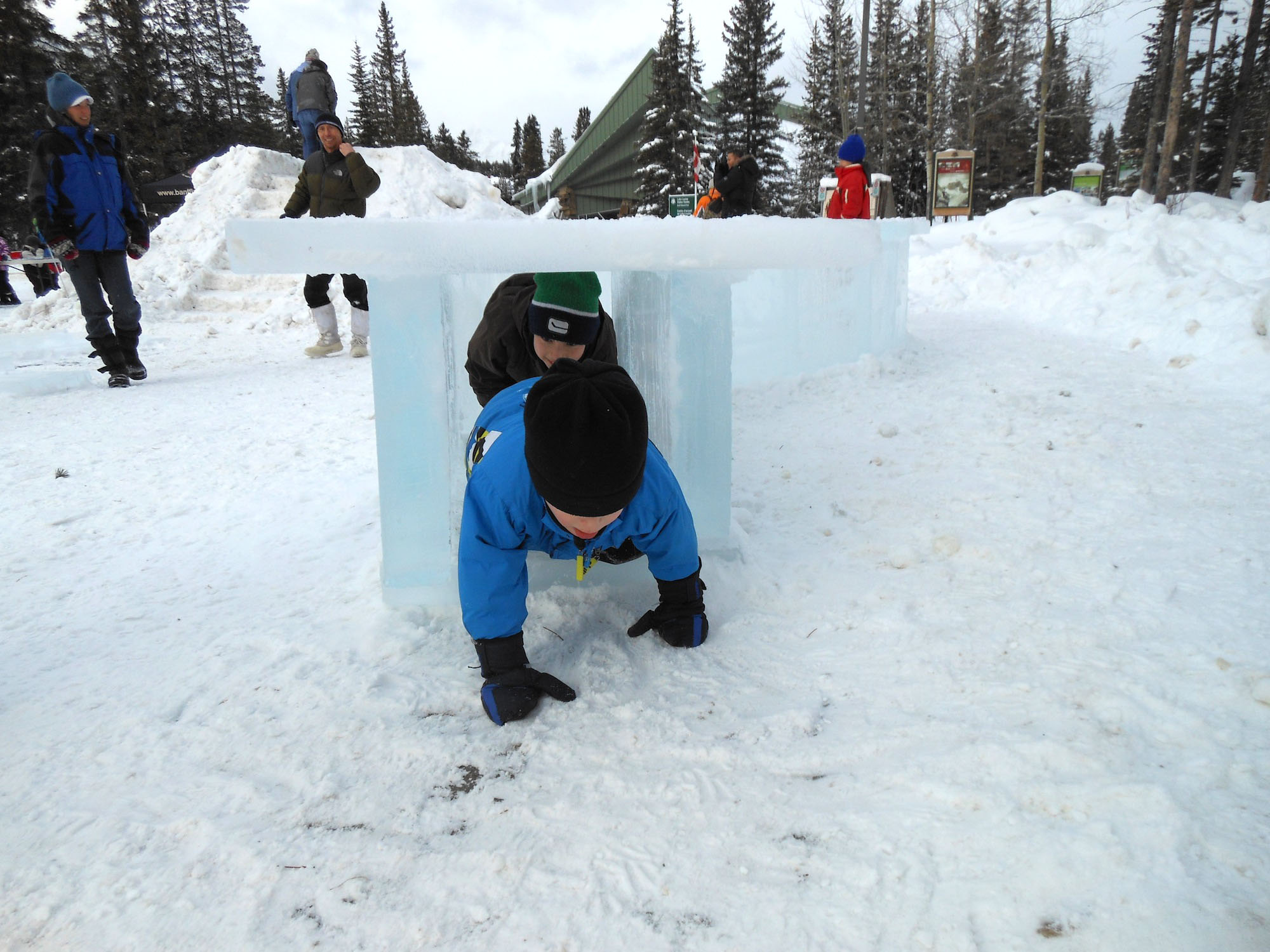 Bennett crawls through an ice tunnel at the Ice Playground during the annual Ice Magic Festival at Lake Louise.
Photo by Lisa Kadane
LISA KADANE
LAKE LOUISE, AB — Powder blanketed every surface with rounded puffs of snow and the white stuff kept falling, falling, falling. It was my first visit to Lake Louise in over three years and I can't recall ever having seen more accumulation. It was dark when we arrived, but lights illuminated the falling fluff; through our hotel room window we could see stunning ice sculptures arrayed on the grounds of the Fairmont Chateau Lake Louise.
There was a velociraptor and a fairy, among others, and in the distance, a pillared structure sparkled on the frozen surface of the Lake.
"Is that an ice castle, Mommy?" my daughter asked, enchanted.
We had come to Lake Louise for the final "Little Chippers" weekend during the annual Ice Magic Festival, to experience everything this Banff National Park mountain village has to offer families. I've skied a ton at Lake Louise, pre-kids, and so I'm familiar with the ski area's legendary backside, but I feared the only steep descent I would be attempting was a walk down the bunny hill in ski boots, trailing my kids.
In terms of off-piste activities in Lake Louise, I had no idea what kids could do for fun. As it turned out, the answer is - a lot!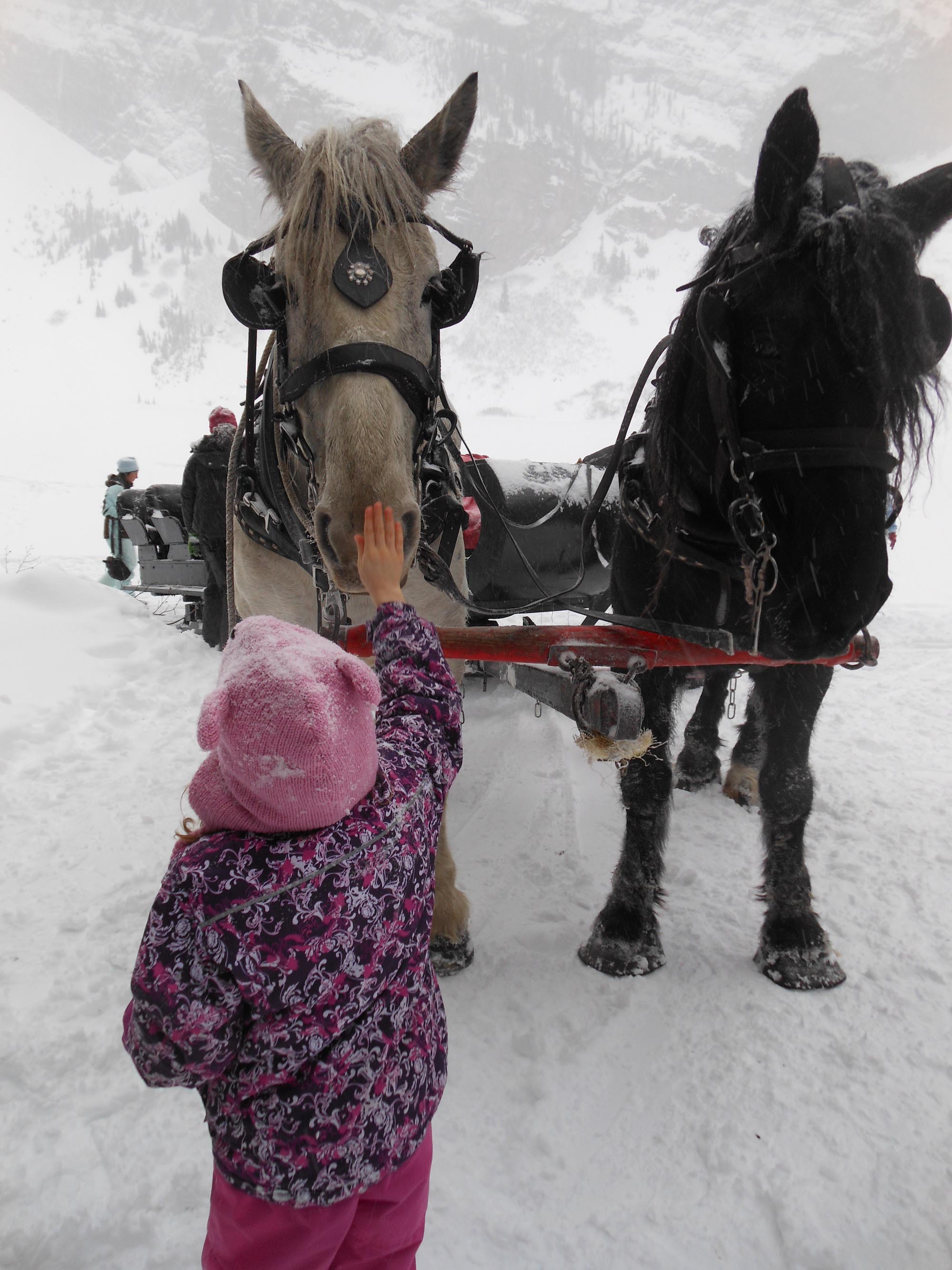 Avery reaches up to pet Jeff, one of the 1,800-lb Percherons that pulled our sleigh along the shore of Lake Louise.
Photo by Lisa Kadane
Ice Magic Festival
The next morning we found ourselves at the "Ice Playground" next to the Visitor Information Centre. Two super-slippery ice slides and an ice tunnel kept the kids busy, while my husband, Blake, and I tried roasted bannock by the outdoor fire pit and learned some park history from an interpreter dressed up as early explorer, Mary Schaffer.
Then Avery, age six, donned goggles and tried her hand at ice carving using a pick. The playground was set up for the duration of the Ice Magic Festival, which runs over two weekends every January.
Ice Skating
Back at the hotel we wandered past the ice sculptures (carved by teams of professionals the weekend prior) down to the lake and verified that there was, in fact, an ice castle in the middle of the rink. There, kids and adults were skating, slipping and falling, including our four-year-old son Bennett who is still wobbly on his skates.
Avery grinned from ear to ear when a woman dressed in a blue gown, wearing a crown, skated over and started telling children the legend of the Ice Queen. Bring your own skates or rent them at Chateau Mountain Sports inside the hotel (www.chateaumountainsports.com).
Sleigh Rides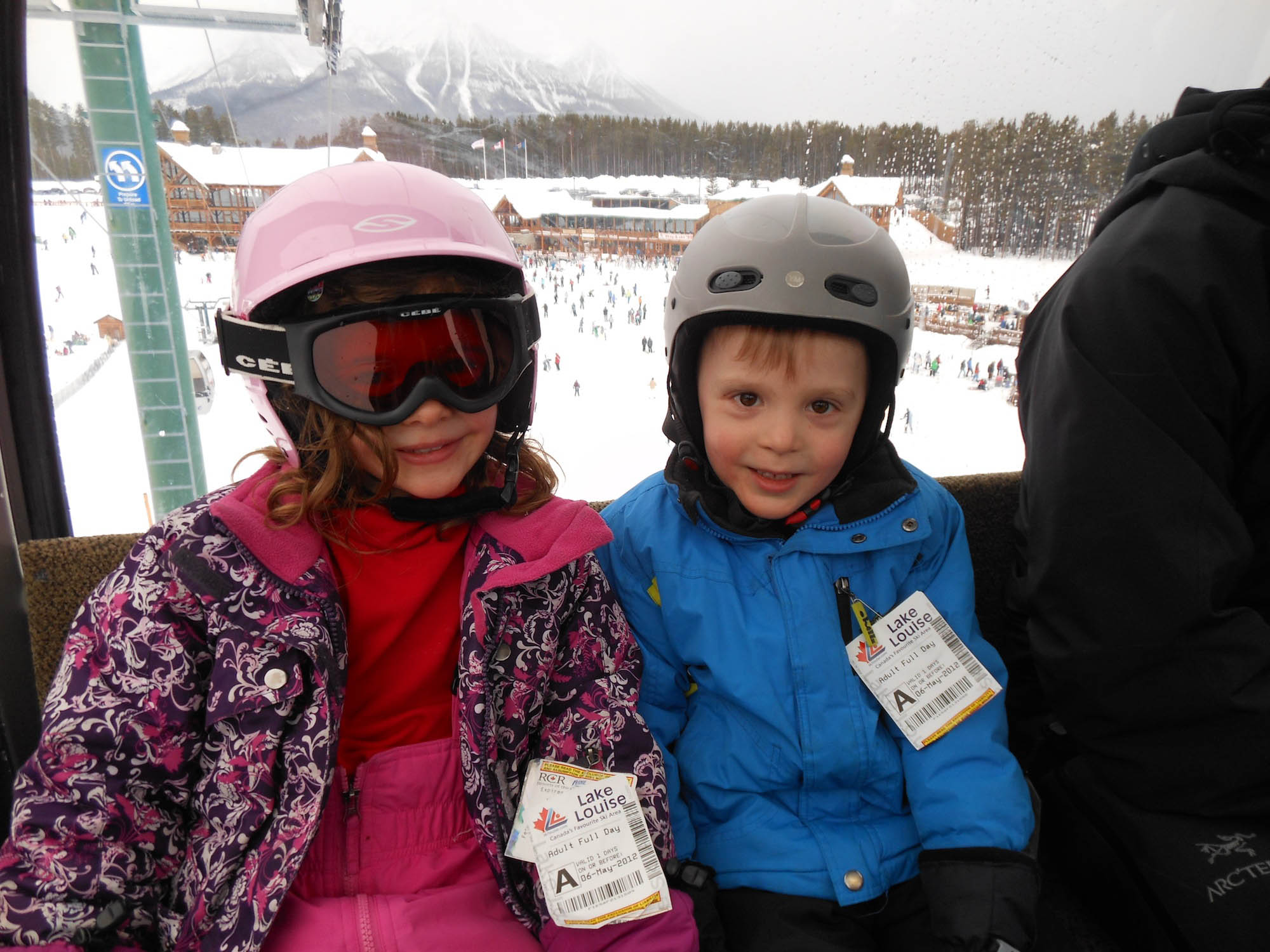 Even if your little one can't yet ski, the whole family can ride the Lake Louise gondola for the thrill -- and the views!
Photo by Lisa Kadane
Later, we bundled up yet again to board a sleigh pulled by two Percheron horses. The pair hauled our full sleigh all 2.5 kilometres to the end of the lake. During the ride we listened to the jingle of their bells and snuggled under a warm red blanket as the snow continued to fall in hypnotic white swirls, obscuring our view of jagged mountain peaks.
At the turnaround, we got off the sleigh and walked off the trail into snow that was easily knee-high, and promised to be thigh-high by morning. Click the link for more info or to book a Brewster Adventures sleigh ride.
Skiing
It's a struggle organizing kids and gear for the ski hill, but we were motivated by excellent conditions. Once there, Avery joined a morning lesson to practice her hockey stops, Bennett checked in to the on-hill daycare to play, and Blake (my husband) took off for fresh tracks on the backside. After lunch he nabbed Avery and whisked her to the Top of the World (her first 6-pack!) to ski down Grizzly Gulley and Juniper (more like she bombed  down it and he yelled after her to practice her turns).
We reconvened at the daycare and hauled Bennett out to the magic carpet. He looked longingly at the gondola and said, "I ride chairlift, Mommy?" Why not?
After we boarded the gondola, we watched Bennett's face light up as we launched toward the summit. "I go up mountain, Mommy!" he yelled, delighted.
Forget the Ice Queen — our kids were King and Queen of the Mountain.
Story Links:
Lake Louise Ski Area & Mountain Resort
If you live in Calgary, Canada Olympic Park is a great place for young kids to get their ski-legs before they try the mountain slopes. Click here to read about Bennett's first ski lesson at COP.