Exploring Castle Mountain Resort
Tucked in the southwest corner of Alberta, this resort delivers big vertical and powder for days
PINCHER CREEK, AB - Heading up the mountain with excited anticipation, my Salomon rocker skis felt heavy under my feet as I rode the Huckleberry Chair to our cat ski meeting place. My regular, trusty all-mountain skis would have to sit this day out, after 15 centimetres of snow had fallen the night before, creating - to our collective delight - deep powder conditions. 
I then opted to get outfitted at Alpenland rentals, where a wall of varying lengths and widths of powder skis lined the back room. Despite their weight, I was assured they would float on the snow that day. 
Build better friendships, go Cat Ski Castle, Save 10-20% by booking in November.
A born and raised Albertan, I sheepishly admitted that I had never skied Castle Mountain Resort before, but had heard the stories of steep and deep from legions of devout followers. Morning snow clouds hid the peak of the mountain, but it wasn't long until I was gaining some vertical for the first adventure of the day: cat-skiing with Powder Stagecoach, which operates from the resort.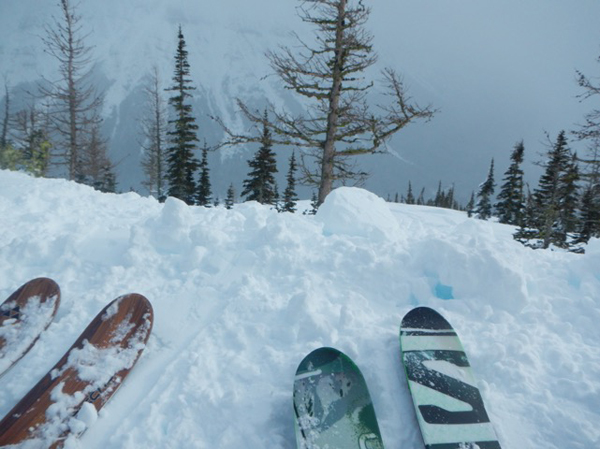 Ou skis are ready to tackle the fresh snow that had just fallen at Castle. 
Photo by Paula Worthington
It offers lift-accessed cat skiing, meaning you take a chairlift to meet your cat, which will then take you, your guides and your group to 800 dedicated acres of incredible cat-skiing terrain that extends 2,000 vertical feet down Mt. Haig. The terrain features open bowls, glades, and perfect fall lines that eventually finish at the ski area, where you load the lift in anticipation of another round.
If you're new to backcountry or cat skiing, Castle is the perfect place to get acquainted - all groups have two guides, one up front and one at the back of the group. Participants get acquainted with basic avalanche knowledge through a safety briefing, and each skier/rider is outfitted with transceivers, probes and shovels. Further, the cat-skiing area is controlled by the Castle patrol team to help ensure a safe day for all.
Getting used to the deep powder turns was easy to do, and although my legs were begging for mercy at the end of each run, the joy, adrenalin and smiles associated with fresh turns is really unlike anything else. The terrain is varied, and the snow is deep. Although you don't need to be an expert skier to enjoy a cat skiing experience, being an advanced skier will help you navigate the tighter pockets in the trees and ski the powder and chutes with ease.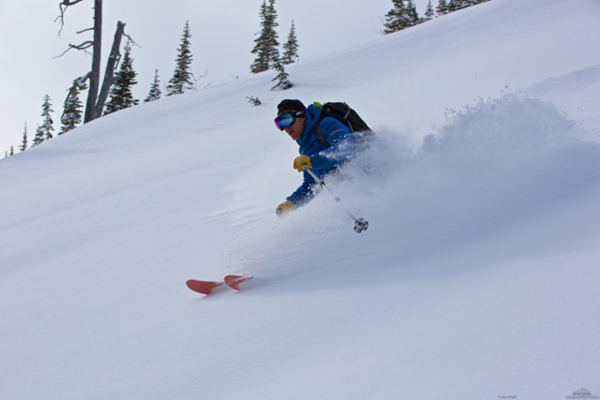 Hitting the untouched deep powder had our legs begging for mercy and our smiles wide. 
Photo by Alan Heidel
Later that afternoon, we ventured to explore the other parts of Castle Mountain. The legendary Tamarack "Red" Chair takes skiers to the resorts' top elevation of 7,463 feet, opening up access to a number of incredible areas, including long cruisy runs, glades, bowls and chutes. The possibilities are endless. The lower parts of the resort are great learning areas or for those getting back into the sport. Overall, Castle boasts more than 3,500 skiable acres on 104 runs (which includes cat ski runs), serviced by seven lifts.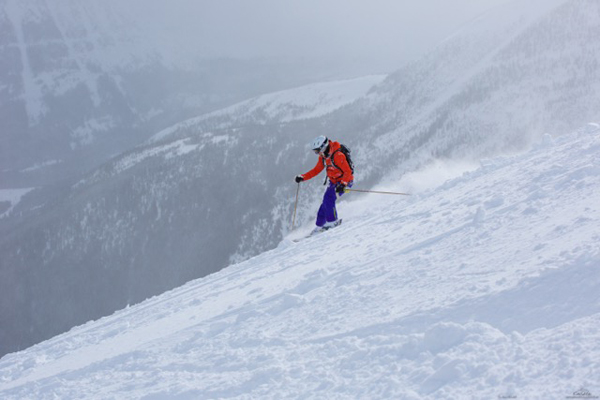 Castle is known for its wind-swept stashes of powder covering 3,500 acres of terrain. 
Photo by Alan Heidel
Once the day was wrapped, the apres scene was in full swing at the resort's T-bar Pub and Grill, which features classic run signs and photos that capture the ski area's impressive 50-year history. Over nachos and beer, I caught up with some locals to find out what made Castle so great.
"We call it the Castle groom," said one local, between sips of ice-cold beer, "Overnight wind is a great thing at Castle," he said, "It pushes the snow around in just the right way to give you first tracks every morning, and it's often nice, light powder."
Another local described the resort in three succinct words, "Authentic, rugged and rustic." Castle is truly about the skiing, on rugged terrain filled with skiers and riders who do it for the love of the sport.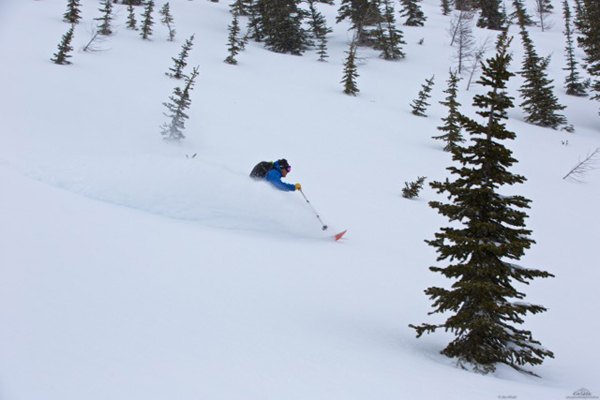 Powder, powder and more powder greeted us for an excellent day of cat-skiing. 
Photo by Alan Heidel
Said another, "We've been coming here forever, and even though the lifts might not be as fast as other resorts, we really wouldn't change a thing. This place has a great feel."
Castle does have a great throwback feel - from the quaint slope side cabins (some accessible only by foot in winter) to the older lifts and rugged ski terrain. But that's also its charm, and just like the locals, I wouldn't change a thing. 
If you go:
Cat skiing is offered Thursday through Saturday at Castle Mountain Resort (advance bookings are required). Cost is $350 + GST per person, with $40 discounts for CMR Season Pass Holders, Cruisin' the Castle Card Holders and Lake Louise Season's Pass and Card Holders. Your day includes coffee and a muffin, Ortovox pack, beacon, probe, shovel, bag lunch, fully hosted full day of skiing/riding and apres ski photo presentation and beverage. Visit skicastle.ca.
Get excited about skiing at Castle by watching this awesome video.
Where to stay:
Conveniently located at the base of the mountain, the Castle Mountain Ski Lodge and Hostel offers clean and comfortable rooms just a snowball's throw from the base lift area. Visit http://staycastle.ca/.
Ready to check out Castle Mountain? Share this story with your friends and bring them along for the adventure. 
For more stories and detail on Castle check out our SnowSeekers' destination page.