An exhilarating day in the sky and on the slopes
NAKISKA – What could be better than getting out with your friends or family for a quick winter escape that will have you all whooping it up down the slopes followed by gazing at frozen waterfalls and lakes and jagged peaks from on high – all in one day. 
Your day begins with learning how to ski or schussing down the slopes at Nakiska and then capping off your afternoon by lifting off on a heli-sightseeing tour with Rockies Heli Canada.
Plan now to get up and over the Rockies.
First turns
Nakiska Ski Resort is ready to get you in the mood for winter. No gear? No problem. Head to the rental shop to rent some gear.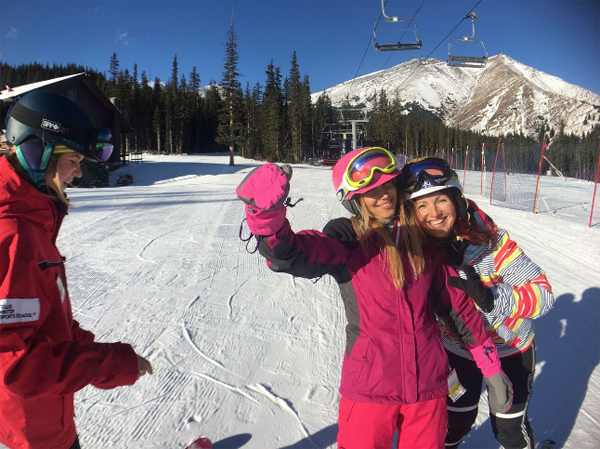 Nakiska is an easy place to get your ski chops with a lesson at its ski school. 
All photos by Powder Matt Mosteller
If it's your first time experiencing an Alberta winter, head to the Learning Area where the team at Telus Winter Sports School, will have you sliding on the snow and no doubt grinning from ear to ear before you know it. Or, you can opt for grabbing a tube to slide your way down a hill, guaranteed to bring out the kid in you.
Natasha, a first-time skier and new to Canada had a mile-wide smile out on the slopes, recently.
"Canada, is my new home, and skiing is the perfect sport to get more out of the long winters here," she said.
The new-found sport has been a thrill for her.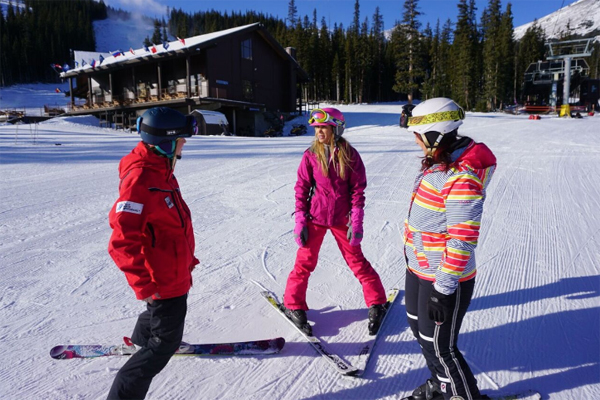 Getting on the slopes is simple with a little assitance from the ski school. 
"Sliding down the slopes gave me goosebumps," said Natasha. 
But what she also loves about skiing is that it gives her the chance to hang out with friends and family all while getting out in the fresh air and getting a fitness boost.
First flight 
Natasha also had the chance to do something many people have never done in the Rockies – sightseeing by helicopter over the peaks.

Getting ready for lift off with Rockies Heli Canada. 
Nearby, Rockies Heli Canada, based at Stoney Nakoda Resort in Kananaskis Country offers scenic flights, the perfect way to begin or end the day. Just the sound of the spinning rotor blades will get you primed for the adventure ahead.
After a short safety briefing, you hop on board, lift off and soon in every direction you look you'll find awe-inspiring vistas.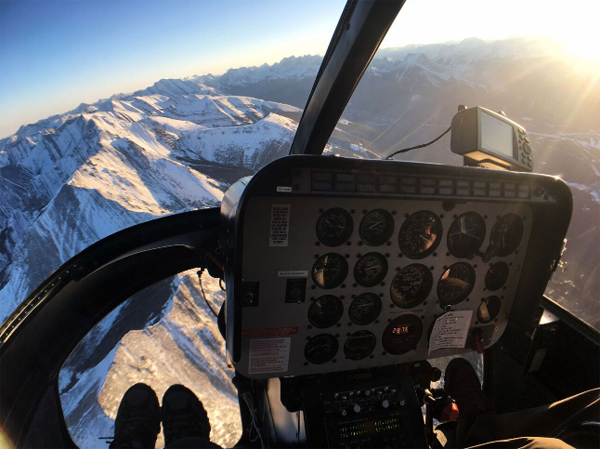 Bird's eye views from the helicopter. 
You'll be flying over protected Alberta Parks wildland and pristine vistas that will give you an indescribable rush. You'll feel like a soaring eagle with first-rate pilots at the helm, who will share the names of peaks and the history of the area. You just might spot some wildlife – maybe a big horn sheep, elk or a moose.
Natasha's first flight was something she'll never forget.
"It was truly freeing for me – flying is such a rush!"
Plan your visit to Nakiska and Rockies Heli Tours today!
Would you like to have the same ski and soar experience? Share it with your adventure-seeking crew.