Eat your way around Whistler Blackcomb
New on-mountain eateries get a fresh and local twist
WHISTLER BLACKCOMB - The mountains are in Chef Wolfgang Sterr's blood. Born in the Bavarian Alps, his two passions were snowboarding and food. By the age of 18, he had graduated with his chef's papers, and was also riding 100 days a year.
His quest for fresh powder and adventure brought him to Whistler for a vacation in 1991, and it soon became his permanent home. Sterr worked in the kitchen at the acclaimed Chateau Whistler, but then, at 26, left the west coast for the Niagara region in Ontario, where he opened his own farm-to-table concept restaurant.
Another vacation brought him back to Whistler in 2010, and he again felt the stirring in his veins. "I love mountains, because I grew up in them," he tells me over lunch in
The Rendezvous Lodge on Blackcomb Mountain at the peak of Blackcomb, where he is based.  He went back to Ontario, sold his business, and was back in Whistler immediately.
Just nine months later, he became executive chef for Whistler Blackcomb. Sterr is responsible for 6,540 restaurant seats in 17 diverse food and beverage locations scattered from the top to the bottom of the two mountains.
It's a huge task. The restaurants include everything from fine dining to pubs to quick grab-and-go take-outs. And the volume of food it takes to feed hungry skiers and snowboarders every day is immense.
"Ski resorts are known for hamburgers and fries, hot dogs, canned soup," says Sterr.  
Farm-to-table on the slopes
This kind of food didn't align with his values, so two years ago, they began the process of overhauling all the menus on the mountain.  Every item that goes into the kitchens is now a whole food, which reflects Sterr's farm-to-table philosophy. He works directly with cattle and chicken farmers, cutting out the middle man, resulting in a much better product. All the meat served in the restaurants is hormone- and antibiotic-free, and is locally produced.
Eat your way around Whistler Blackcomb with cheap lift tickets via their Edge Card, click here for details 
Whistler Blackcomb is also now home to North America's first on-mountain vegan/vegetarian restaurant. The Raven's Nest — a small hut on the Whistler side — features Gardein products, which are made of 100 per cent GMO-free soy. They make a mean "meatless ball" sub.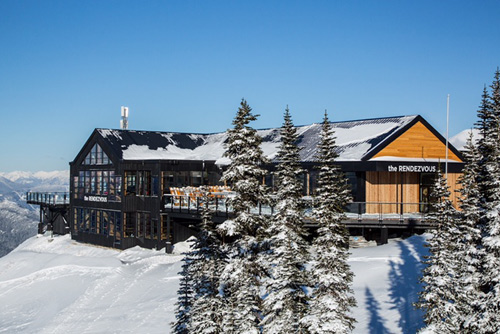 The newly renovated Rendezvous Lodge. 
Credit Mitch Winton | Coast Mountain Photography
Since starting the project two years ago, four of the 14 locations have been overhauled, none so thoroughly as The Rendezvous Lodge on Blackcomb Mountain. It was closed for renovations during the summer months, and the entire building was gutted. The Lodge has been renovated throughout the years but the massive overhaul has brought it into the modern era.
The space is bright and friendly, and while it's cafeteria-style, there are many options to choose from — traditional burgers and fries, to Mexican, Thai, fish & chips, and ramen, as well as a fully-stocked coffee and pastry bar.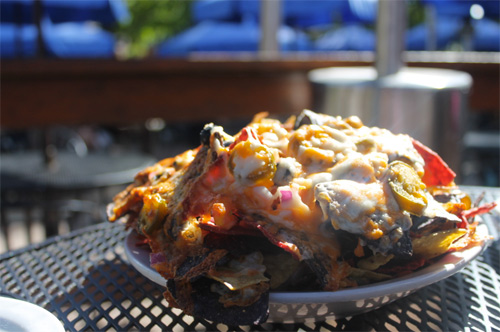 New menus have all the old apres ski favourites, but with a fresh and local twist. 
These are not the old burgers and fries, though. Everything is high-concept, high-quality, and made in-house. Offerings include from-scratch salsas, beans, garnishes and authentic Thai red and green curries. There's a veggie burger made from quinoa and an Ocean Wise salmon burger, too.  
"We are challenging ourselves because we have never prepped this much fresh food before," Sterr says. "It's a new way of thinking. We're doing it for our guests they know what they want, and they don't mind paying a little extra for good quality."
The next big project is the opening of Christine's on Blackcomb, also located in the Rendezvous Lodge. "It's high-concept dining on top of the mountain," says Sterr. Chef Steve Remey, formerly of Hawksworth Restaurant in Vancouver, has been hired to run the kitchen.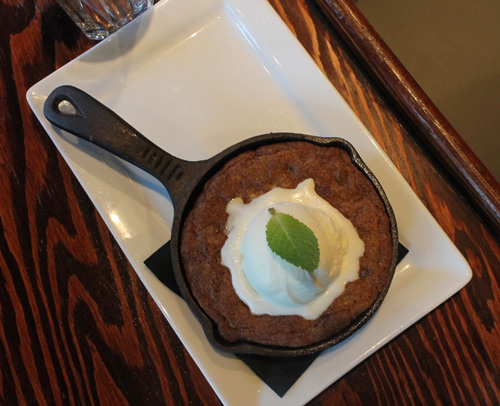 Who wants dessert? Chef Wolfgang Sterr is introducing a whole new take on ski hill dining. 
You can get anything —from a grab-and-go breakfast sandwich, to porchetta or Montreal smoked meat sandwiches for lunch from the Crystal Hut.
Garbo's Grill– across from the Whistler Village Gondola – serves customizable burgers and grab-n-go breakfast sandwiches. Of course, there are the three pubs that serve beer and mountains of nachos to the hungry après crowd: Dusty's, Merlin's and the Garibaldi Lift Co.
They are all family-friendly, and make fresh food a priority and will accommodate  dietary issues, as well.
Eat your way around Whistler Blackcomb with cheap lift tickets via their Edge Card, click here for details
"No more hot dogs," says Sterr. "We're in the business of fuelling our guests to have the best days of their lives." 
These days are pretty great for Sterr, too. The mountains are his home, and he gets to pursue his twin passions every day. It's the best of all possible worlds.
More about Whistler Blackcomb
Whistler Blackcomb has a bunch of cool events to celebrate its 50th season.

Learn more here.
For more delicious finds, check out the official Whistler Blackcomb dining guide.

Have Whistler Blackcomb on your winter hit list? Share this story with like-minded people. 
For the latest deals, snow reports and contests, sign up today to our SnowSeekers e-newsletter.