A blissful spa day and heart-pumping heli-skiing are the yin & yang of this BC resort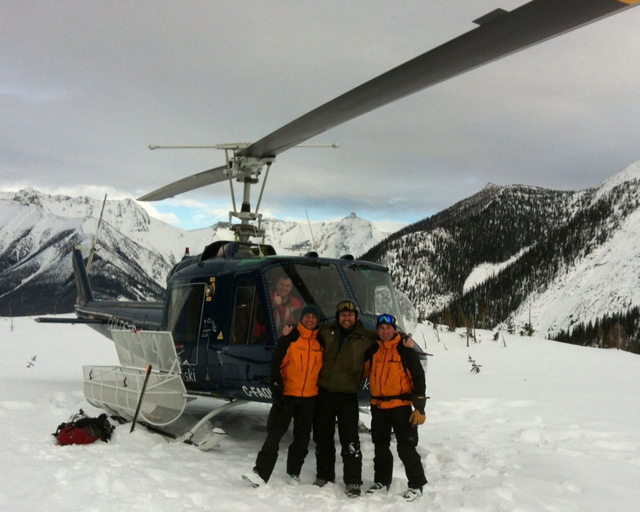 The Panorama heli-skiing group reach 10,000 feet elevation at the Cauldron Glacier, the perfect start to powder heaven.
Photo courtesy of Panorama
LAURA AND BOYD ENGLAND
So here is, quite literally, our perfect day at Panorama.
7:30 am
Boyd: The alarm goes off and I gather my gear and make the 10-minute walk to RK Heliski, based out of Panorama ski resort.
7:45-8:00 a.m.
Laura: I awaken gradually after a restful sleep and open the drapes to reveal a pretty mountain landscape. I linger there a moment, looking forward to my day of blissful relaxation.
8:00 a.m.
Boyd: After a quick check in and weigh in, a hearty breakfast is included in the heli-ski package. Our guides Graham and Nate discuss the day's itinerary with our group.
8:30 a.m.
Laura: I enjoy a leisurely breakfast at the Picnic Café. A breakfast sandwich (on gluten-free bread – fantastic!) and hot chocolate are the perfect combination to warm and prepare me for the day ahead.
Boyd:  We "heli-virgins," as Graham calls us, head outside for some avalanche transponder training. No need to be too nervous, "In 18 years of doing this I have never needed to use one," says Graham, assuring this slightly anxious group of soon-to-be heli-skiers. 
9:30 a.m.
Laura: Face down on a massage table, Genevieve at Pure Massage works the kinks and knots out of my neck and back, relieving the stresses of everyday life. Ahhhh.
Boyd: As me and the others load onto the chopper the excitement starts to get real. The nervous smiles grow dimples and perfect strangers realize they are all in this together. A few minutes later, we're hovering above the village. We're off to the southwest about 35 kilometres to an area called Cauldron Glacier — only one area of many that are home to about 900 runs.
10:30 am
Laura: I'm back at the room for a little post-massage down time.
Boyd: Touchdown. We're at 10,000 feet elevation and we slither out of the chopper, keeping low and assuming the "heli-huddle" as Nate calls it. What no jumping onto the run while still hovering above? Apparently, that's only done in the movies. It's all about safety here. With veteran chopper pilot Derek Sereda at the controls of the Bell 204, the group knows they are in good hands.
The first run to warm up the quads was a nice cruiser. An intermediate skier or snowboarder would think they had died and gone to heaven. RK Heliski uses the first run to determine the general ability of our group and then decide which runs to take. If there are multiple groups out you will be placed in one that matches your ability.
The second and third runs were even better than the first. Some wide-open spaces let me lay down a nice pencil line. This was all the relaxation I needed. No spa for this rider because I'm loving this feeling of muscle burn.
11:30 am
Laura: Located at the centre of Panorama's mountain village, The Great Hall offers many options for lunch. I decide on a chicken sandwich. The food is excellent and the atmosphere is bustling with happy skiers and boarders.
Noon-ish 
Boyd: Lunch time! What? Can't we keep going? No, the body needs hydration and nutrients. Also a great time to regale each other with stories about the wicked runs, jumps or dumps we've had this morning.
12:30 p.m.
Laura: I gear up and hit the slopes for a couple of runs. While strapping on the board at the top of Powder Trail, I take a moment to enjoy the view.
Boyd: Lunch is done and we're back into the chopper. Those that only booked three runs evaluate whether they want to spring for the last two runs or enjoy the spectacular views. Most choose to continue because they can't wipe of their mile-wide smiles after a spectacular morning.
2:00 p.m.
Boyd: I've tweaked my foot and don't' think I'll be able to do the last run. That is until I see the run named Sundae. It was everything I'd ever seen in the movies. I could not live with myself if I missed out on this. Jumping out and of the chopper, I thought, if there was any pain in my foot the adrenaline was masking it well. As I took the last few turns passing everyone in front I day-dreamed, "If only I could be sharing this experience with…a few buddies."
3:00 p.m.
Boyd: After a few pictures and laughs with the group, it's time to head back to reality. This was one day I wished would never end. Already planning the next trip, I talked to the guides, who tell me RK gets some of their best snow after most resorts have closed. It's not unusual to get a 50-centimetres dump in April and May. Spring heli-skiing here I come.
3:30 p.m.
Laura: The softly falling snow doesn't chill me as I soak in the outdoor hot pool – one of three of I've had to choose from.
5:00 p.m.
Laura: Sharon Simon leads me through an hour-long yoga session. For some reason, Warrior pose is especially relaxing. 
6:30 p.m.
We're in T Bar and Grill for a fantastic dinner and swap stories from the day. We raise a toast to the perfect Panorama day.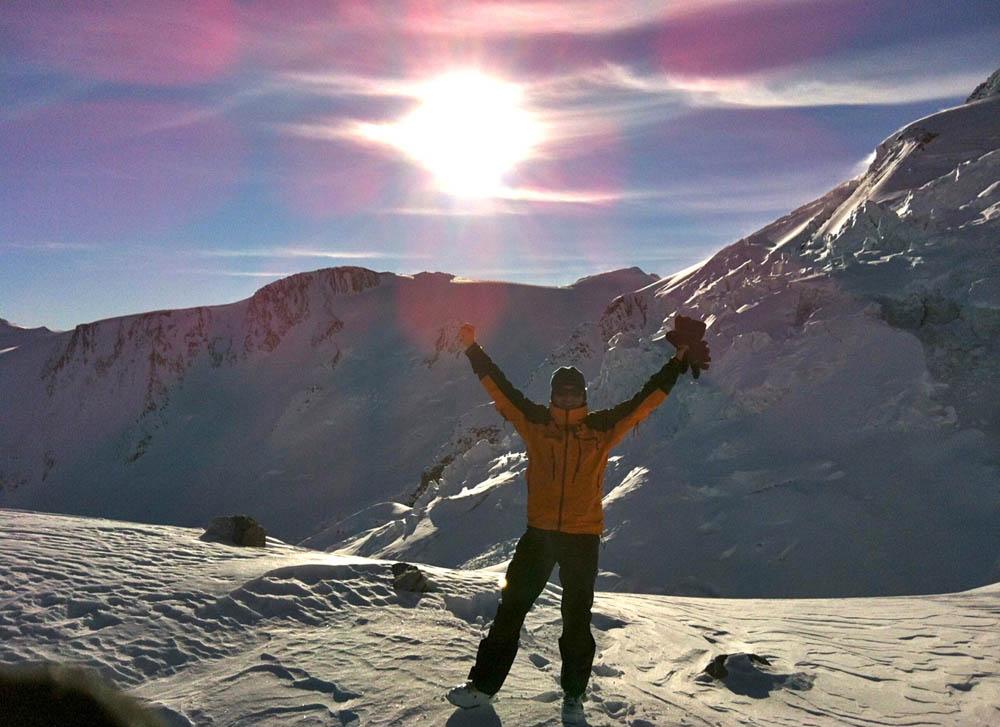 Boyd England revels in the Panorama heli-skiing experience.
Photo Courtesy of Panorama
Get more info on Panorama on our SnowSeekers' destination page.