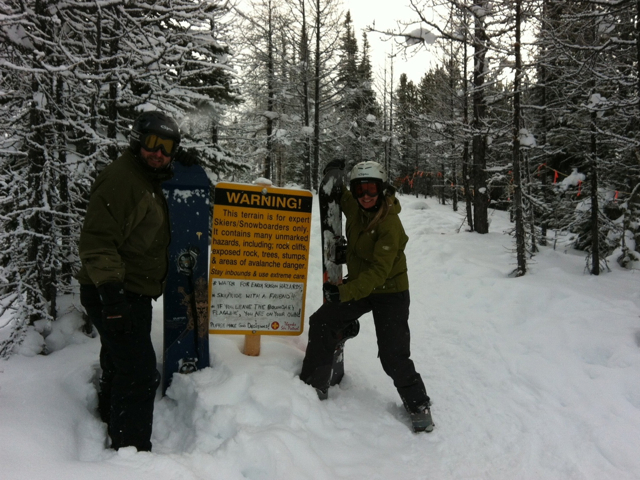 Boyd and Laura England get ready for the steeps and deeps at Panorama's Taynton Bowl with its newly gladed runs.
Photo courtesy of Laura and Boyd England
Swooping in and out of the trees in Panorama's newly gladed area
LAURA ENGLAND
INVERMERE, B.C. - When I was in Costa Rica three years ago, I bought a t-shirt that said, "Challenge yourself - you only live once." That t-shirt commemorated my wild, whitewater rafting trip down the Pacuare River. Looks like I'll need another shirt for my afternoon in Panorama's Taynton Bowl.
It had been a while since my husband Boyd and I visited Panorama (he proposed to me there - true story), but upon arrival the staff wasted no time as we were quickly checked in and given directions to our room. After a short drive up the road, we unloaded our gear at the Pine Inn. We knew Taynton Bowl would demand the best from us so we opted out of a drink at the T Bar and Grill.
Bowl full of snow
First thing next morning, Boyd and I walked down to the Picnic Café for breakfast. Afterwards, we made the short trip back to our room and geared up. Panorama's Jamie Hurschler, marketing communications and partnership specialist, would be our guide in the newly gladed Taynton Bowl.
"This is the back side of the mountain," said Hurschler, "and when the snow hits the front, it tends to go up and over, thereby dumping a huge amount of snow in the bowl."
Panorama opened Taynton Bowl about 10 years ago, but recently more than a quarter of the area went through a glading process making a lot more area available to the public.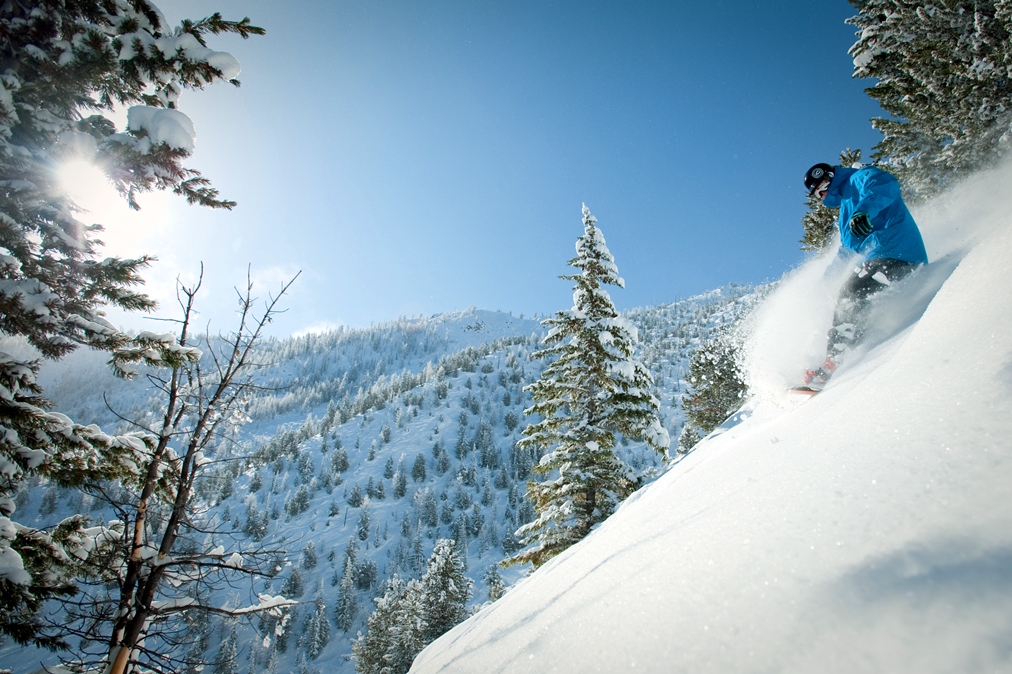 Taynton Bowl was recently upgraded to add a large gladed area, with some spectacular new paths.
Photo by Steph Van de Kemp, courtesy of Panorama
"We brought in snowboarders and skiers to work alongside the forestry people, because we knew they would improve the run from a user's point of view," said Hurschler. 
"The trees are well spaced now and make for some spectacular new paths down the mountain."
Dancing with trees
As Hurschler led us up past the "Expert Only" sign, and into some not-so-well-known areas of Panorama, I knew I'd be a better boarder by the end of the day. Starting from the very top of the bowl, we made our way along the Outback Ridge and dropped down into C-Spine, one of the newly gladed runs. 
Right away, I could see why those at Panorama chose this area to be expanded. The natural bowl shape formed a steep, open descent with several lines to choose from. A great snow pack let our group wind its way down the mountain swooping in and out of the trees. And when the terrain was just a bit too challenging for me, Hurschler patiently guided me across a ridge and back down into a more gentle line.
While on a break, Hurschler pointed to a run on the other side of the bowl called Heli High. This was, in fact, a heli-ski run at one point in time. To me, this really demonstrated the caliber of the terrain in the Taynton Bowl.
We also spent some time on the front side and checked out View of 1000 Peaks, Last Chance, Canadian Way and Skyline. The levels of difficulty varied, but the quality of the terrain was consistently stellar.
Meanwhile, back in the village
After slipping into more comfortable boots, Boyd and I spent some time enjoying the village. We realized this resort offers a lot. We could go sledding, snowshoeing, tobogganing, tubing or take a bounce on the Eurobungy. If we had kids, they could check out a whole whack of activities including fort building, rubber duck racing, or hanging out with a Fun Director. 
But even with all these extra activities and a spectacular day on the hill, there seemed to be something more going on at Panorama, and it had to do with the staff. I can't tell you how many times I was greeted with a "Good morning!" on my way to breakfast, or how many "How's your day going?" I received when helped onto a lift.
I spoke with Chris Elder, marketing director, who summed up Panorama's staffing philosophy. "Not only are we hiring people who are qualified, we're hiring based on attitude and the energy they bring to this village," he said. "We really are focused on providing the ultimate in customer service to create the ultimate experience for our guests."
If your ultimate ski experience includes fantastic terrain, stellar conditions, fabulous food and staff, then make your way to Panorama. There's always plenty of ways to challenge yourself. For me, it was Taynton Bowl, but for someone else, it could be progressing from a green to a blue run, or hopping on a board for the very first time. Now I can say, "I've been there, done that - just need the T-shirt."
Story links: Panorama Mountain Village
Get more info on Panorama on our SnowSeekers' destination page.