Originally posted 2014
Opening day a chance to prep the legs for another winter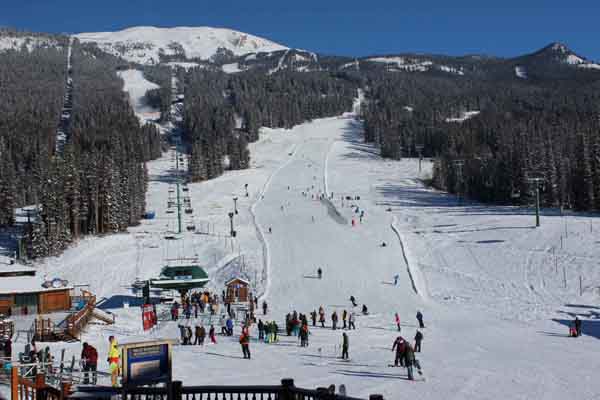 Opening day in Lake Louise had all the elements of a perfect day, blue sky, sun and snow.
Photo, John Korobanik
JOHN KOROBANIK
LAKE LOUISE, AB - Wow, what a magnificent day for the opening of the season in Alberta. Crystal clear blue skies, bright sunshine that helped take the edge off the cold temperature and just enough snow to keep people happy and smiling.
As has become tradition at Lake Louise, there's only one lift (Glacier Express) operating and the only run open is Wiwaxy, that wide, meandering green run on the front side.
And that's just fine for the first day of the season when the legs aren't ready for six hours of pounding the moguls or pushing through deep powder.
"The only thing," said one of my lift companions at mid afternoon "is that the snow has now turned to sugar."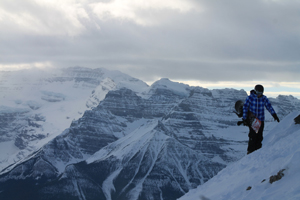 Is there any better feeling than rubber legs after your first day on the slopes?
He was right. By 2 p.m. that sugar, several inches of it, over the hard-packed base had created slippery conditions. Like myself, a significant portion of the several hundred skiers and boarders out for opening day, had decided it was probably safer to hit the café or restaurant or bar of the Lodge of Ten Peaks.
Well, that's my excuse at least. Honestly, it had nothing to do with the rubber legs or the elbows aching from poling.
Wiwaxy on opening day has become a tradition for many skiers and snowboarders – so what if it's only one run, on manmade snow, with too many skiers and boarders? It's the first chance every year to get out the skis and boarders and let the legs know they're in for another winter.
New bistro and expanded tubing park
For Louise, however, it's not so much about getting boards on snow as it is a chance to show off its changes for the new season - like the enlarged tubing park, renovations at Temple and Whiskey Jack and the new restaurant in the Whitehorn Lodge. The entire top floor of Whitehorn was gutted and turned into a high-end mountain bistro.
"Nice wine, craft beer, game platters, fondue  … we played with it for a couple of months," says Dan Markham, director, brand and communications. "Then we opened in the summer, had the deck redone and glassed in. It became one of the most popular patio sites for a glass of wine or a beer, so much so that we shut down our barbecue.
"So this is going to be our first full (ski) season."
For the families, or just those looking for something beyond skiing, Markham says the tubing park will be doubled in size this winter.
Not into skiing? Give snowshoeing a try at Lake Louise.
"It's become so popular. We just can't get over how many people want to get into tubing. It's interesting because there's a lot of families who come out and can't (ski) a full day but they still want to play around."
Another option for non-skiers or boarders is snowshoeing.
"We do a snowshoeing trek from the top of the gondola . . . all the way across the top. . . ." said Markham. "The nice thing is if you don't ski you can still get high up on the mountain, get the nice vista view, walk around behind where the old chair used to stop, it's just another great aspect. And anybody can snowshoe."
Check out the official Ski Louise website here.
For the latest deals, snow reports and contests, sign up today to our SnowSeekers e-newsletter.