Resort retains Wild West charm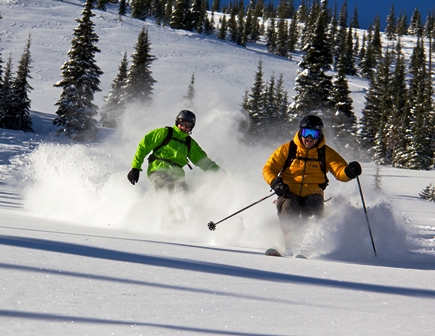 Castle Mountain now boasts over 3,800 acres of skiable terrain, including a Cat Skiing operation.
Photo by Al Scharest
DOC POW
CROWSNEST PASS, ALTA. - For three consecutive weeks last March, I lucked my way into ski days that would end up in my top five - so far - at Castle Mountain Resort. 
One of my favourite places to ski, the resort has come so far from when I started skiing there more than 25 years ago.  Back then, my idea of a perfect day at Castle was nothing like what I experienced last spring.  As happy as I was with the "good old days," my newfound best ski days are ones I never would have fathomed as a 14-year-old.
It's the perfect combination of wind speed and direction, snow depth and weekday visits, which means no crowds. That keeps me coming back for more.
Castle Mountain Resort is fresh off two of the best years it has ever experienced, in both snow and skier visits.  La Nina brought piles of snow to the southern Rockies, luring in skiers for once-in-a-lifetime days all season long. And if the early blanket of snow covering southern Alberta this year is any indication, its shaping up to be more of the same at Castle this year.  
While the snow certainly helped in the past couple of years, there was also the fact that Castle now offered a place to stay at the end of a great ski day. Additions include the Castle Mountain Ski Lodge and Hostel and T-Bar Pub & Grill, where the perfect combination of après ski food and drink mixes with tales from the slopes. Just more than a decade ago, neither of these amenities co-existed with the impressive terrain that now boasts 78 trails and eight alpine bowls spread over 3,800 acres of skiing.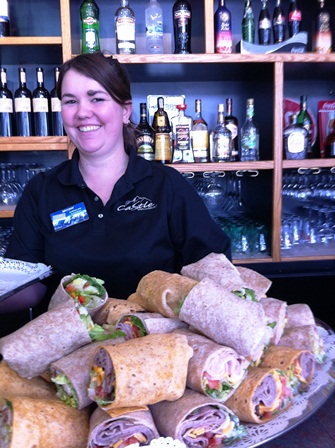 The T-Bar Pub & Grill offers up some amazing apres food and drink options.
Photo by Doc Pow
The beauty of it is that even with its big changes, expansions and upgrades, Castle still retains its rustic, wild-west style charm that I remember as a teenager.  
In the old days, the only reason you came to Castle was for its massive terrain. At that time, the dead end of Hwy. 774 looked much different with its old Westcastle Park name, now replaced with its newest moniker: Castle Mountain Resort. 
Visitors couldn't stay overnight because there were no accommodations. The day lodge was just a collection of old, run down ATCO trailers, and the T-Bar Pub only housed rental gear.
Not only were the amenities rather unpolished and even absent, the skiing, the supposed real reason that everyone showed up, was just a shell of the splendour that is offered today. 
The T-Rex T-Bar, which still grinds into action every once in a while, was the only lift.  Yes, there was a tiny "intermediate" T-bar, and another even smaller "beginner" offering, but if you wanted to actually ski anything, you headed up the T-Rex.
At the top, you could gaze wistfully at the cirque of delight that lingered above, an area that is now easily accessed by the Red Chair. You could push uphill to the north on the mid-traverse, reaching Siwash and North Bowl, but before you turned down the fall line, eyes would habitually wander to the left, dreaming of something even greater. That "something" is now terrain that we all ski without second thought today.  
To the south, you could get to the runs Burn and Trapper, but not much further. Drifter and the Chutes, the icons of what Castle is now, were just another fantastical location, a place that the real older-timers whispered tales of from their glory days, when a T-bar actually did go to the top in the 1960s.
All the rolling intermediate slopes of Haig, the terrain park, the cat skiing, the 30-minute hike to Chimo's - they were nowhere to be seen.  Just a lonely cut line, snaking through the trees on its way up the ridge.  
Nostalgia is one thing, but the direction Castle has gone in recent years more than makes up for "the good old days." 
For more stories and detail on Castle check out our SnowSeekers' destination page.